We will review the Brick Heads of 'Ahsoka Tano,' one of the most popular characters from Star Wars, whose drama will start streaming on Disney Plus from August 2023.
Ahsoka Tano 40539
Since it's a Lego(R) Brick Heads set, the box is compact in size. The price is also reasonable.
Ahsoka's Brick Heads set was commemoratively chosen through a voting process to select a theme appropriate for the 150th Lego(R) Brick Heads release.
As a result, the number indicating which release it is within the Lego(R) Brick Heads series is always printed on the box, highlighted in a special gold design.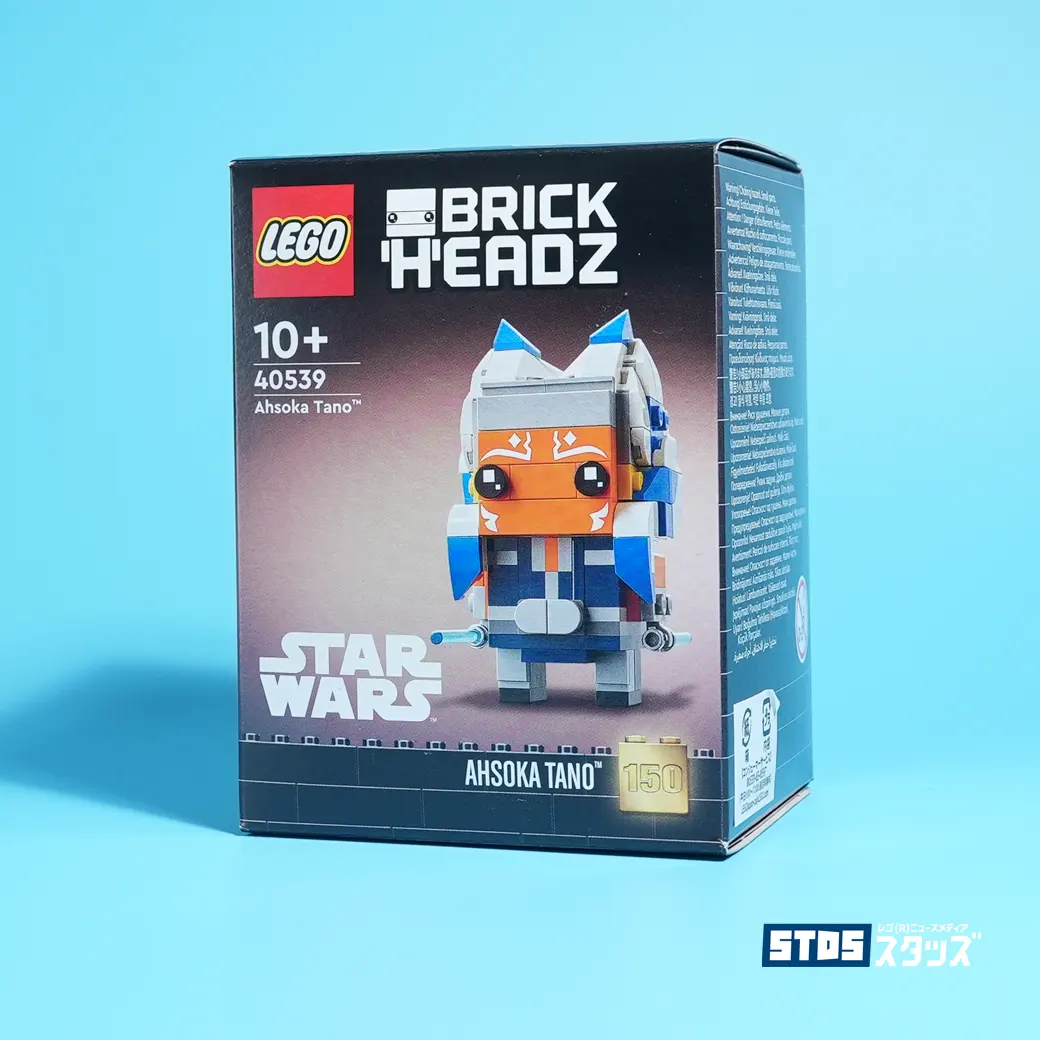 Product Overview
Lego(R) Brick Heads / Star Wars
40539 Ahsoka Tano
Piece Count: 164
Release Date: January 1, 2022
Recommended Age: 10 years and above
Jedi hero Ahsoka Tano
A buildable LEGO BrickHeadz figure of Jedi hero Ahsoka Tano (40539) in a Star Wars: The Clone Wars outfit with 2 blue lightsabers
What Kind of Character is Ahsoka Tano?
Ahsoka first appeared as Anakin Skywalker's Padawan (apprentice) in the animated series "Star Wars: The Clone Wars." She played a prominent role as the secondary lead, following Anakin, in the same series.
Having served as the impulsive Anakin's Padawan, Ahsoka is a reliable and courageous individual who fearlessly confronts challenges with a strong sense of justice. She quickly became a beloved character due to these qualities.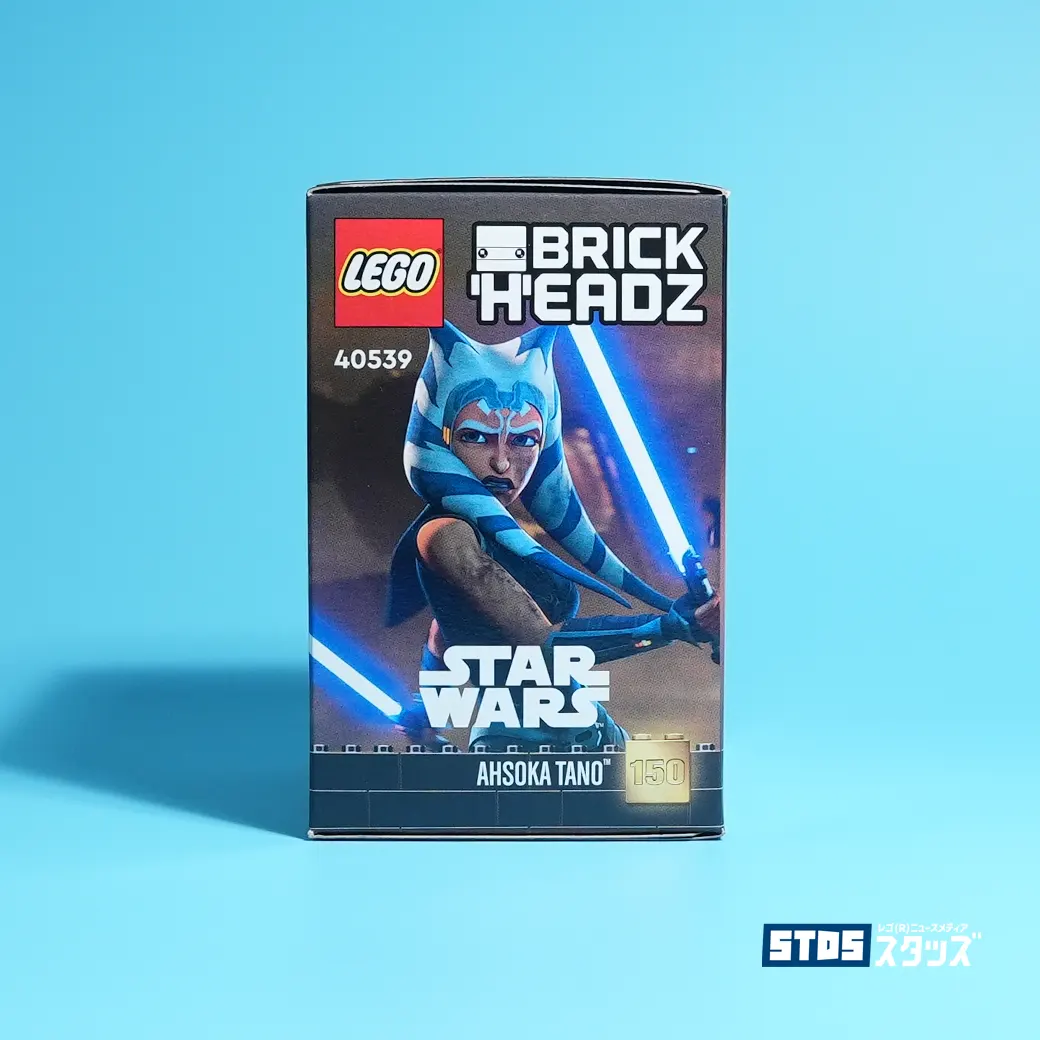 Video Review Also Available
Now, let's get started with the unboxing and assembly review of the LEGO(R) Star Wars/BrickHeadz Ahsoka Tano!
Contents of the Box
Inside the box, you'll find four bags, a base plate, and assembly instructions. LEGO(R) BrickHeadz parts typically come in predetermined types and volumes.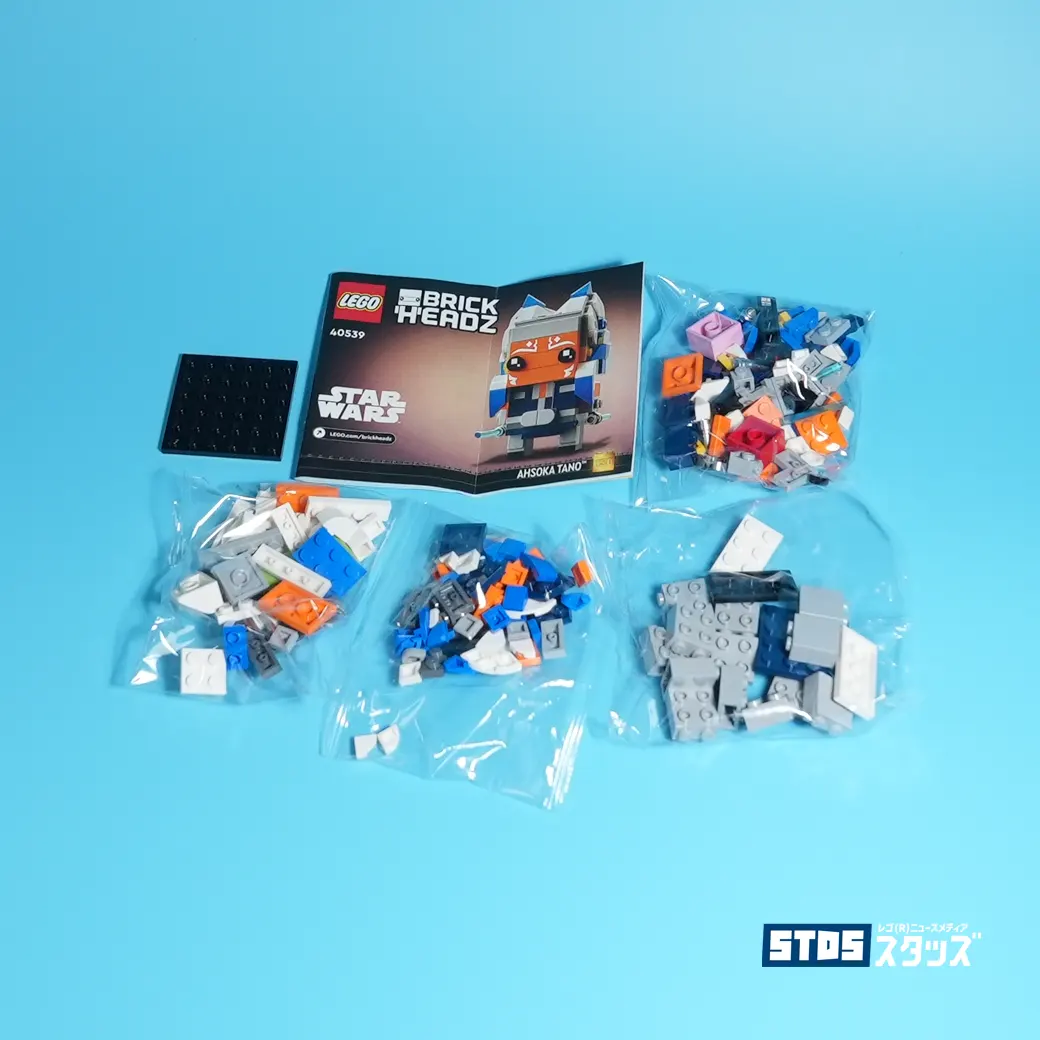 Creating Ahsoka with LEGO(R) Bricks
Let's stack up the bricks for the torso section.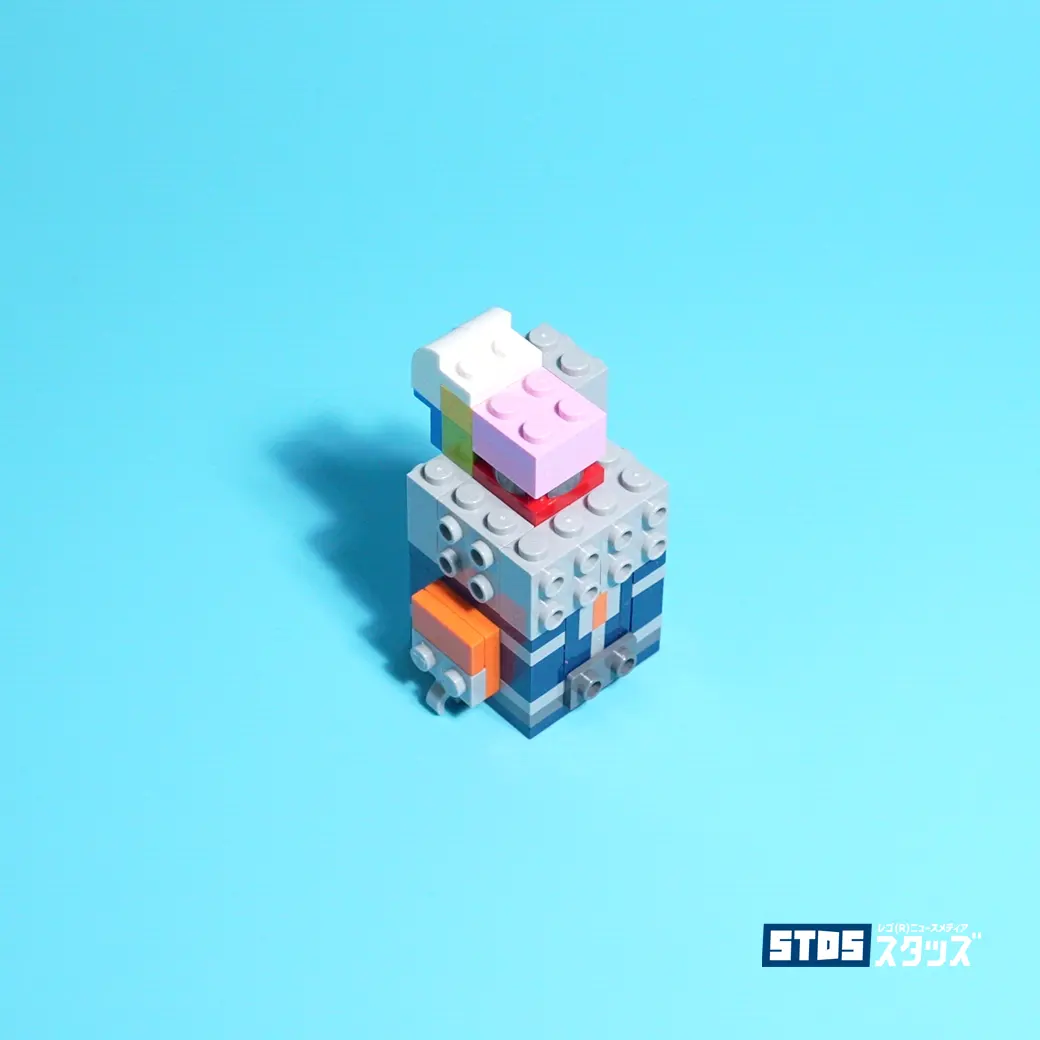 Attaching the slightly reddish skin and white-patterned tiles, Ahsoka comes to life! The white patterns on the face are printed on, not stickers.
It's unclear whether the facial patterns are tattoos, paint, or a natural feature, and I couldn't find a definitive answer on the setting in the source material.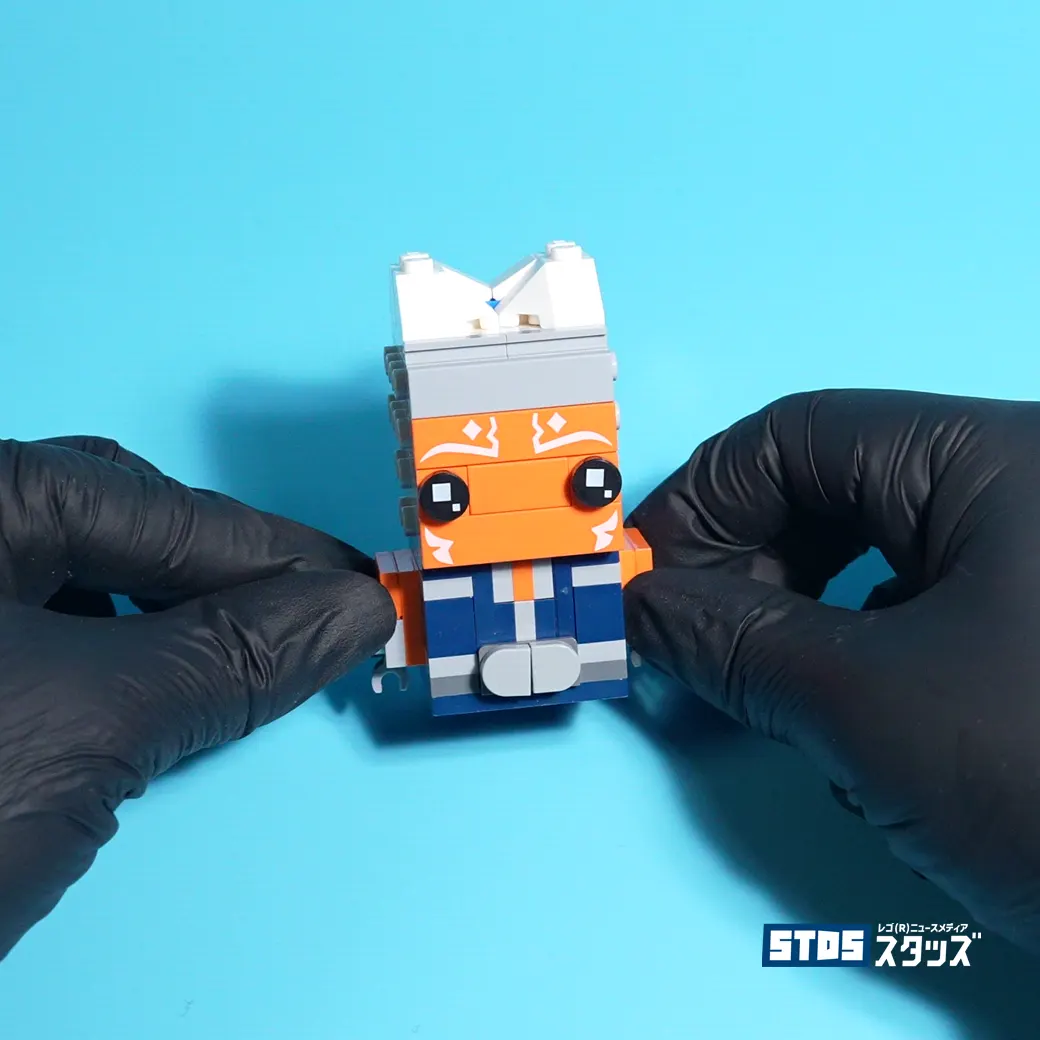 The distinctive blue and white patterns on Ahsoka's head, typical of her Togruta species, are meticulously recreated with small tile pieces.
Ahsoka is complete!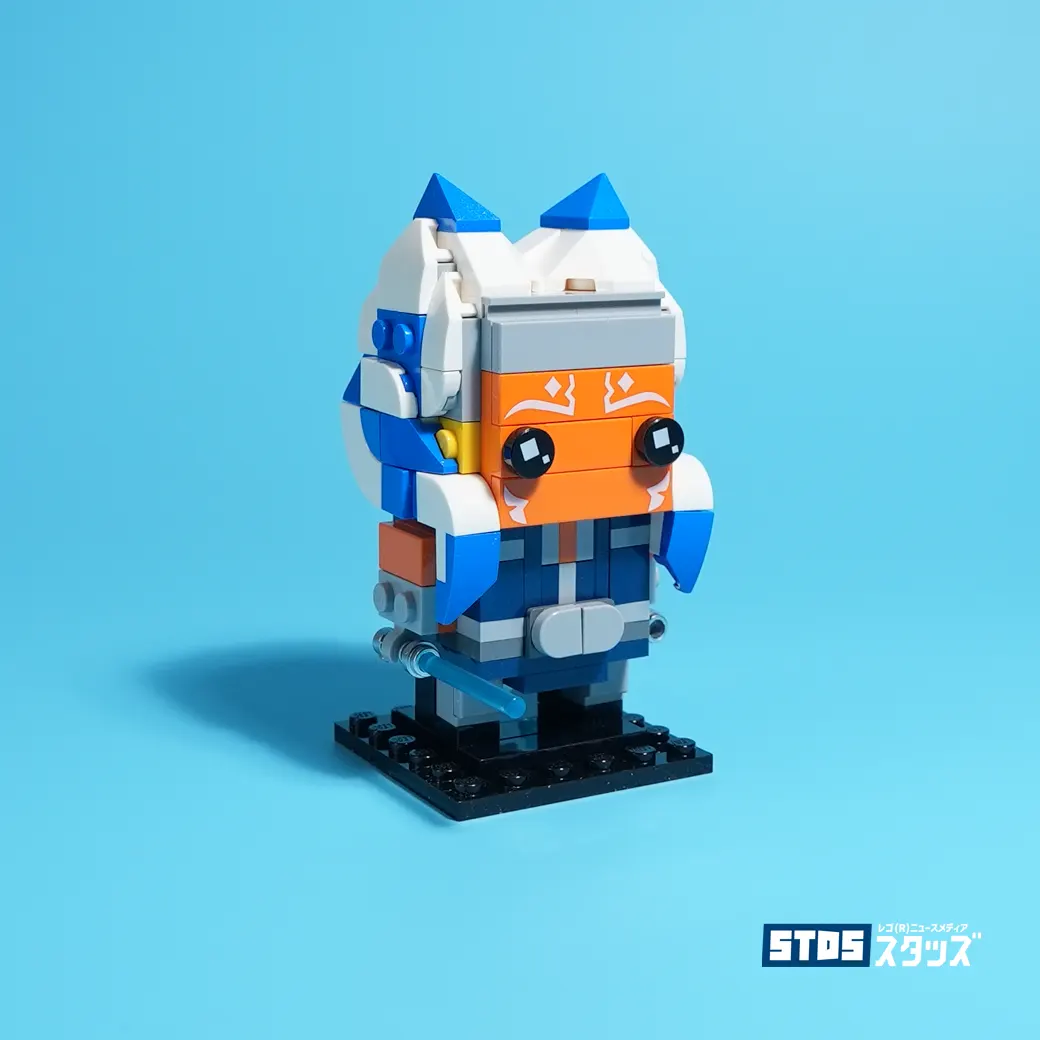 Dual Lightsabers
Ahsoka is known for dual-wielding lightsabers in the series, and this set includes two lightsabers.
Included are blue lightsabers (blades) that are the same size as those for minifigures.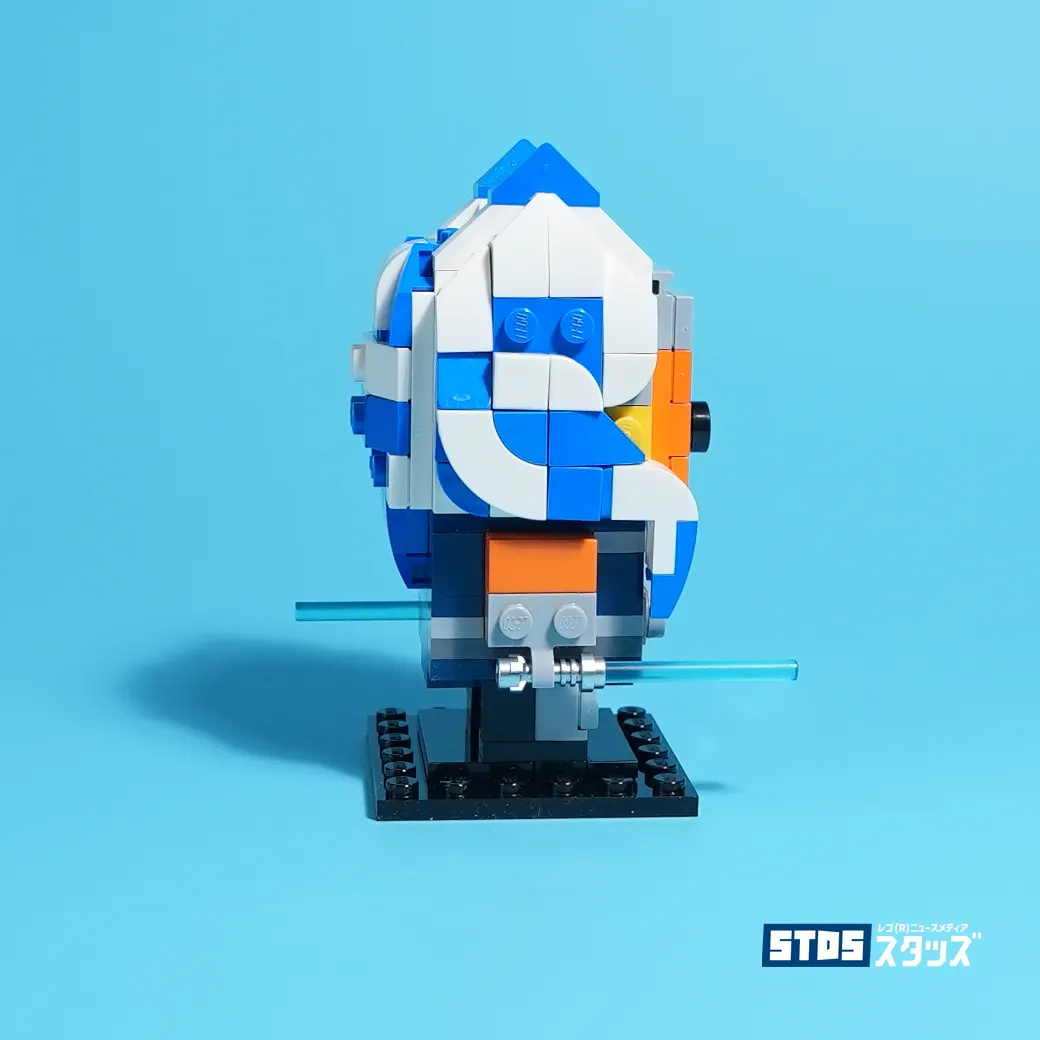 To be honest, Ahsoka doesn't give off the impression of being a user of blue lightsabers.
Ahsoka's use of a blue lightsaber likely came into play in the seventh season, episode 9 of 'Clone Wars', titled "Old Friends Not Forgotten," where Anakin, upon reuniting with Ahsoka, handed her a lightsaber.
The lightsaber given to her at that moment likely matches the hilt's design and Anakin's statement about "maintaining it," suggesting it was the lightsaber Ahsoka used when she was a member of the Jedi Order.
Primarily Used Yellow and Green
Though Ahsoka primarily used green and yellow lightsabers in the series, the one handed to her this time was likely Anakin's, as he had swapped the Kyber crystal that served as the blade's emitter to his preferred blue color.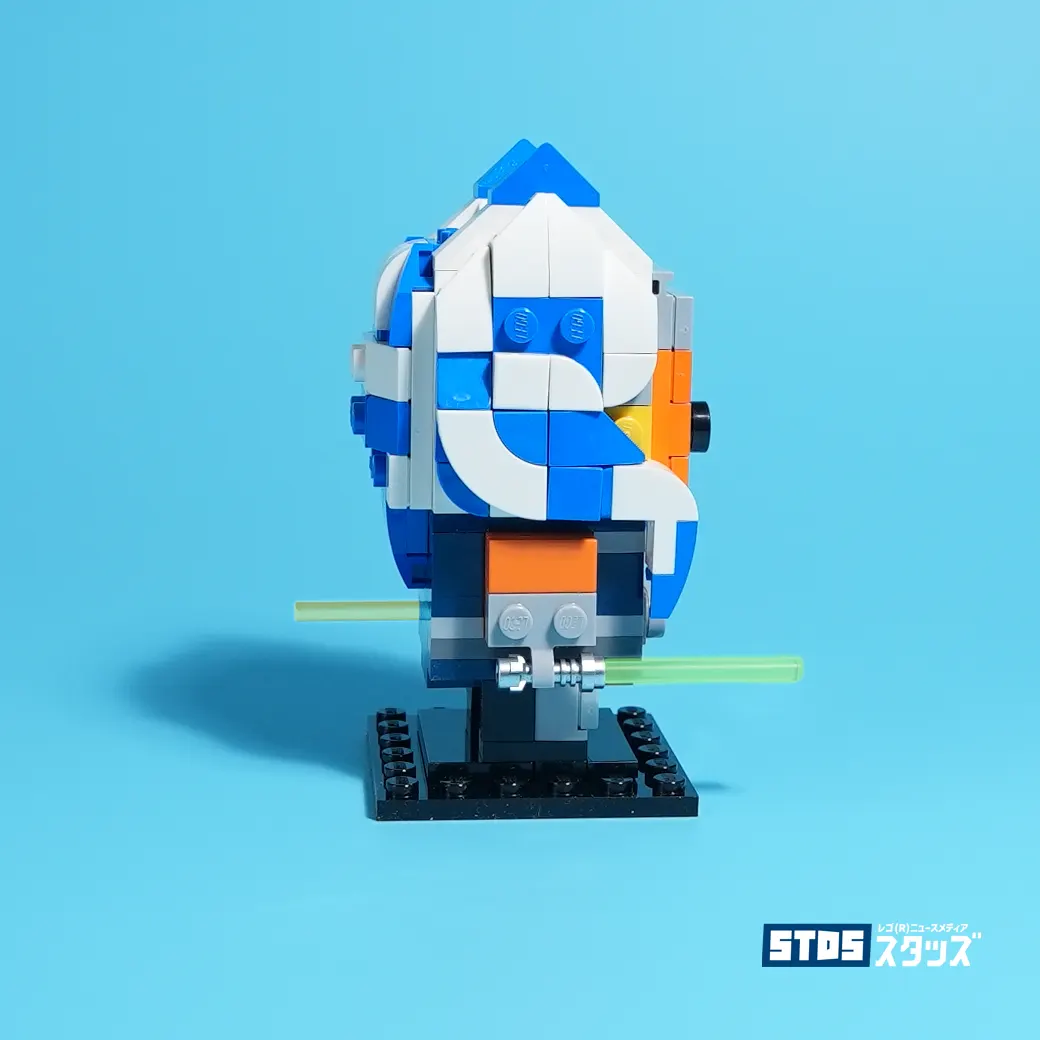 ※Yellow and green blade parts are not included in this set
Was the Kyber Crystal Not Exclusive to Her?
The Kyber Crystal serves as the laser emitter for lightsabers. However, in 'Clone Wars' Season 5, Episode 6 titled "The Gathering," Padawans are shown struggling to acquire their unique crystals.
In "The Gathering," Padawans retrieve crystals that are attuned to their own Force connection from a mining operation. It's puzzling how these crystals could be easily swapped and used by other Jedi. Anakin's exceptional Force capabilities might offer some explanation for this, though.
Usable Beyond the Jedi
If lightsabers are so closely tied to the user's connection with the Kyber Crystal through the Force, it raises questions about scenes in which non-Jedi like Han Solo or Finn use lightsabers in the movies. However, as it digresses from the main topic of this article, we won't dwell on this further.
White Lightsaber
Ahsoka began using the white lightsabers after her departure from the Jedi Order and their reappearance in 'Rebels'.
While lightsabers are typically blue, green, or red (for the Sith), Ahsoka's choice of white is explained by Dave Filoni, the producer of Clone Wars, on the Star Wars official YouTube channel's show. He revealed that Ahsoka wields white lightsabers to signify her neutral stance, neither Jedi nor Sith.
Nowadays, the white lightsabers feel most characteristic of Ahsoka.
It's said that Ahsoka purified the Kyber crystals of the lightsabers she took from the Sixth Brother, an Inquisitor she defeated, to create her white lightsabers.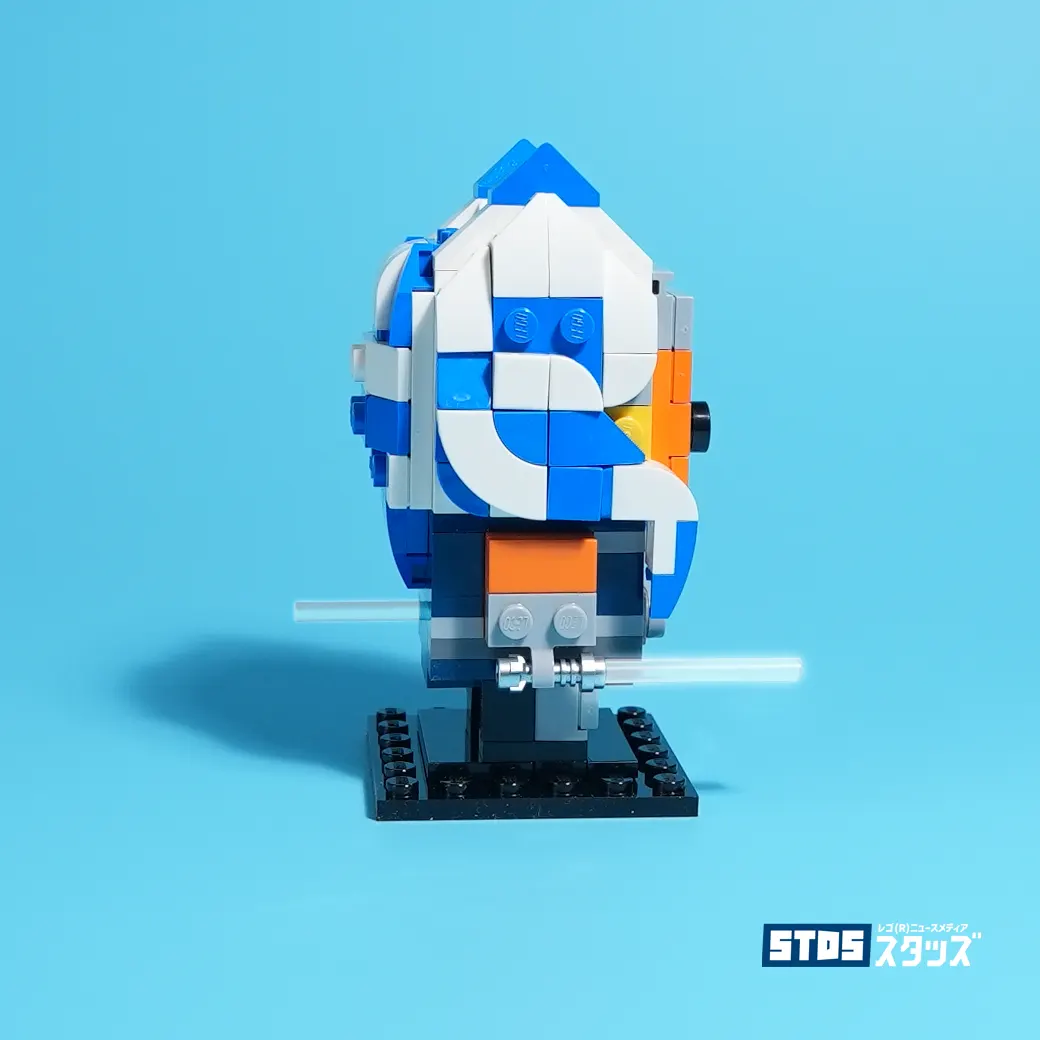 ※White blade parts are not included in this set
Jedi hero Ahsoka Tano
A buildable LEGO BrickHeadz figure of Jedi hero Ahsoka Tano (40539) in a Star Wars: The Clone Wars outfit with 2 blue lightsabers
Reverse Grip Ahsoka
Ahsoka wields her lightsabers with a reverse grip.
Ahsoka fights with a reverse grip (primarily) on her lightsabers, so both the product images of this set and the image on the box show Ahsoka with one lightsaber in a reverse grip.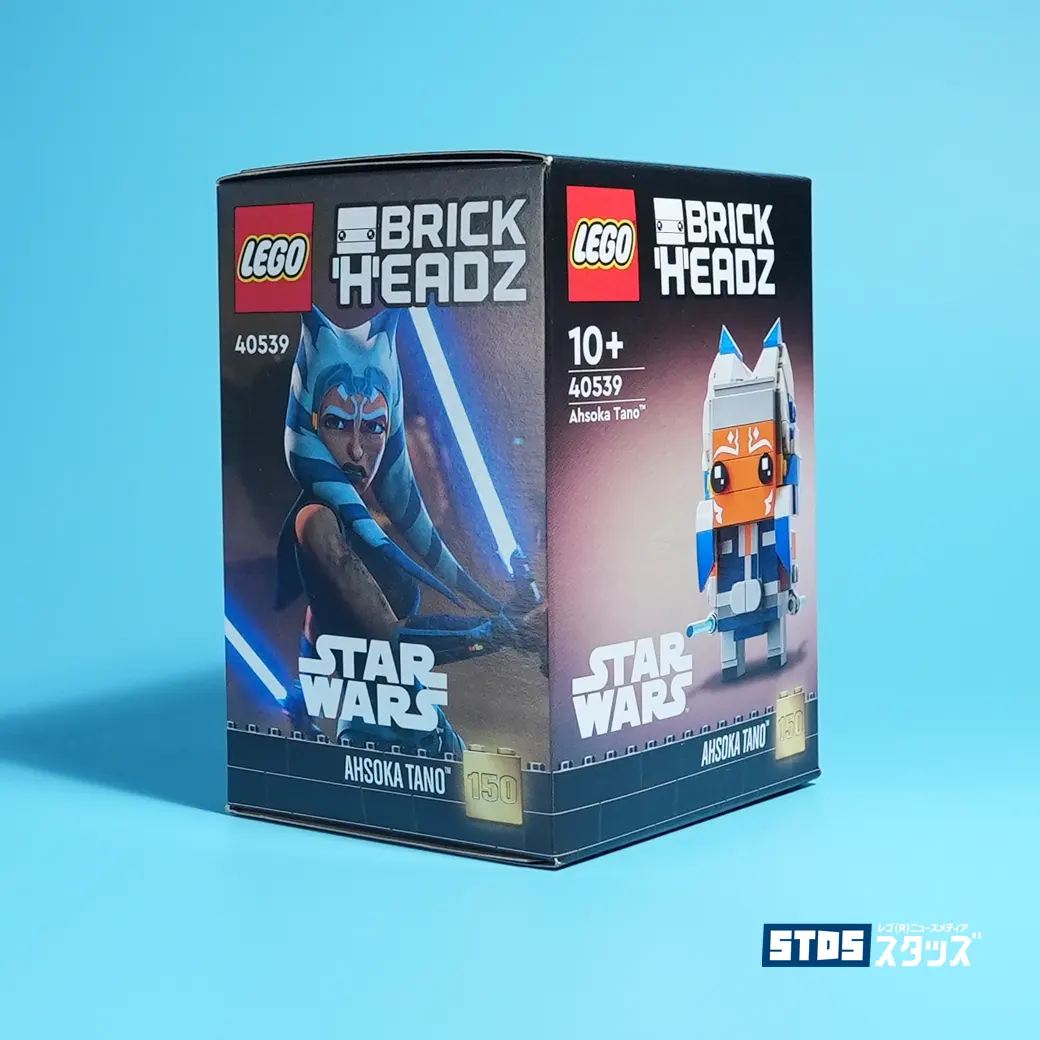 What are the advantages of using a reverse grip for a blade?
Combining information found on the internet and my own imagination, the benefits of a reverse grip are generally as follows:
Advantages of a Reverse Grip
Greater force can be applied when thrusting, even with a shorter blade
More maneuverable in tight spaces
Faster draw attack (though this might not apply to lightsabers)
Allows for quicker attacks with agile movements compared to an orthodox grip
Considering these advantages, a reverse grip seems suited for combat involving shorter blades or knives.
In period dramas, we often see ninjas using a reverse grip with short-bladed swords. This technique could have been more convenient for them, as they sneaked into mansions and castles to carry out espionage and assassination missions.
However, in non-period drama movies and anime, the use of a reverse grip for sword-wielding characters is primarily for "characterization" purposes and seems to be the most significant reason.
"`
Please adapt the translation to fit your context as needed.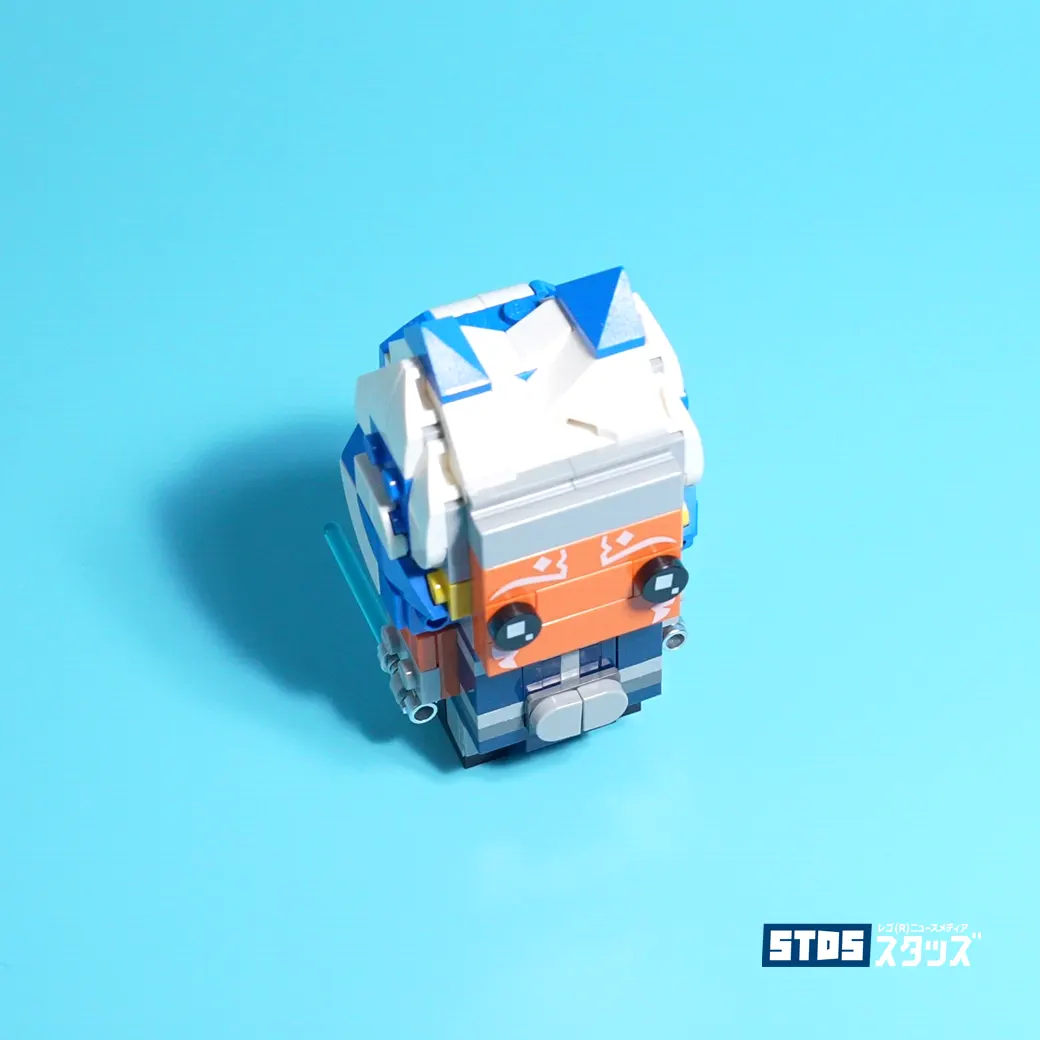 Statham vs Ahsoka
Darth Maul, who engaged in intense battles with Ahsoka multiple times during the Clone Wars, is dubbed in Japanese by the same voice actor as Jason Statham, Kazuhiro Yamaji.
Darth Maul and Jason Statham both share a "lone warrior" kind of character, making them remarkably similar. As you read this review, I invite you to envision Statham's portrayal while picturing Darth Maul's persona.
「Ahsoka Tano…」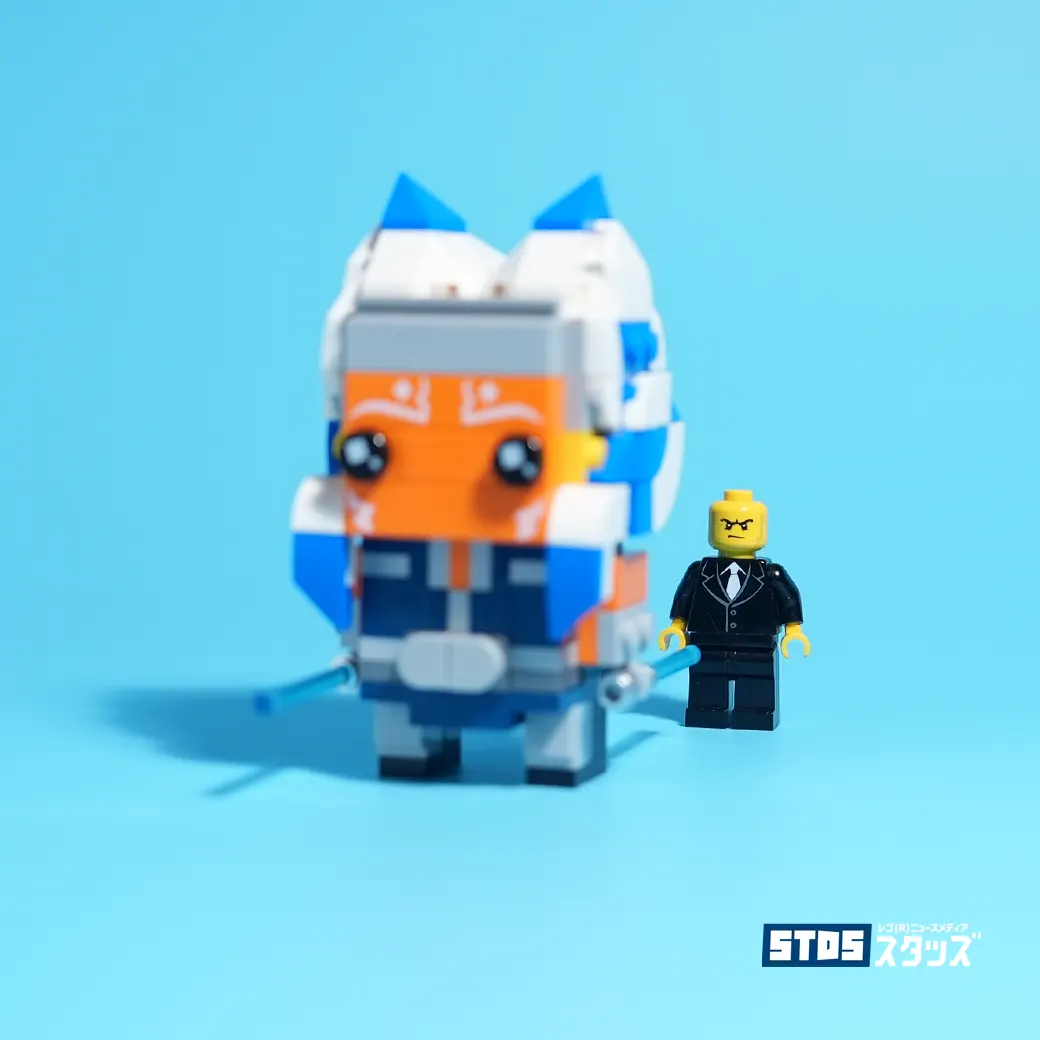 「!!!」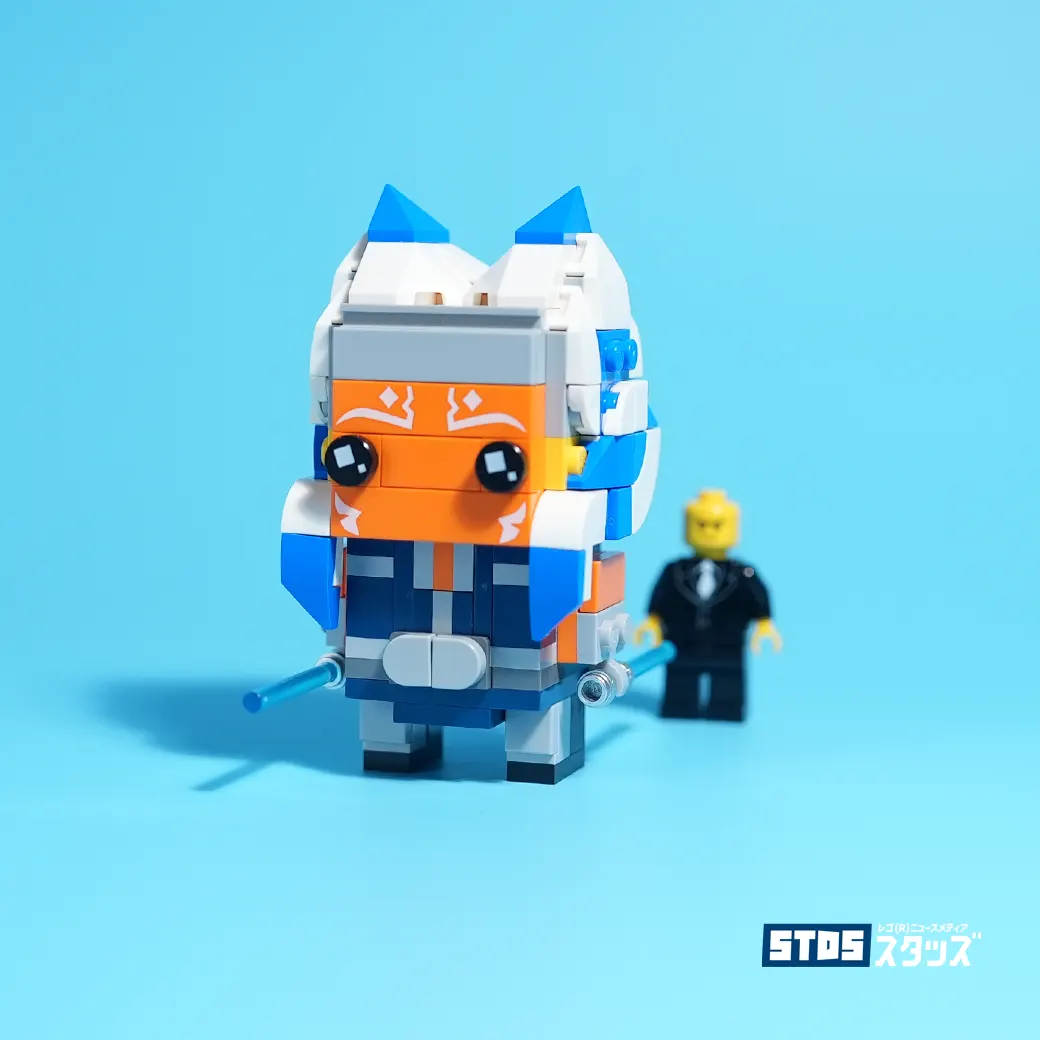 「Join me… or die」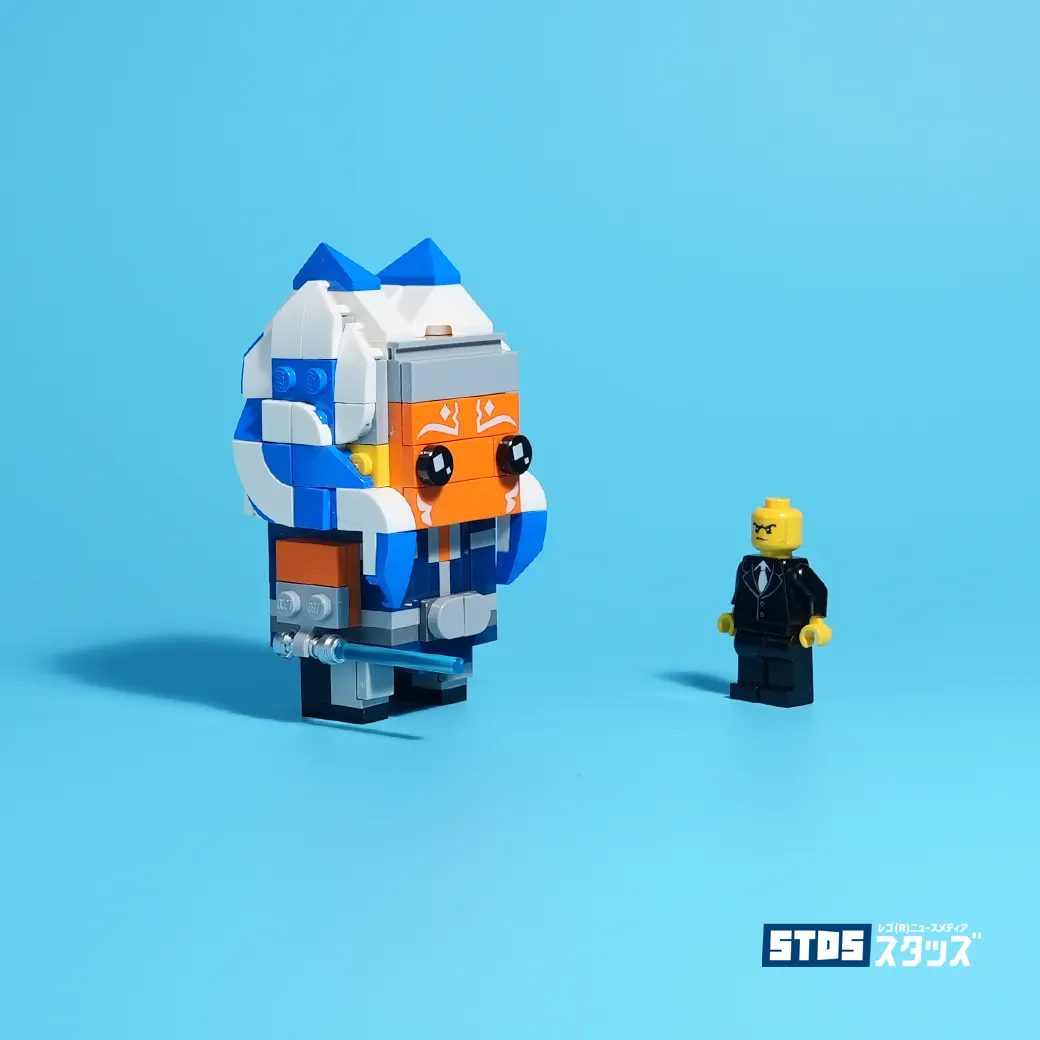 「Never!」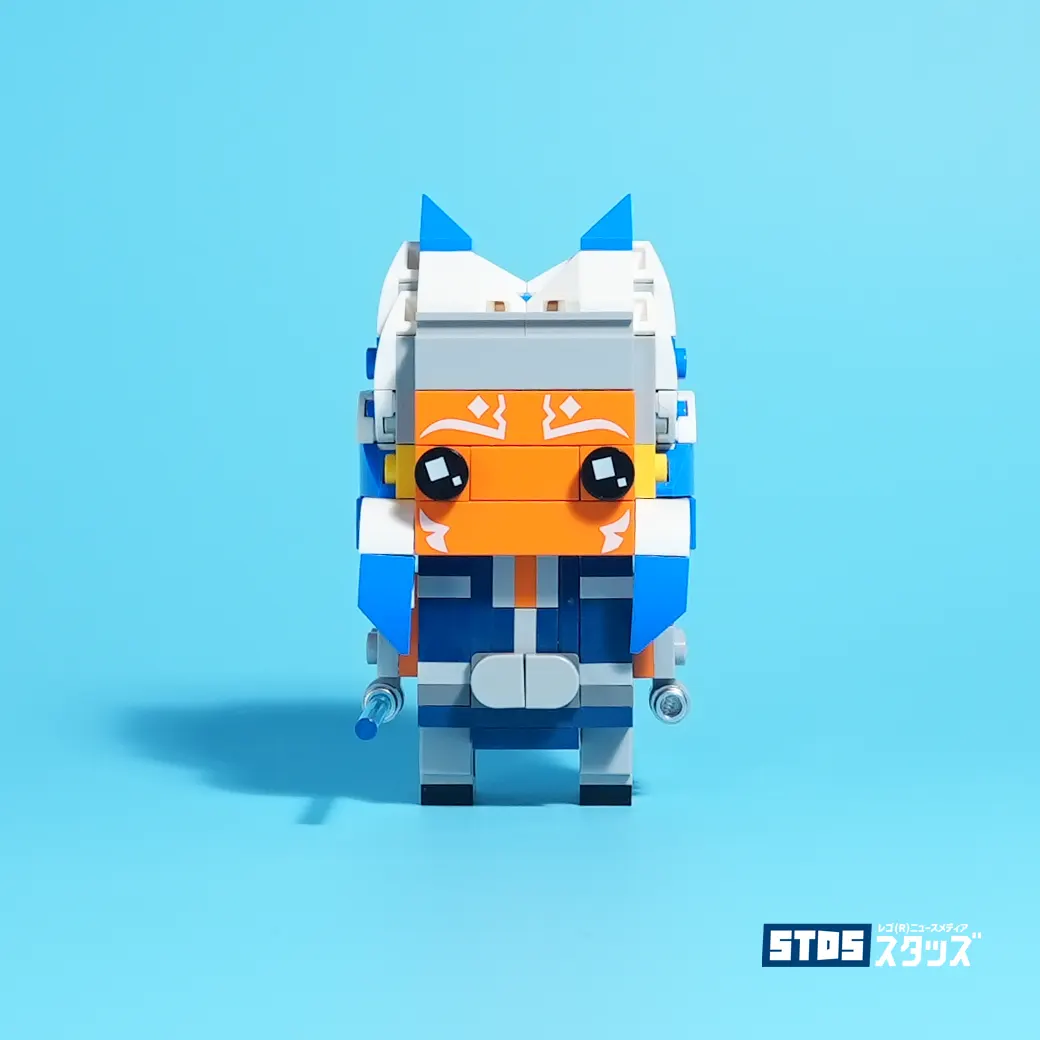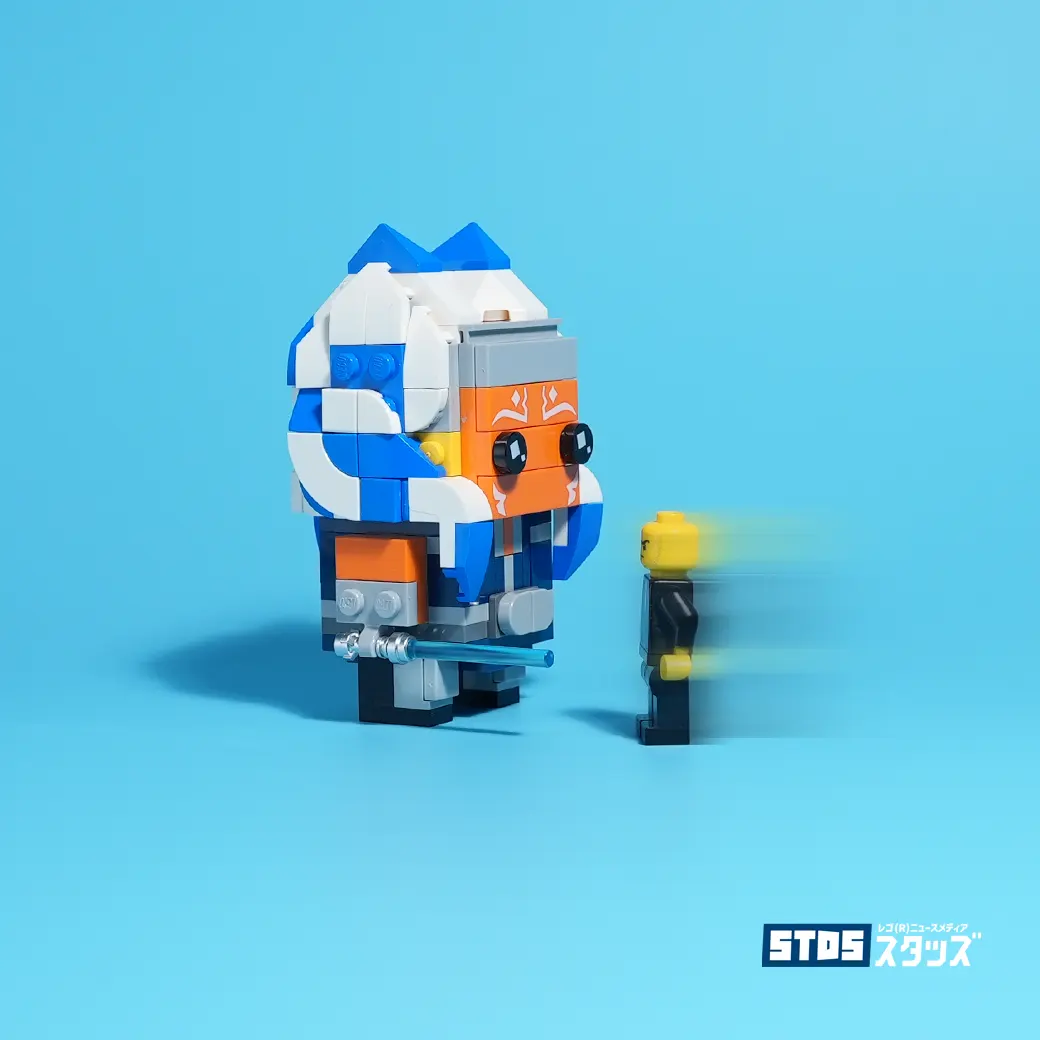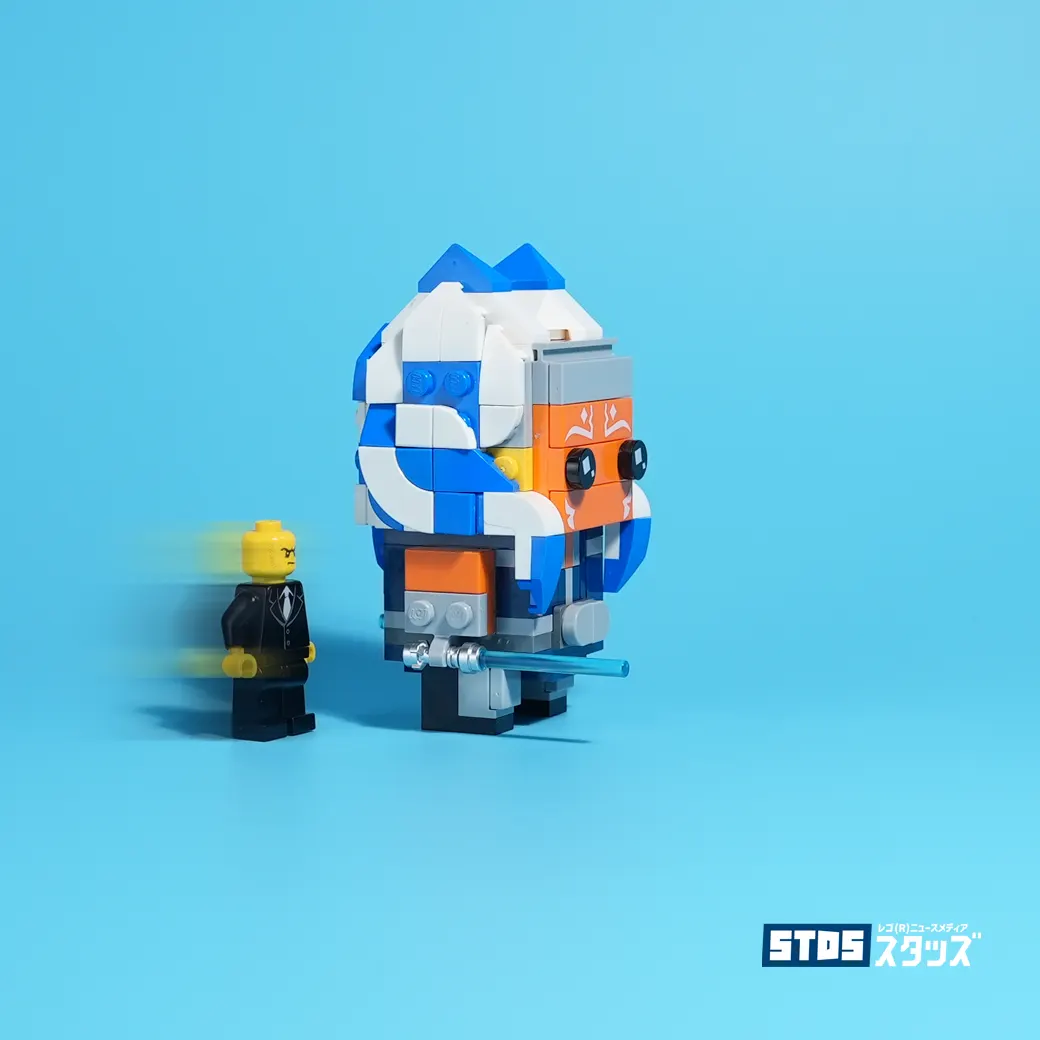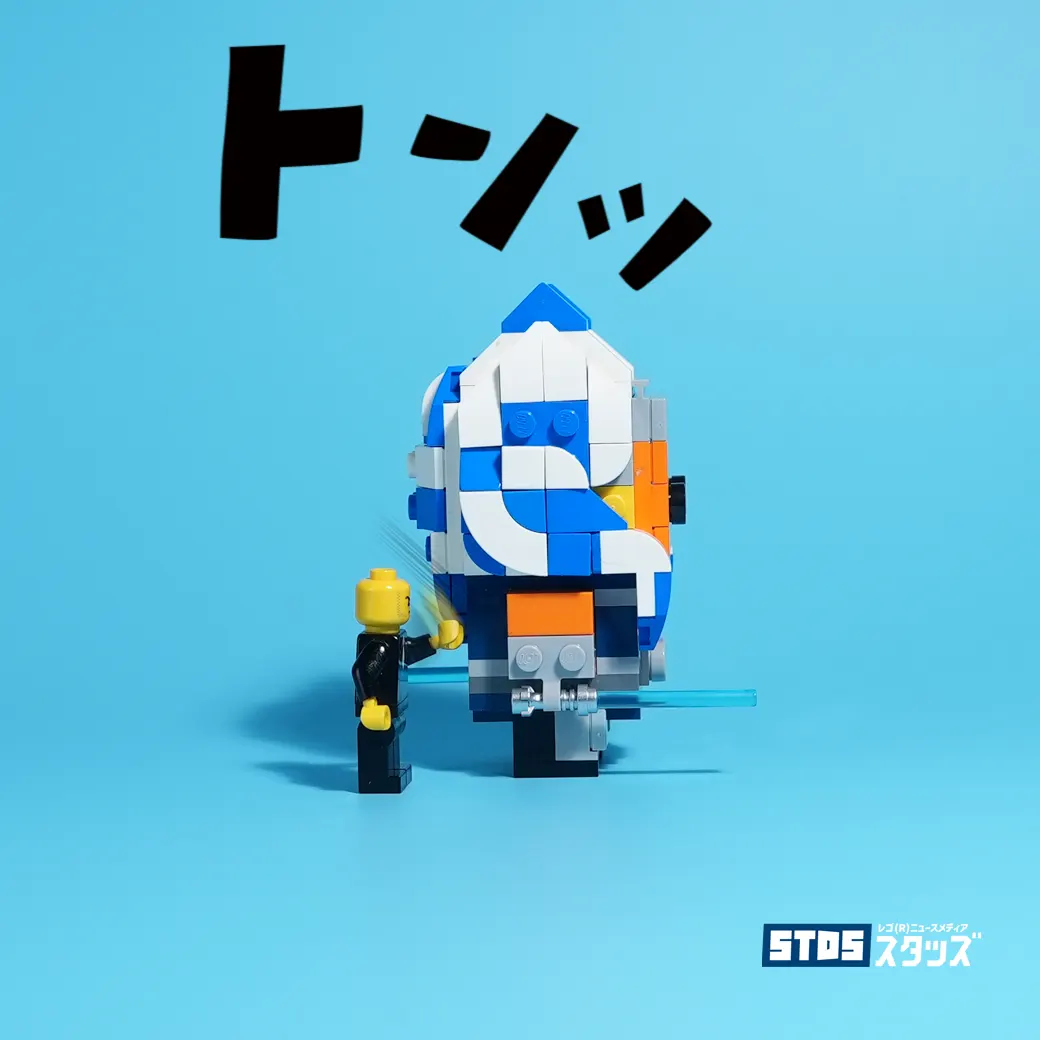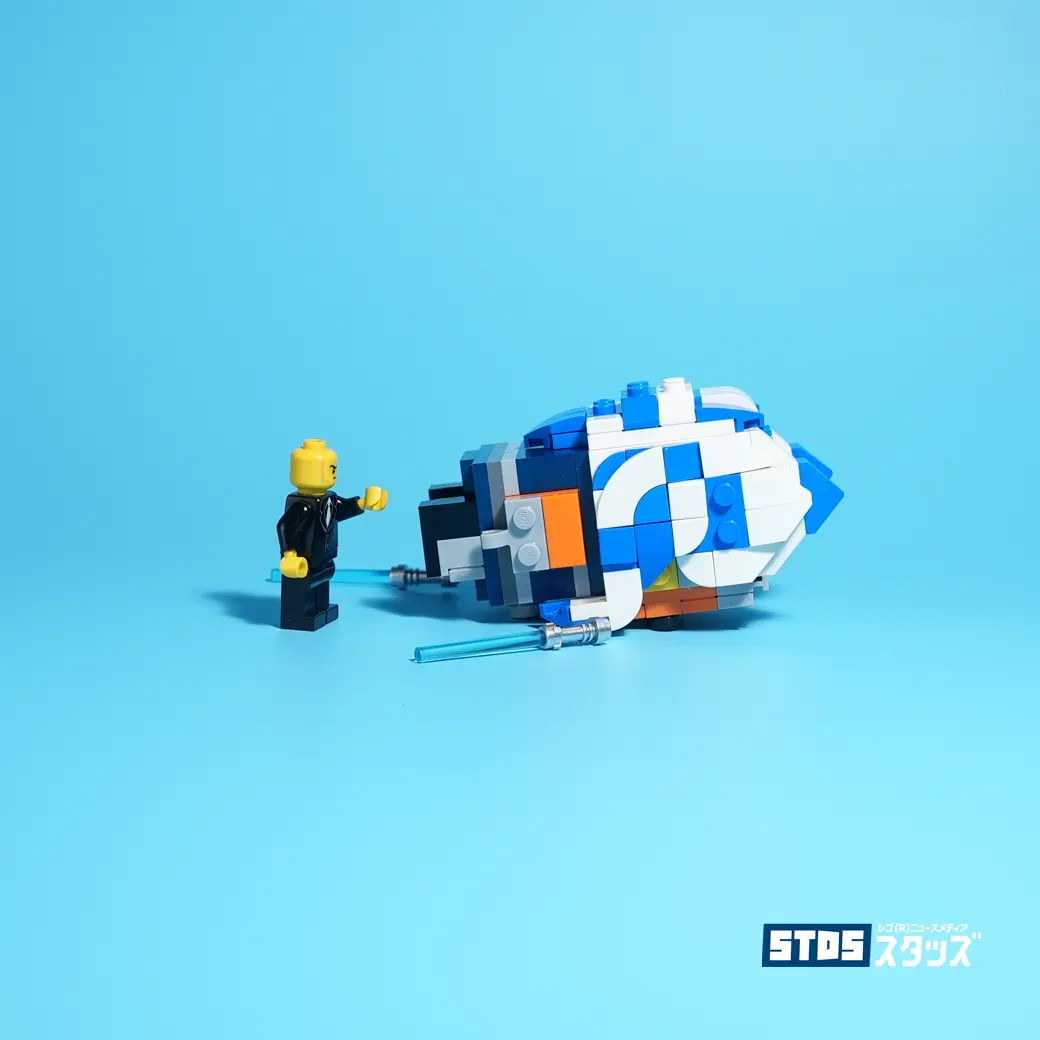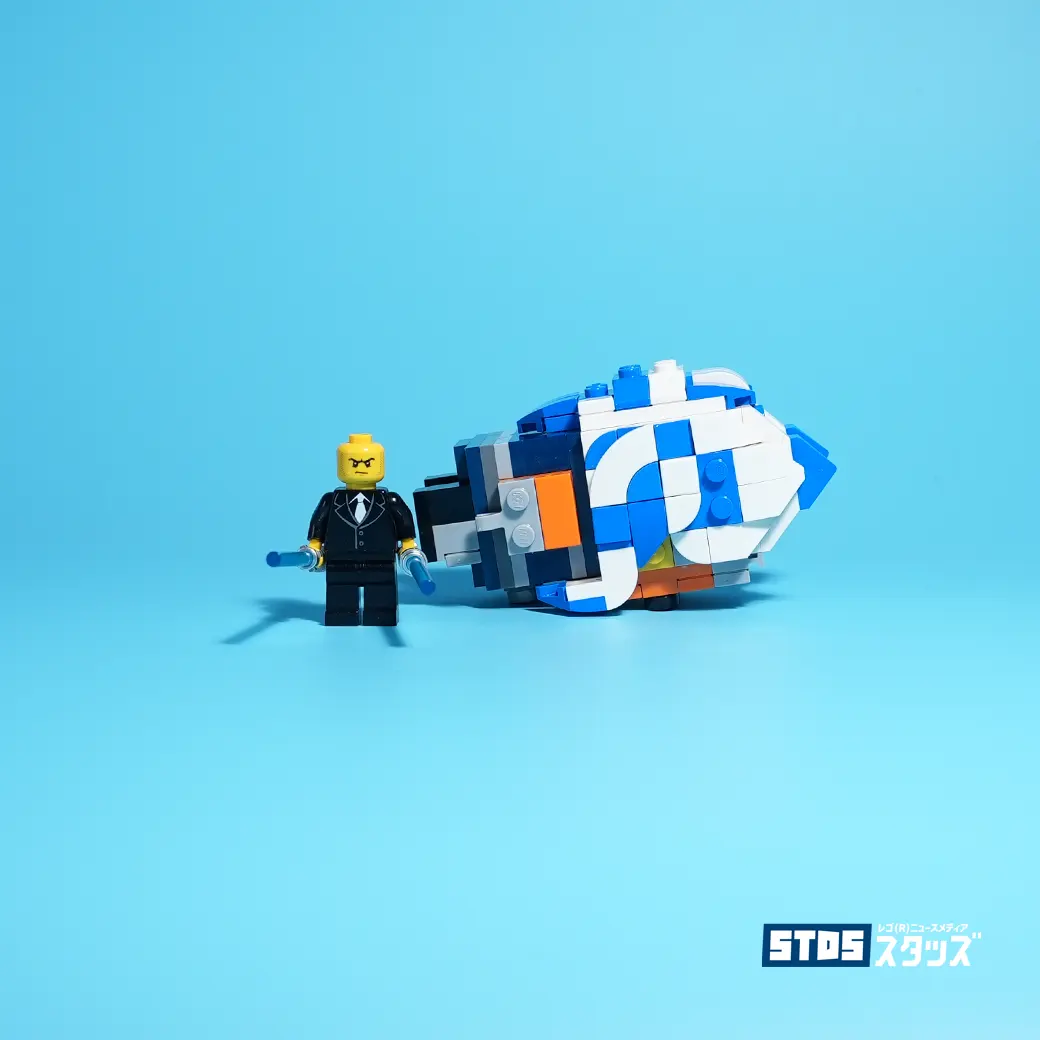 Summary of Impressions
Ahsoka's distinct features, including the blue and white patterns, the reddish tinted skin color and patterns, and the dual-wield lightsabers, make for an incredibly impressive content.
As a BrickHeadz, it lacks articulation, but for Star Wars fans, just gazing at it is enjoyable, and kids can have fun by having this Ahsoka engage in battles with other figure-based products or minifigures.
If I were to nitpick, I thought that including the green and yellow lightsabers from when she was most active or the white lightsaber from her post-resurrection period would have been more fitting for Ahsoka than the blue lightsabers.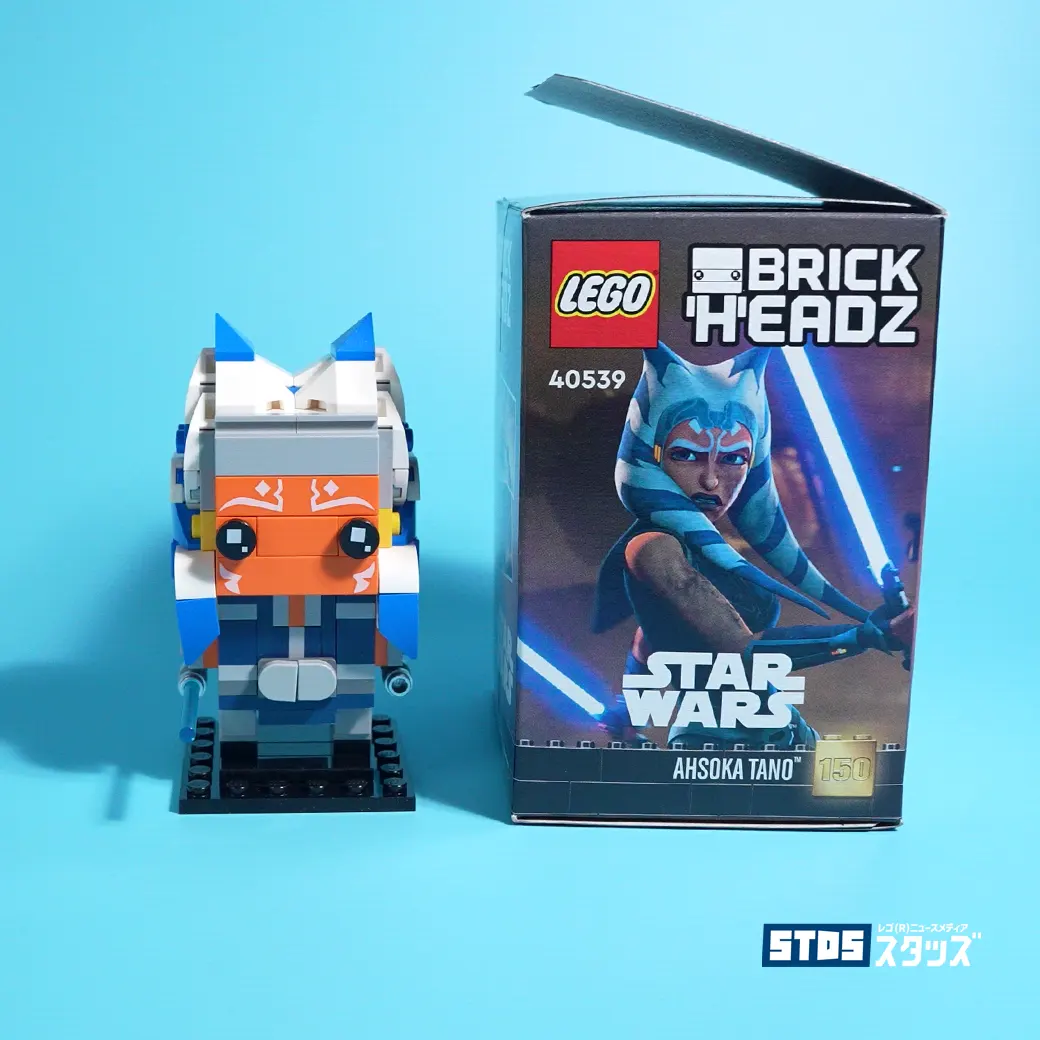 Jedi hero Ahsoka Tano
A buildable LEGO BrickHeadz figure of Jedi hero Ahsoka Tano (40539) in a Star Wars: The Clone Wars outfit with 2 blue lightsabers
P.S. Impressions on Clone Wars
In Clone Wars, the series portrays the daring and impulsive actions of Anakin and Ahsoka, who undertake challenging missions together.
Initially dismissing the need for a Padawan, Anakin eventually acknowledges Ahsoka's abilities, and their bond of trust grows stronger as the story progresses.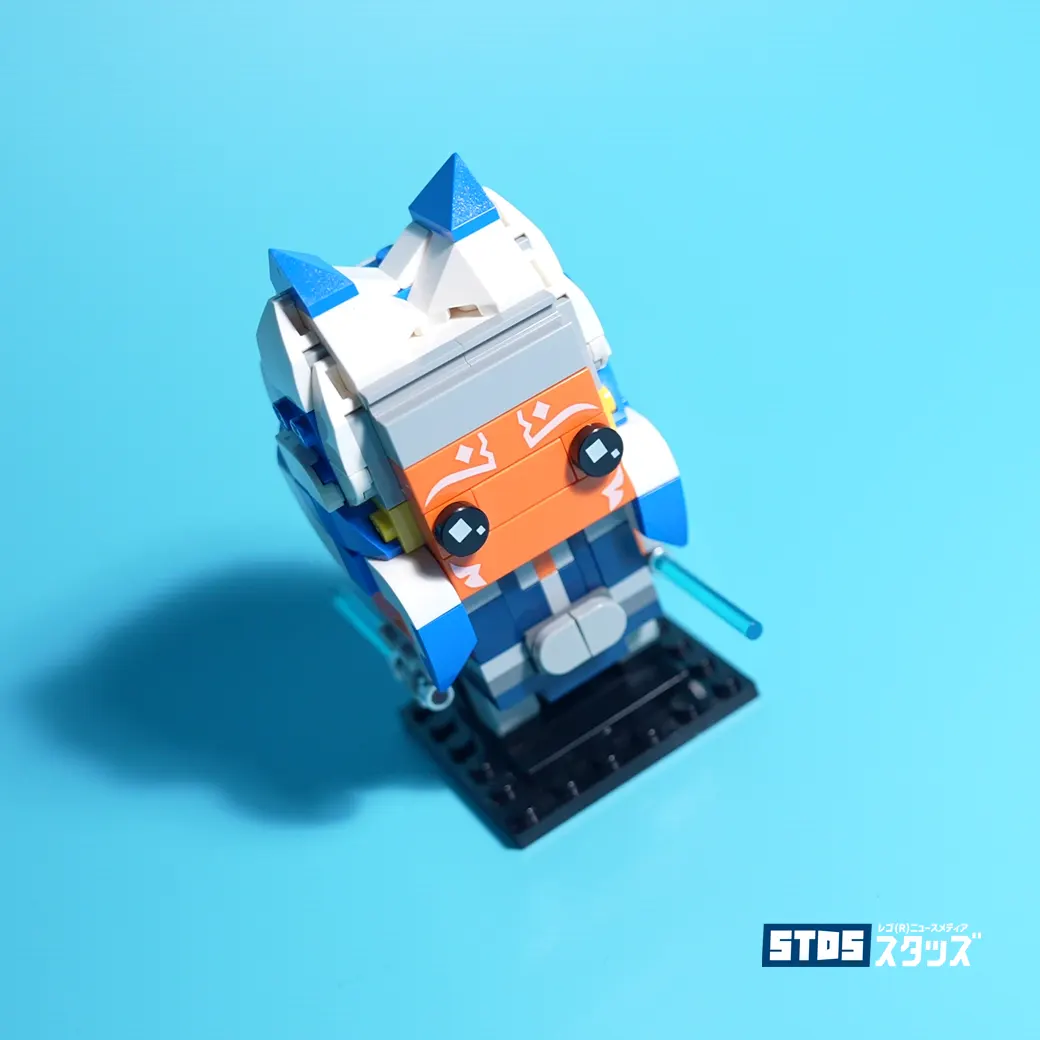 And Ahsoka's Whereabouts
In the final stages of the series, Ahsoka is framed for murder by a fellow dissatisfied Jedi colleague and is arrested. However, despite Anakin's efforts to prove her innocence, the Jedi Council, except for Anakin, doesn't believe her.
Only Anakin, who steadfastly believed in Ahsoka's innocence, managed to clear her name. Yet, due to these events, Ahsoka chooses to leave the Jedi Order.
Anakin's Growing Distrust of the Jedi Council
On the other hand, Anakin's distrust towards the Jedi Council grows as they order him to spy on his mentor, Palpatine. The incident with Ahsoka also contributes to his feelings, but ultimately, he falls to the dark side and becomes Darth Vader.
Due to the incompetence of the Jedi Council, the two part ways and follow separate paths. Anakin asserts himself as Darth Vader, while Ahsoka disappears and goes missing from the spotlight.
Emotional Reunion in "Rebels"
In the final episode of Season 2 of the animated series "Star Wars Rebels," titled "Twilight of the Apprentice," there's a scene where the fallen Anakin (Darth Vader) and Ahsoka reunite and engage in battle. This scene is guaranteed to move any fan of the two characters to tears. If you haven't watched it yet, I strongly recommend watching it after seeing Clone Wars.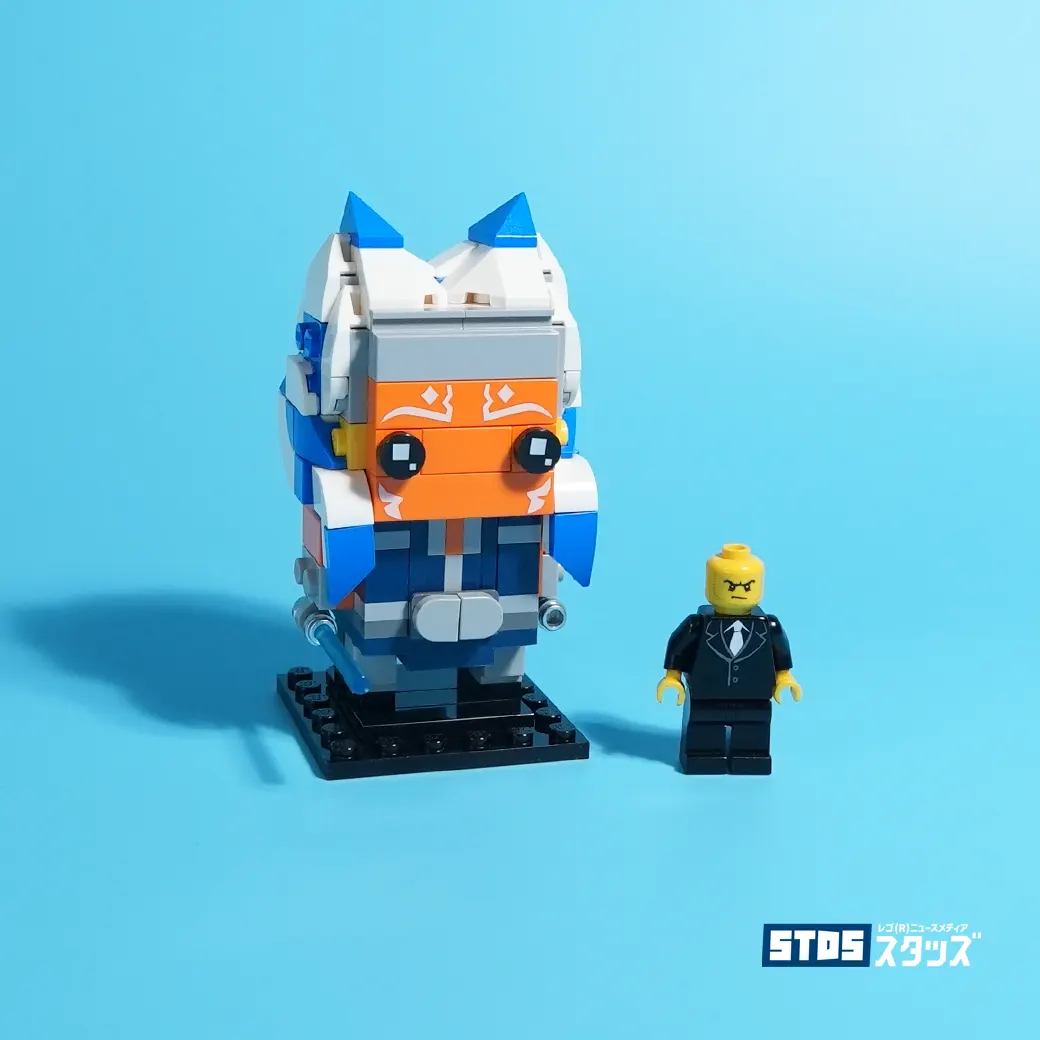 Follow us
SWOOZ, we deliver the latest updates about LEGO(R) bricks across all genres on platforms like Twitter and YouTube. Please follow us for more information! Thank you
Read More Posts
LEGO(R)Review
Read Our LEGO Entertaining Review!In addition to product reviews, there are many unique reviews that are especiall[…]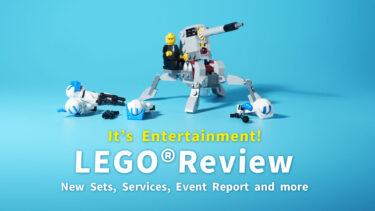 LEGO(R)Star
[random_rec][ads_rectangle]LEGO(R) Star Wars Check all the latest information at once! On this page, we will extra[…]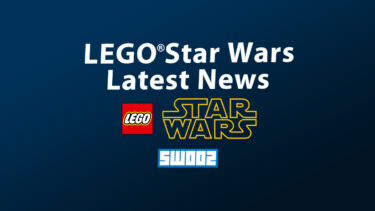 This article includes affiliate links and we earn from qualifying purchases.