Space adventurers aged 6+ can enjoy thrilling intergalactic action with this LEGO® Creator 3in1 Space Shuttle (31134) playset.
It features a Space Shuttle toy with an opening hatch that contains a satellite on an extendable arm. The satellite can also be detached for extra fun.
Gifts for space-lovers
There are 3 different build-and-play experiences for space fans to enjoy with this LEGO Creator 3in1 set. They can build a Space Shuttle toy and then rebuild it into a posable astronaut figure with a jetpack and a flag to plant, or an impressive spaceship model.
A fun digital experience for LEGO fans
Download the LEGO Builder app and step into a new world of building fun where kids can zoom in and rotate models in 3D, save sets and track their progress.
3in1 toy – Fans of space play can enjoy intergalactic action with the LEGO® Creator 3in1 Space Shuttle (31134) playset, featuring a Space Shuttle, a posable astronaut and a spaceship
Endless play options – Kids can choose to play out action with a Space Shuttle toy, an astronaut toy figure with posable arms and legs, and a supercool spaceship
Packed with accessories – The Space Shuttle has an opening hatch containing a detachable satellite, and the astronaut figure has a jetpack and a flag to plant on a stand
A fun build – This 144-piece building set lets space enthusiasts aged 6+ enjoy a rewarding build before the play begins and can be given as a little treat or a birthday present
Play on the go – This durable Space Shuttle toy measures over 2.5 in. (6 cm) high, 5 in. (12 cm) long and 6 in. (16 cm) wide, making it a portable size for kids to take wherever they go
More 3in1 fun – Look out for others in the LEGO® Creator 3in1 range, including the Vintage Motorcycle (31135), Exotic Parrot (31136) and Adorable Dogs (31137) playsets
A helping hand – Discover intuitive building instructions in the LEGO® Builder app where kids can zoom in and rotate models in 3D, track progress and save sets as they develop new skills
Premium quality – For more than 6 decades, LEGO® bricks have been made to ensure they connect consistently every time
Safety assurance – LEGO® building bricks meet stringent global safety standards
Check on LEGO.com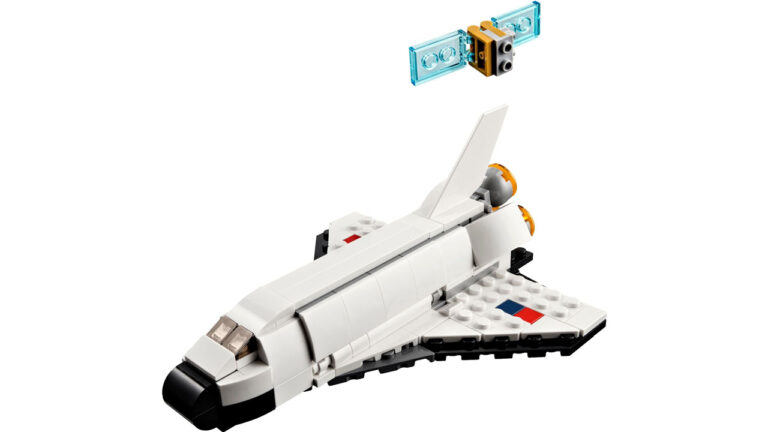 Swooz LEGO(R)News
This article includes affiliate links and I earn from qualifying purchases.