Kids aged 6+ can stage exciting shows, games and competitions with this LEGO® City Spinning Stunt Challenge (60360) toy playset, featuring a spinnable double jump ring, 2 ramps and 2 flywheel-powered stunt bikes. Just add the 2 LEGO City Stuntz motorcycle riders and let the fun begin.
An interactive digital guide adds to the building fun
The set includes a pictorial building guide and the LEGO Builder app – a digital mentor with intuitive zoom and rotate tools that enable kids to visualize models from all angles as they build.
Cool toys for kids
LEGO City playsets put kids at the heart of the action with realistic vehicles, feature-rich structures and fun characters that inspire imaginative, open-ended role play. Combine this set with others from the LEGO City Stuntz range for even bigger shows and competitions.
Stunt action for kids aged 6 and up – Set the scene for fun displays and competitions with this LEGO® City Spinning Stunt Challenge (60360) toy building set for both independent and group play
What's in the box? – Includes a double stunt ring, 2 jump ramps, 2 flywheel-powered stunt motorcycles and 2 rider minifigures
Features and functions – Players spin the double stunt ring to scale up the challenge
A gift for any occasion – Give this LEGO® City Stuntz toy playset as a birthday, holiday or any-day gift for kids and fans of cool stunt action aged 6 and up
Dimensions – The Spinning Stunt Challenge with rings in lock position measures over 8 in. (20 cm) high, 10 in. (26 cm) wide and 15 in. (39 cm) deep
Includes LEGO® minifigure accessories – This set comes with a toy minifigure helmet and trophy
A fun digital building experience – Kids can zoom, rotate and view models from all angles as they build with the LEGO® Builder app for smartphones and tablets
Toys that help kids develop – LEGO® City playsets come with structures, vehicles and characters for imaginative role play that nurtures creative skills and confidence
Quality assured – All LEGO® components meet stringent industry standards to ensure they are consistent, compatible and fun to build with: it's been that way since 1958
Safety in focus – LEGO® components are dropped, heated, crushed, twisted and analyzed to make sure they meet strict global standards for safety
Check on LEGO.com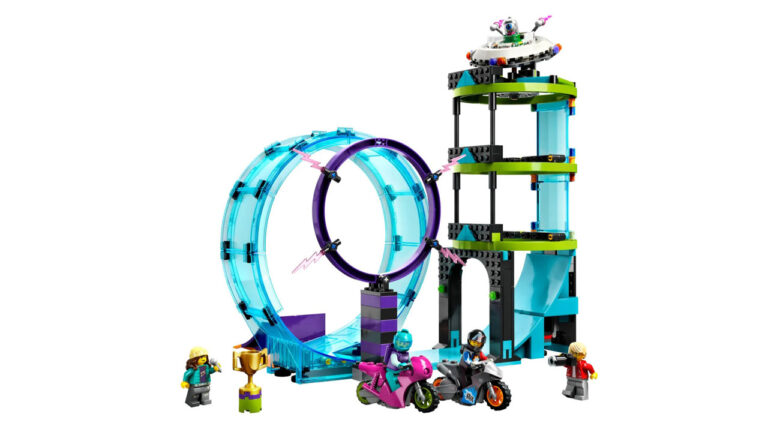 Swooz LEGO(R)News
This article includes affiliate links and I earn from qualifying purchases.