Many new LEGO Friends products to be released on January 1st, 2022.
41703 Friendship Tree House
1114pcs | Age8+ | $79.99 | €79.99 | Release Date Saturday Jan 1st 2022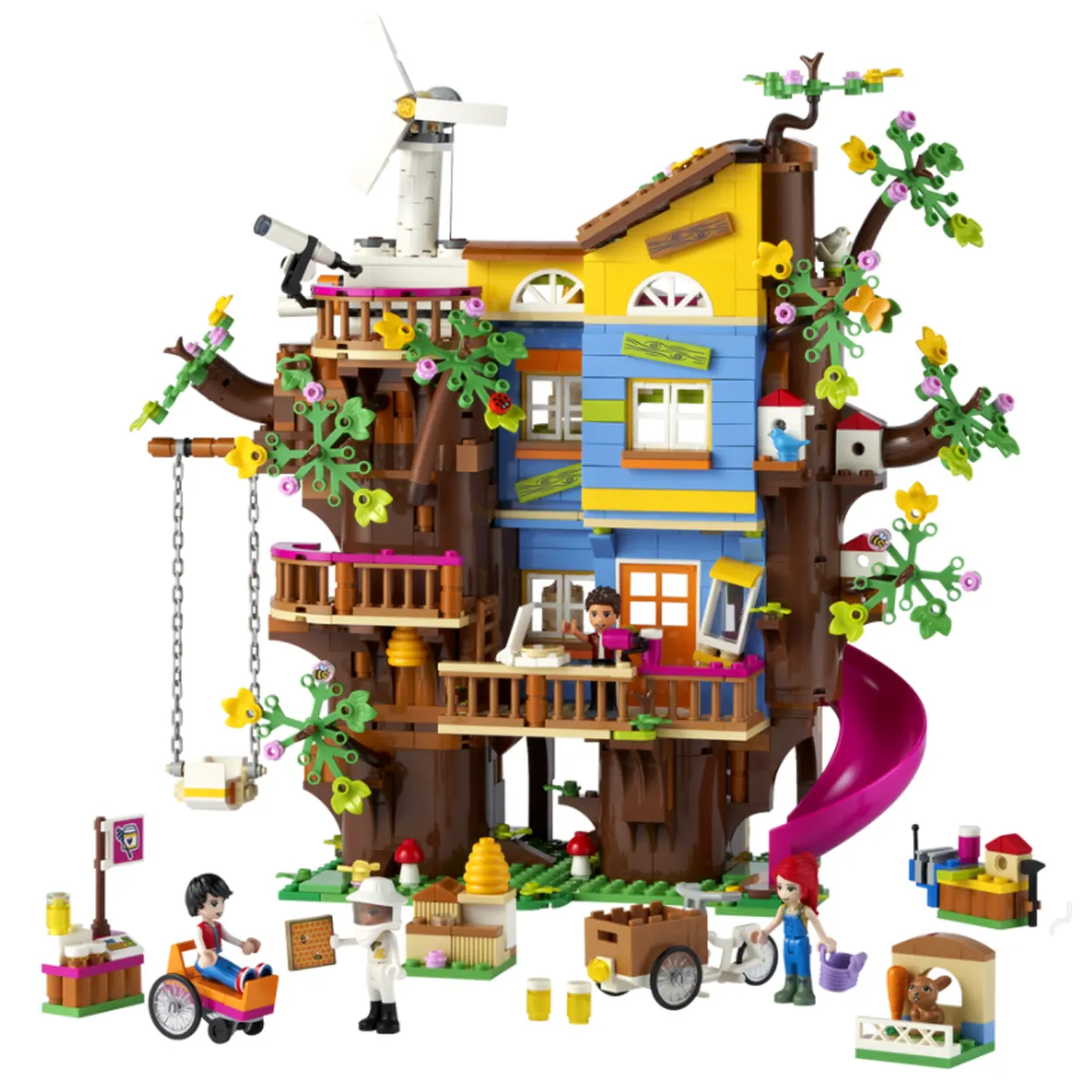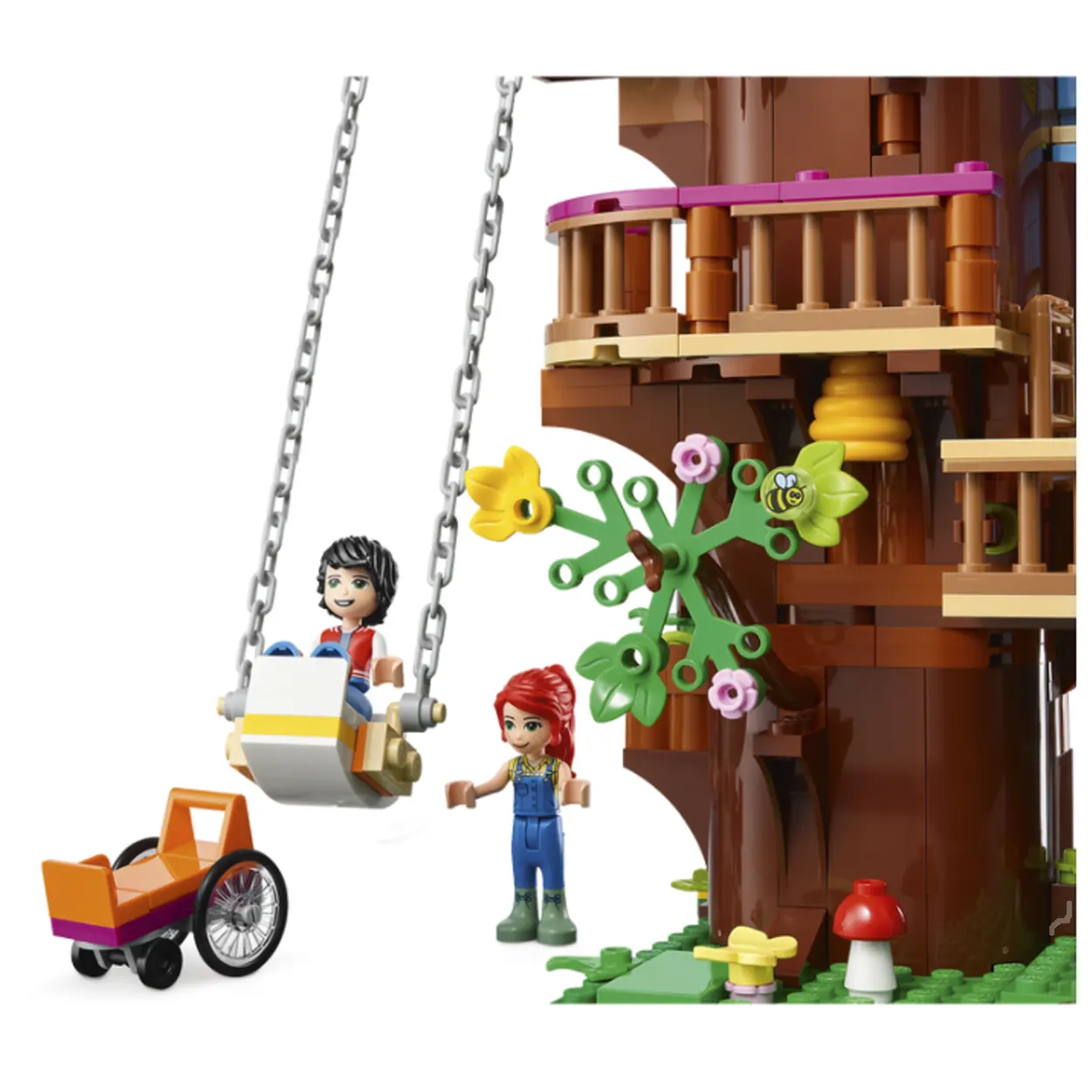 New wheel chair.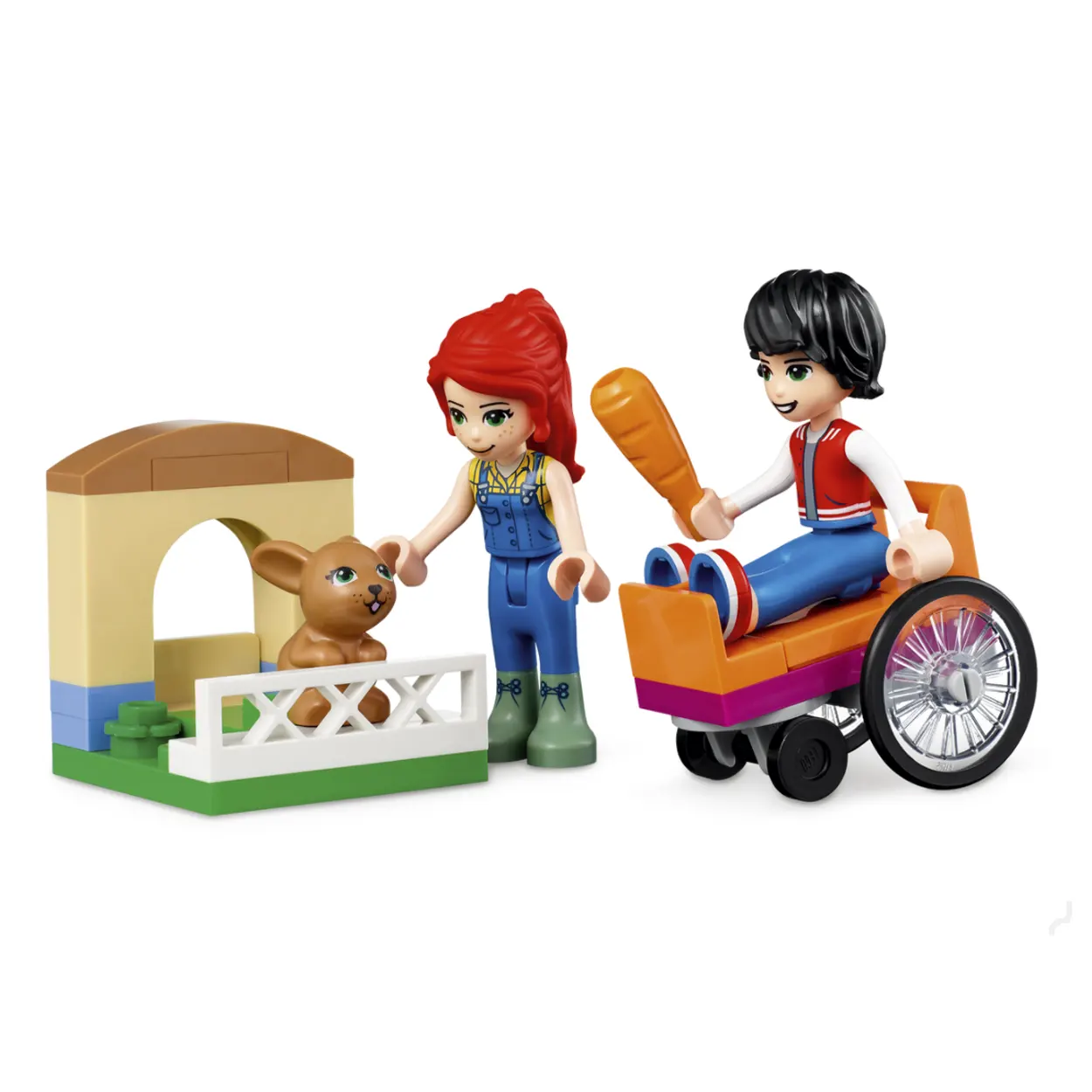 Big fun for little makers –Friendship Tree House (41703) environment toy lets kids express their creative passions as they join the LEGO® Friends team to make products to raise money for charity
Brimming with features – Comes with 5 LEGO® Friends characters, including Mia and River mini-dolls with changeable expressions, and a bunny figure, plus a cargo bike, beehive and carpentry vice
Endless ways to play – Kids can indulge their creative passions building bird boxes or enjoying relaxing within the tree house, which features an office, kitchen, bedroom and sitting room
Dynamic details – Kids can raise the elevator by spinning the turbine, rotate the railing to allow friends to climb up, send the characters whooshing down the slide or push pals on the swing
A fun creative gift for crafty kids 8+ – This 1,114-piece birthday present idea for kids, where the build as much as the limitless imaginative play, is a fun choice for little makers
Colorful display piece – Measuring over 11 in. (30 cm) high, 11 in. (30 cm) wide and 5 in. (13 cm) deep, this extensive LEGO® Friends gift will brighten any kid's bedroom
41695 Pet Clinic
111pcs | Age4+ | ¥2,780 | $9.99(約¥1,100) | Release Date Jan 1st 2022
Colorful vet clinic toy teaches kids to build – LEGO® Friends Pet Clinic (41695) lets youngsters aged 4+ express their love of animals while helping develop their construction skills
Packed with play starters – Comes with 2 mini-dolls, including LEGO® Friends Mia and cat, turtle and rabbit toys, plus lots of children's vet kit to spark hours of nurture play
2 floors full of fun – Kids can bring in their pet to be examined or play the vet taking an X-ray. Upstairs is a grooming area for pet play and pampering, complete with a bath and cat gym
Treat for kids aged 4+ – A creative reward for little animal lovers who deserve a treat, this set can be given as a birthday gift for kids who love to explore building and animal toys
Anytime creativity – Measuring over 6 in. (16 cm) high and 5 in. (13 cm) wide, this LEGO® Friends set takes up little room so it can be kept out ready for impromptu animal nurture role-play fun
Building made easy – 4+ toy playsets come with Starter Bricks to get kids building fast. Simple picture instructions mean there's no barrier to construction, even for kids just learning to read
41697 Turtle Protection Vehicle
90pcs | Age6+ | ¥1,180 | $9.99(約¥1,100) | Release Date Jan 1st 2022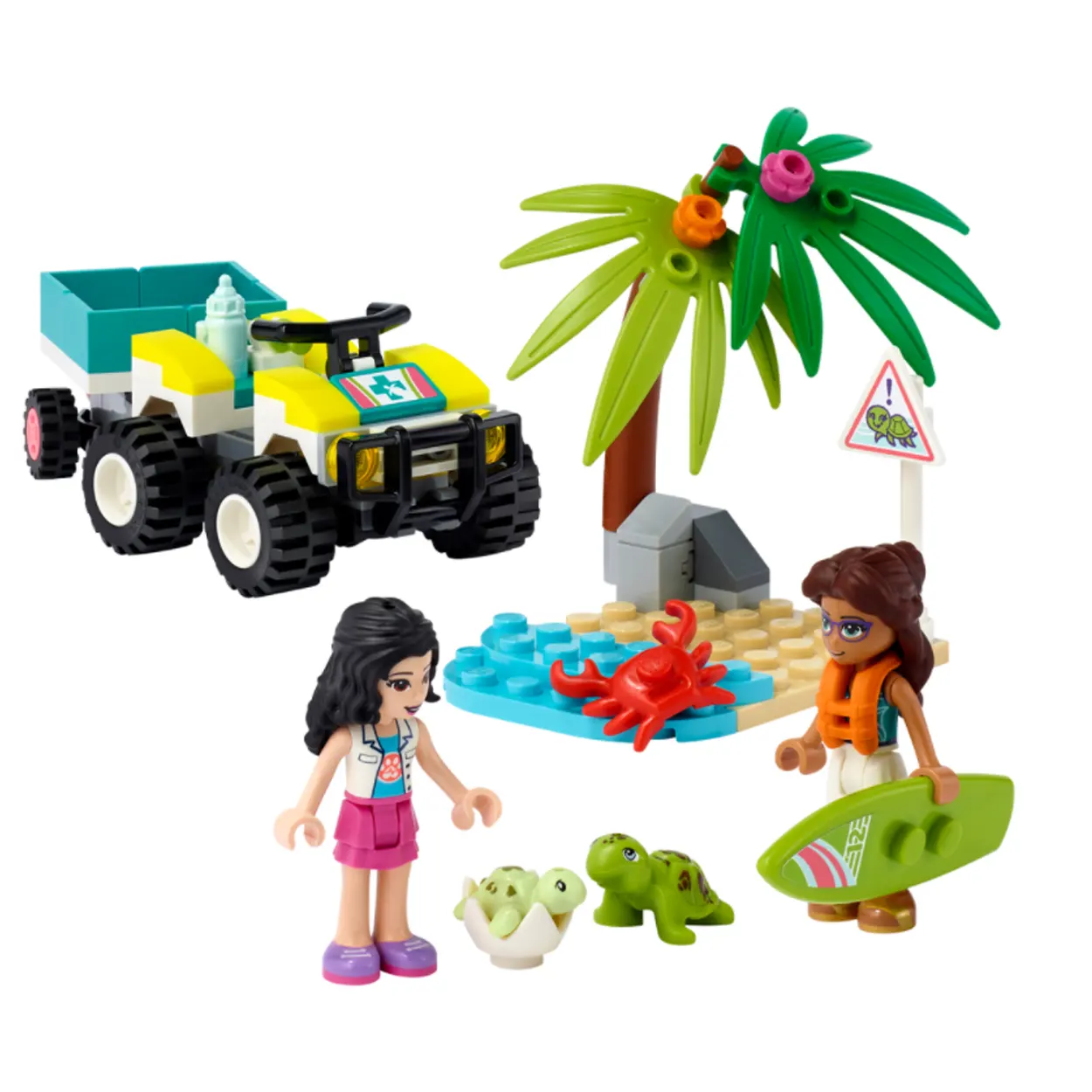 Save-the-day play for kids – Turtle rescue toy inspires creative action storytelling and is an imaginative gift for animal-loving kids who enjoy creature-care play
Lots of elements for maximum value – LEGO® Friends Turtle Protection Vehicle (41697) includes a rescue ATV, a surfboard, 2 mini-dolls, including LEGO Friends Emma, and 3 animal figures
All-action mini-mission – Kids surf to the rescue of the LEGO® turtle toys and take them to the shore where they can care for them and drive them to a safer location
Perfect for everyday heroes aged 6+ – Know an animal-loving kid who deserves a treat? This animal rescue toy can be given as a birthday gift for kids or an impulse, just-because surprise
Go-anywhere vehicle for anytime fun – Measuring over 1 in. (5 cm) high and 3 in. (10 cm) wide, this fun ATV and trailer can be popped in a bag to rescue kids whenever boredom strikes
41700 Beach Glamping
380pcs | Age6+ | ¥5,480 | $39.99(約¥4,500) | Release Date Jan 1st 2022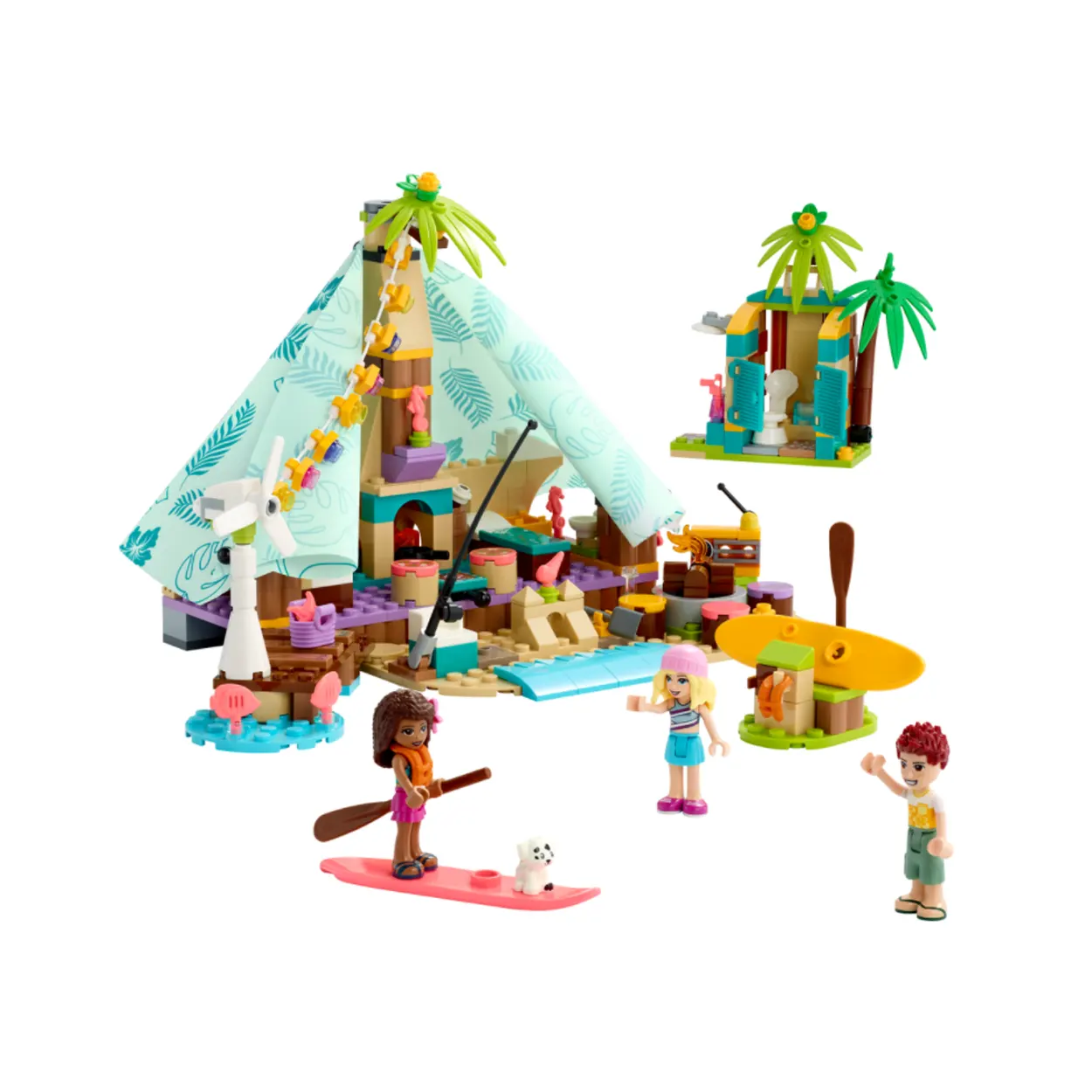 Feature-packed set for limitless friendship play – This LEGO® glamping toy comes with lots of details to inspire hours of nature play, letting kids recreate their perfect day at the beach with friends
Camp in style – LEGO® Friends Beach Glamping (41700) includes 3 mini-doll characters, a puppy figure, tent with bunk beds, stove and fabric cover, plus a spinning wind turbine to power the lights
Brimming with beach fun – This LEGO® Friends playset includes 2 paddleboards, a beach with sandcastles and shells, and a jetty for fishing. At night, kids can cozy up around the campfire
Gift with creative details – Authentic accessories bring the play alive. There's soap for the shower, a shell-tiled toilet, life vests, a stereo, marshmallows on a stick and bedside lamps
Gift for kids aged 6 and up – A birthday present or special-occasion gift for children who love beach vacations and toys with creative accessories
Colorful display – Measuring over 6 in. (17 cm) high and 10 in.(25 cm) wide, this LEGO® Friends set makes a fun display piece thanks to the tent's fabric cover and string of lights
41701 Street Food Market
592pcs | Age6+ | ¥6,980 | $49.99(約¥5,600) | Release Date Jan 1st 2022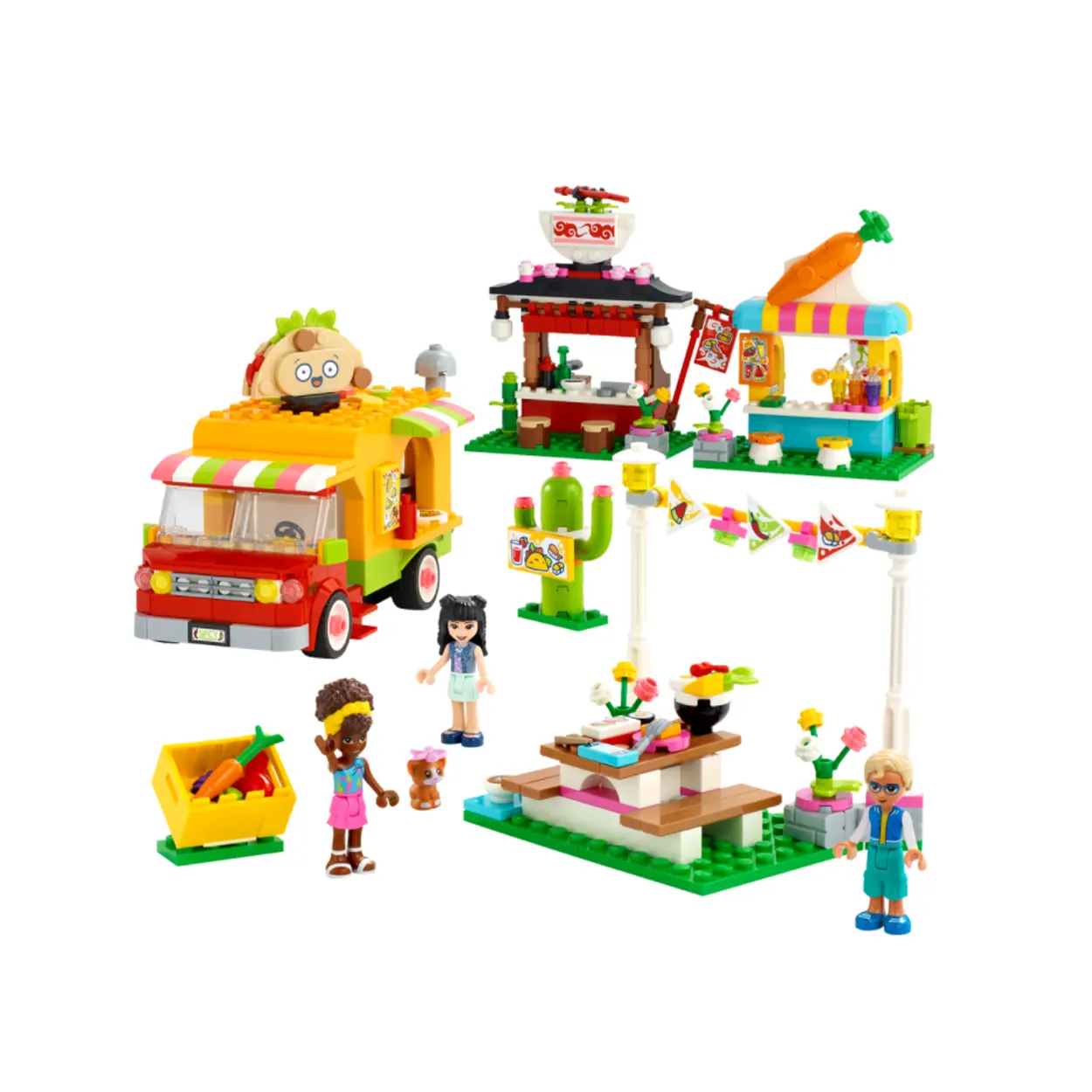 Ramen and sushi? New parts chopsticks are also included.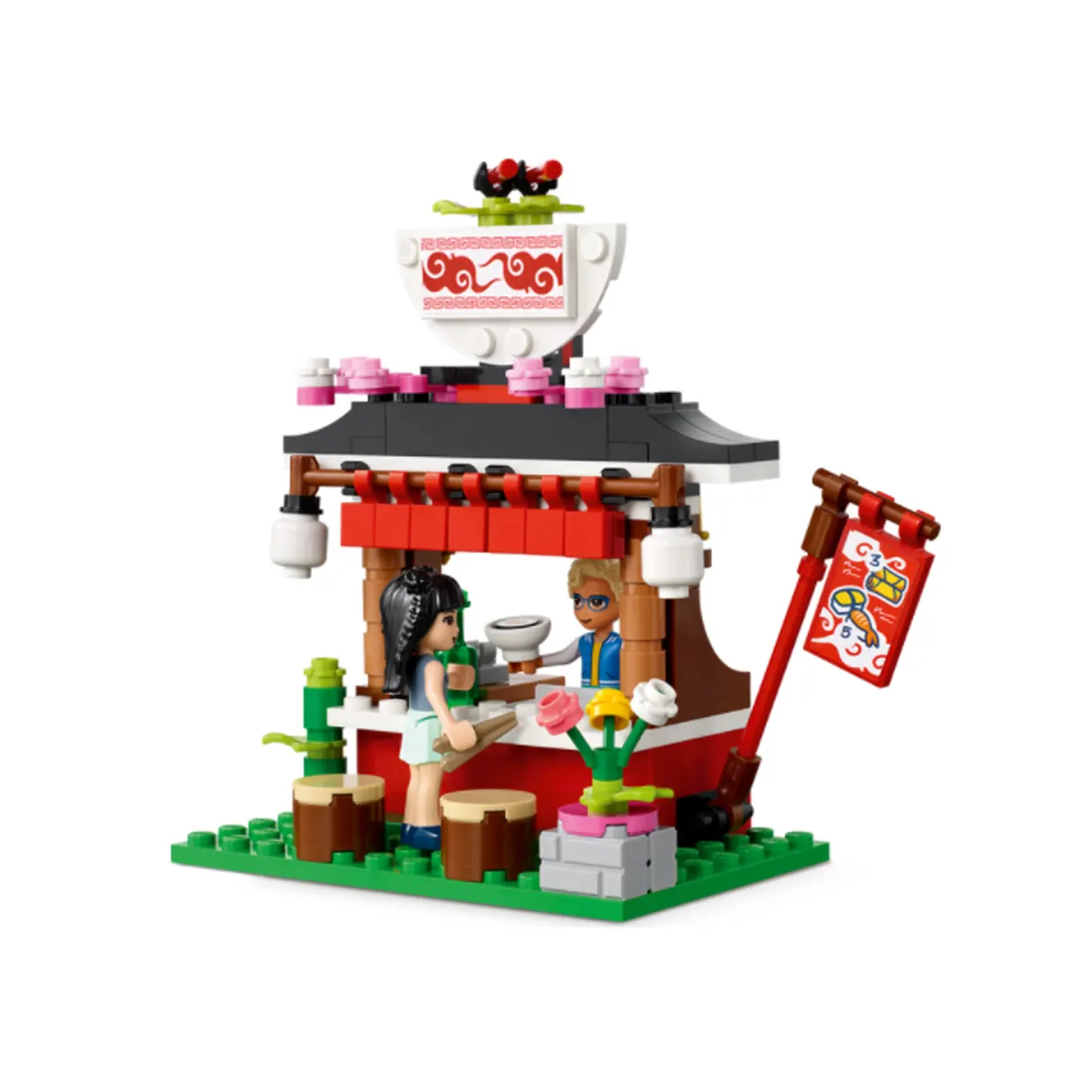 Creative gift that celebrates world food – Young foodies will love to browse the international stalls of the LEGO® Friends Street Food Market (41701) set while they hang out with their BFFs
Packed with fun features – This 592-piece food set comes with 3 mini-dolls, including LEGO® Friends Emma, a taco truck, juice bar, sushi stall, dining area, cactus sign and a kitten toy for kids
Interactive play – Mini-dolls have interchangeable heads with differing expressions allowing kids to have fun acting out what they think of the food. The truck opens to allow easy-access play
Packed with pretend food accessories – An egg-topped ramen bowl, sushi, chopsticks, fork, dipping bowls, fruit, chilies and guacamole dip help the food play come alive for kids
On-trend birthday gift for kids aged 6+ – Perfect for boys and girls who like toys that reflect the latest trends. A fun birthday gift for little foodies who love hanging out with friends
Anytime fun – With the taco truck measuring over 4 in. (11 cm) high and 6 in. (16 cm) long, this set is small enough to keep out on display for whenever kids are hungry for some LEGO® food play
41702 Canal Houseboat
737pcs | Age7+ | ¥9,480 | $79.99(約¥9,000) | Release Date Jan 1st 2022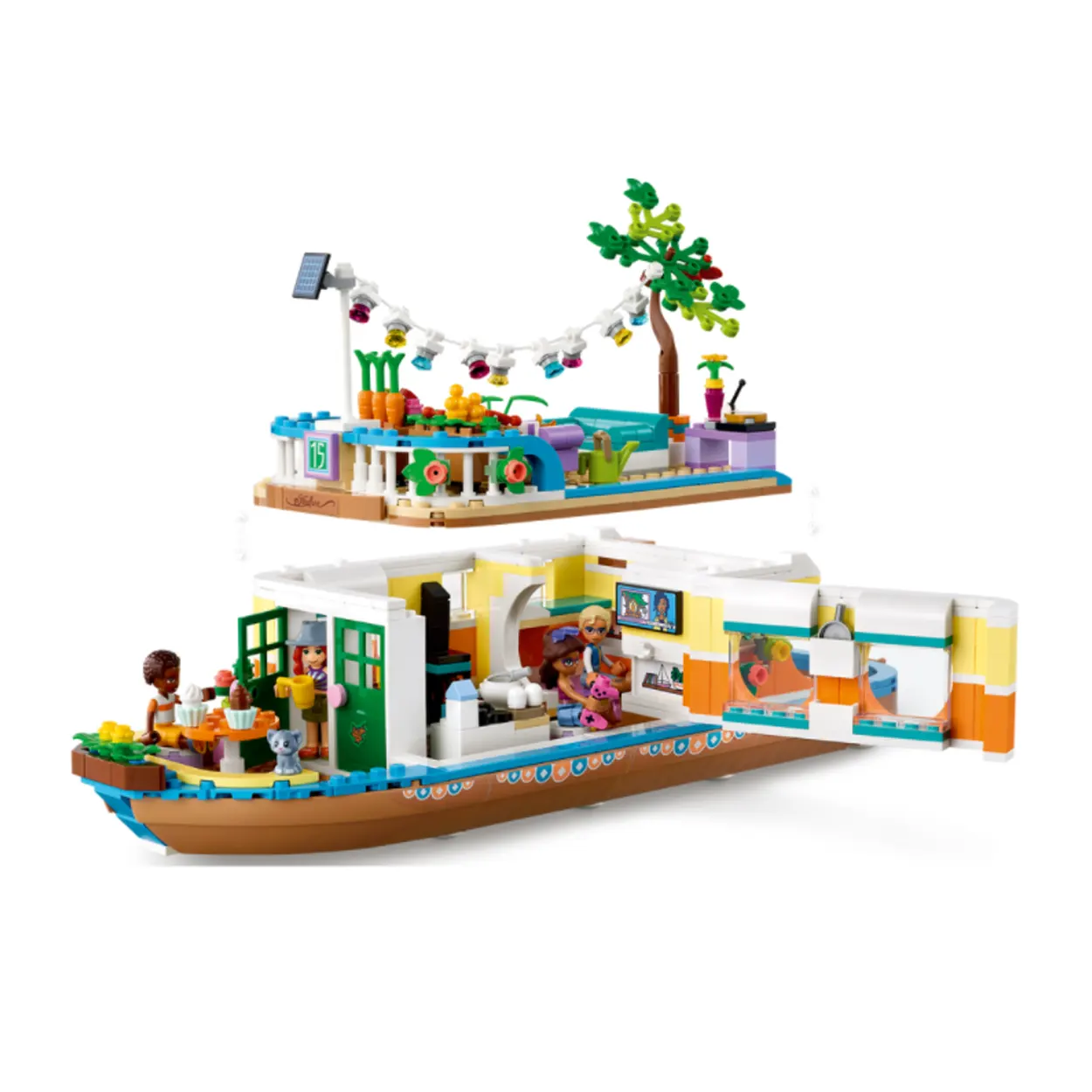 Retro-styled eco-houseboat model – Let kids live out an environmentally friendly lifestyle aboard the LEGO® Friends Canal Houseboat (41702), which comes with a deck-top market garden
Lots of roles to play – This boat toy comes with 4 mini-doll toys including LEGO® Friends Mia, an animal toy, a bicycle and a separate market stall to spark hours of imaginative play
Big fun for little nature-lovers – Kids who care for the environment will delight in growing their own produce, helping the team upcycle the boat and selling their food so the community can shop local
Endless storytelling – With this LEGO® Friends set, kids can repair the boat, water the plants with the watering can, play on the games console, or hang with friends and play with the kitten on deck
Features galore – On deck is a shower and gardening accessories. The deck is removable for easy access to the cabin with its kitchen and cooking implements, gaming station, sleeping area and toilet
For kids aged 7+ who care about the planet – Thrill green-thumbed children with this 737-piece set, which also makes a creative birthday gift for kids who like vehicle models
Extend the play – Measuring over 6 in. (17 cm) high, 12 in. (33 cm) long and 4 in. (12 cm) wide, this set is compatible with Friendship Tree House (41703) and Tree-Planting Vehicle (41707) toys
41704 Main Street Building
Main Street Building | 1682pcs | 8歳以上 | ¥17,980 | $149.99(約¥17,000) | Release Date Jan 1st 2022
A large unit-type colorful apartment.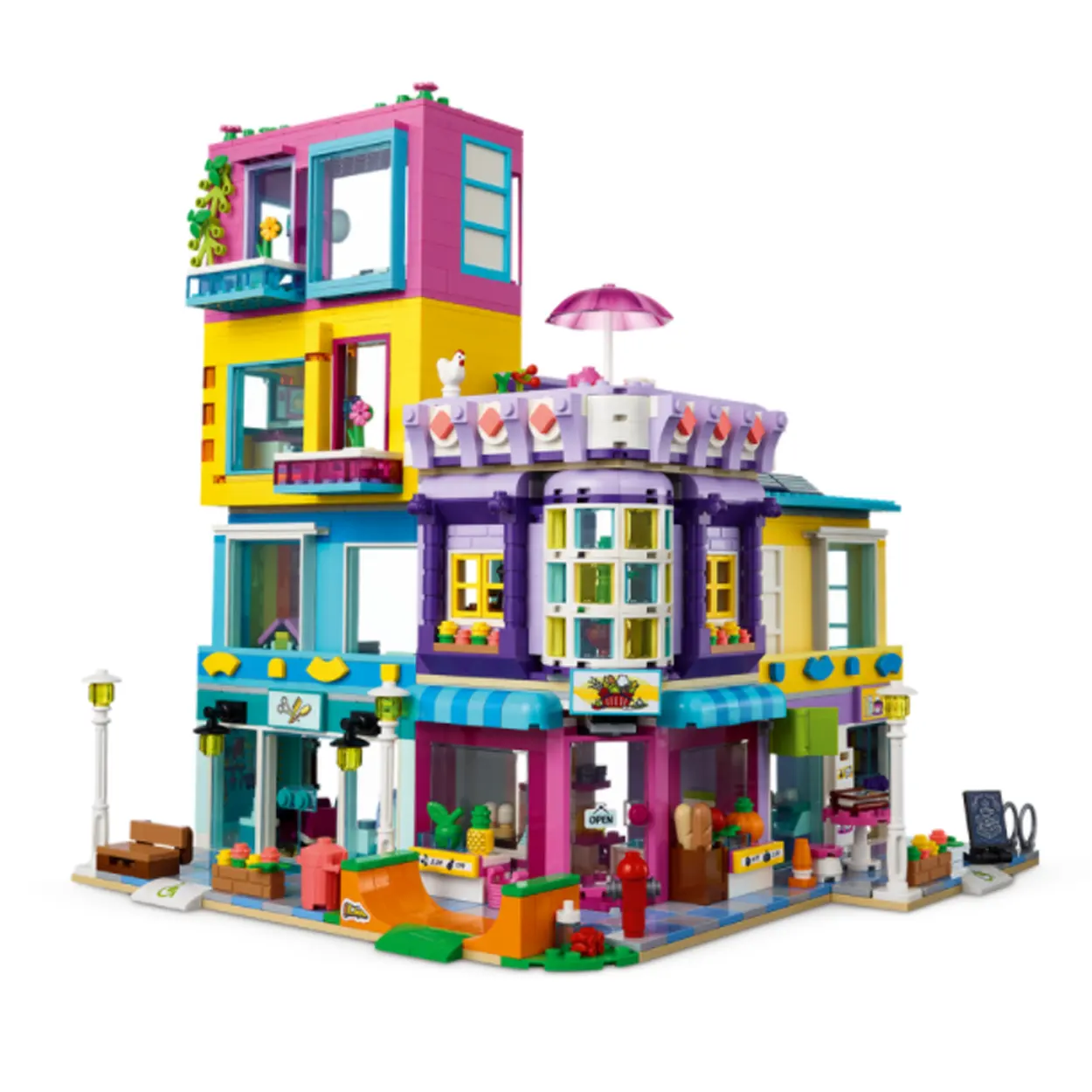 Elevator for long-term care?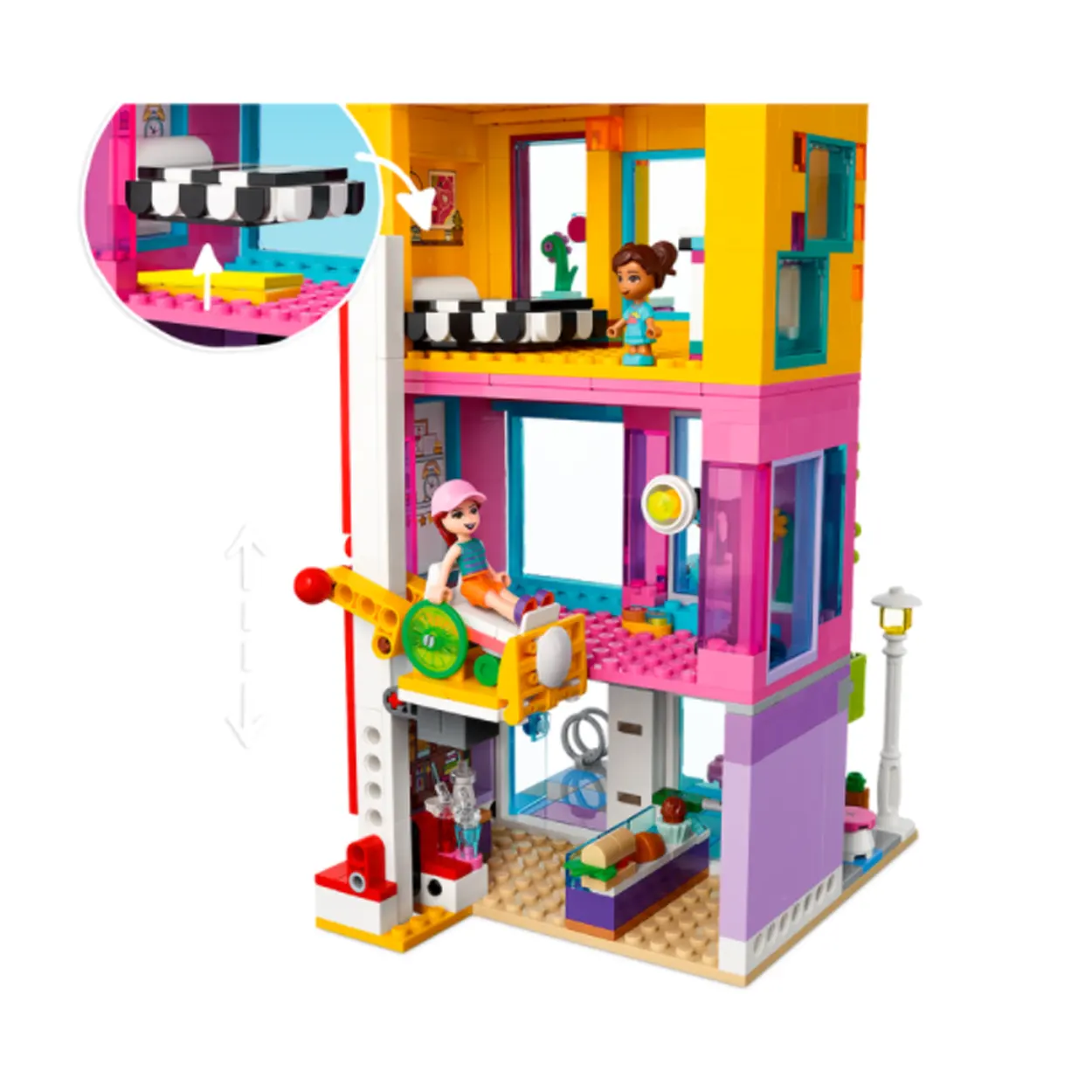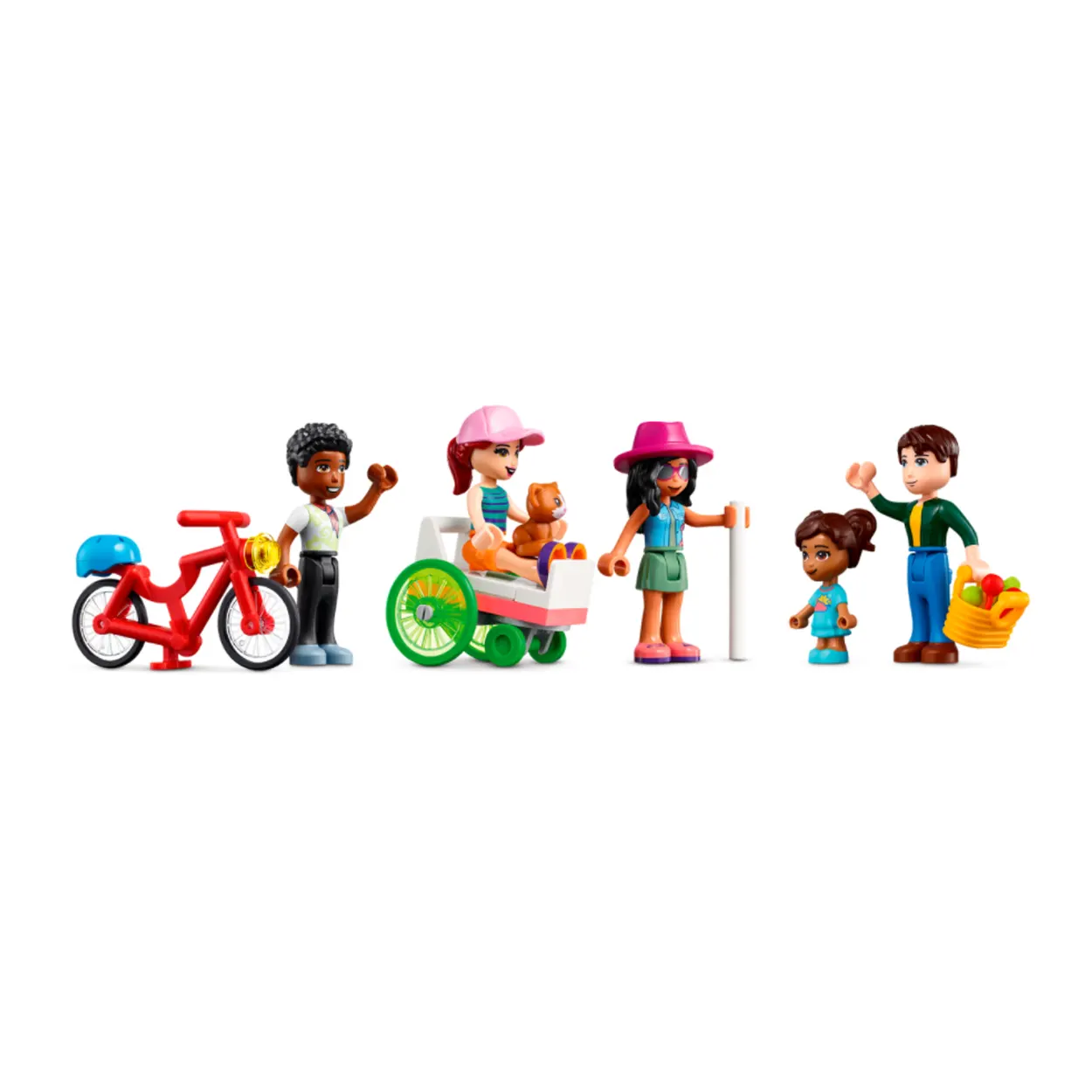 Endless imaginative play – With its totally flexible modular buildings and 8 character line-up, LEGO® Friends Main Street Building (41704) set gives creative kids limitless imaginative shop play
The neighborhood where everyone is welcome – Comes with a total of 8 characters and 4 animal figures, and a moving truck so kids can role-play welcoming a new family to community
Hours of creative fun – LEGO® Friends fans can shop in the grocery store toy, visit the salon for a makeover, work ina home office or hang out with friends at the skate park
A different look every day – Thanks to this LEGO® Friends shop set's modular buildings, the play never gets tired as kids endlessly arrange and rearrange the street
Fun gift idea for kids 8 and up – This versatile playset is an imaginative birthday gift for LEGO® Friends fans, as well as kids who love pretend stores and customizing their toys
Playset with presence – Measuring over 9 in. (24 cm) high, 15 in. (39 cm) wide and 6 in.(16 cm) deep, this extensive set is a display piece with real presence
Packed with creative accessories – Lots of  toys are included to spark creative storytelling, such as a watering can, coffee machine, food items for the shop, chopsticks, sushi, hairdryer and wigs
41707 Tree-Planting Vehicle
336pcs | Age6+ | ¥4,280 | $29.99(約¥3,400) | Release Date Jan 1st 2022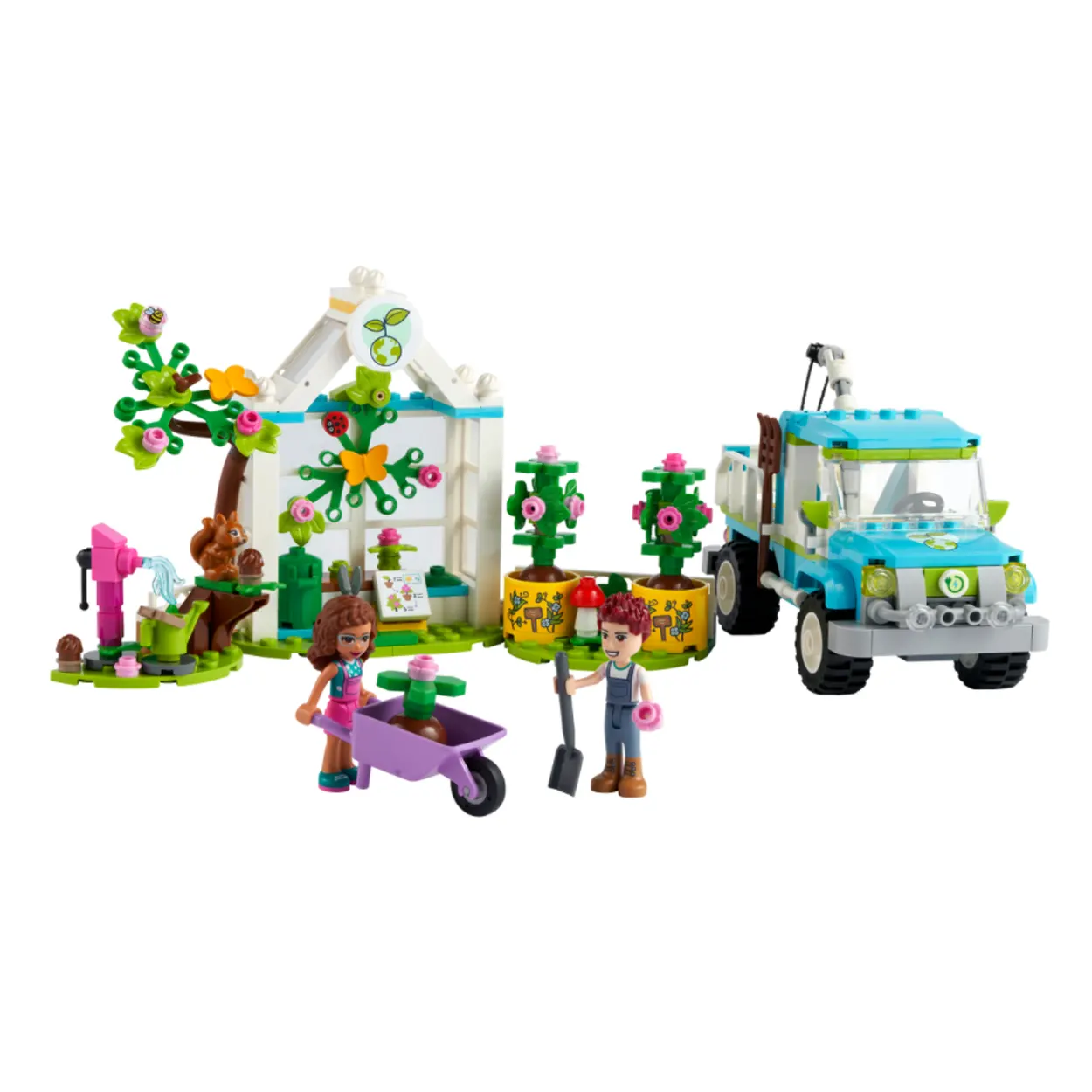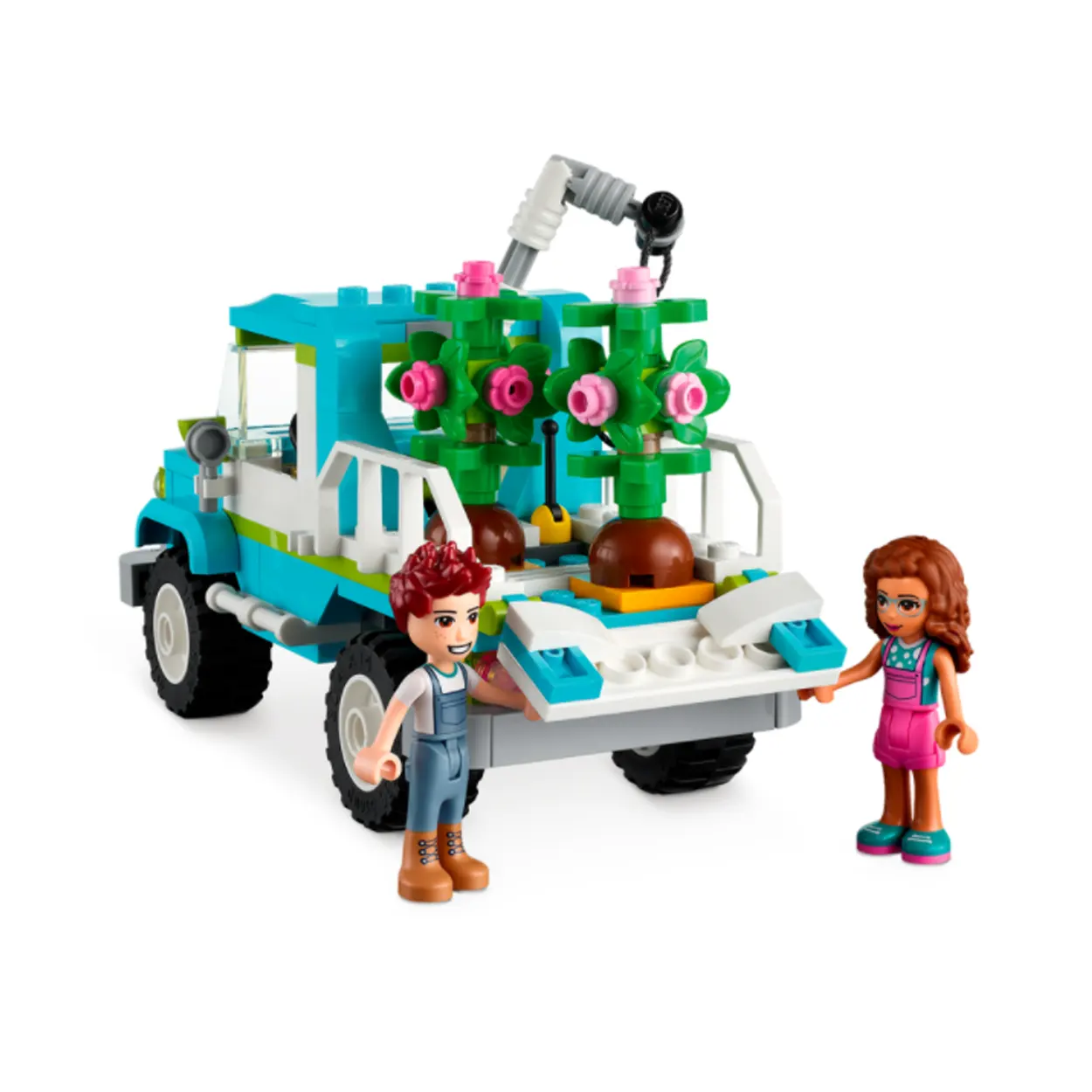 Impress little gardeners – Delight kids who love nature toys with the LEGO® Friends Tree-Planting Vehicle (41707), which comes with an eco-truck and tree nursery
There's lots inside the box – This LEGO® Friends gift includes 2 mini-dolls, a greenhouse, pickup truck, many gardening accessories and 5 wildlife nature toy figures for kids
Packed with creative features – This tree-planting toy for kids comes with a greenhouse for potting on the saplings and has a truck with an articulated loading arm, hinged tailgate and removable roof
Authentic accessories – There's lots of clever details for kids to love. Budding gardeners can fill up the watering can from the retro-style hand pump, dig with the spade then feed the squirrel acorns
Creative gift for kids aged 6+ – Looking for a toy for nature-loving kids? This tree-planting toy will delight boys and girls who care for the environment, plus kids who love LEGO® Friends vehicles
Anytime play – truck measures over 2 in. (7 cm) high, 5 in. (14 cm) long and 2 in. (6 cm) wide, so it takes up little room when kept out on display
LEGO New Products Summary
Related Post
Check the All New LEGO Products Information Here!All information for LEGO's official release, leaks, release schedule,[…]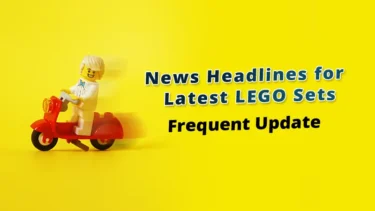 This article includes affiliate links and we earn from qualifying purchases.