* This is an article with some modifications and additions to the content published in 2018.
Nowadays, I often hear the word political correct. Just in case, the political correctness is as follows.
Political correctness (adjectivally: politically correct; commonly abbreviated PC) is a term used to describe language, policies, or measures that are intended to avoid offense or disadvantage to members of particular groups in society. (Quoted from Wikipedia)
To put it simply, There are various types of people, but let's understand each other and aim for a world where everyone can feel good.
It's been about 8 years since the studs started operation (as of 2018), but I think that Lego has changed a little according to such a situation, so I summarized it this time.
The number of female minifigures has increased
Speaking of Lego, minifigures. Minifigures are undoubtedly one of the key elements that make up Lego. There are many adult collectors who are attracted to children's interests because of their cuteness.
Recently, I feel that the number of women in LEGO minifigures has increased compared to the past in line with the trend of society.
I examined the female ratio of LEGO City
This time, I went back to the past to find out the male-female ratio of the city series minifigures, which seems to reflect the most social situation in the Lego theme.
The number of minifigures is the total number of minifigures included in all city sets released that year (box products only, excluding bag products). 2018 is the number as of August 18.
| Year | No.of minifigs | Female | Female Ratio |
| --- | --- | --- | --- |
| 2008 | 59 | 3 | 5.08% |
| 2009 | 53 | 5 | 9.43% |
| 2010 | 67 | 10 | 14.93% |
| 2011 | 63 | 5 | 7.94% |
| 2012 | 73 | 9 | 12.33% |
| 2013 | 103 | 12 | 11.65% |
| 2014 | 91 | 13 | 14.29% |
| 2015 | 119 | 30 | 25.21% |
| 2016 | 134 | 40 | 29.85% |
| 2017 | 128 | 53 | 41.41% |
| 2018 | 119 | 40 | 33.61% |
There are some years when the numbers are slightly different, but there is no doubt that the ratio of female minifigures is increasing year by year.
Advance into various categories
In the past, police and fire departments did not include female minifigures, and on-site work such as construction work and truck drivers was limited to male minifigures. Female minifigures were limited to family members and Advent calendars in leisure sets.
Even nowadays, if one minifigure is attached, it is almost male, but if two minifigures are attached, usually one is female. Unlike in the past, female minifigures have come into various city sets regardless of occupation. In the future, the male-female ratio of minifigures will be closer to half than it is now.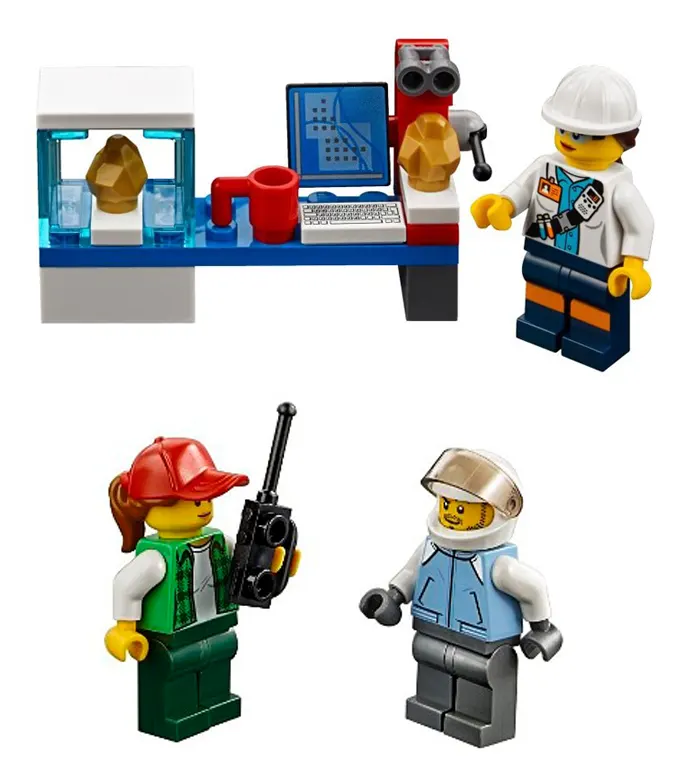 What will Happen from Now?
I think that the minifigure was originally a fairy design that does not clarify the race and gender as much as possible, but the printing of the body and face has become finer year by year, and the difference between men and women has become noticeable.
Regarding race, a brown African minifigure that is different from the conventional yellow has appeared in the copyright series. However, I have never seen African minifigures other than copyrighted ones.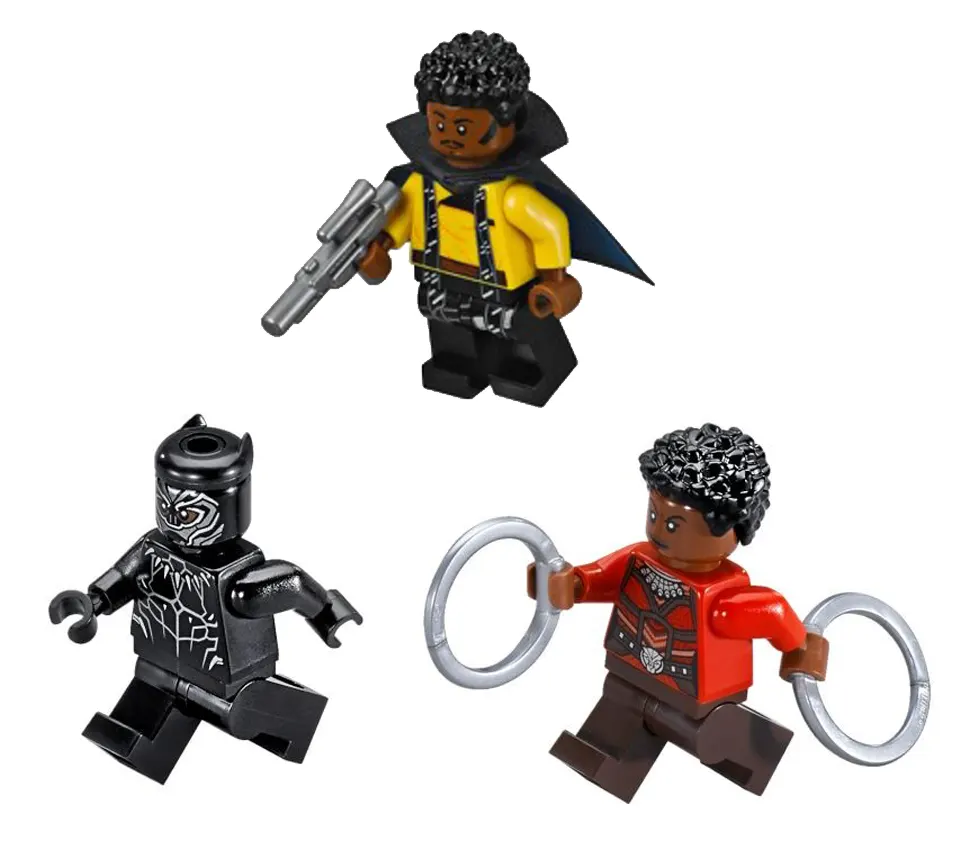 The number of female minifigures has increased in the City series, but as far as I know, there have never been African minifigures in the city.
Lisenced African Minifigure
The copyrighted materials of DC and Marvel include African minifigures, but the number is small. The ratio of all No. of minifigs from 2012 to 2018 and African No. of minifigs among them is as follows.
| Category | No.of minifigs | African | African Ratio |
| --- | --- | --- | --- |
| DC | 294 | 5 | 1.7% |
| Marvel | 244 | 20 | 8.2% |
DC has a fairly low African ratio of 1.7%, and Cyborg is the only African character. The number is based on the total number from 2012 to 2018, but it has not changed in the last few years (however, the oriental character Katana is included in 76055 in DC).
Marvel has a higher proportion of African descent than DC, and the figures for only the last few years are higher (around 20% in 2018). It may be said that it considers racial diversity more than DC (although there are no Orientals).
Star Wars hasn't looked into it because it has too many sets (as of 2018), but it seems that Mace Windu, Lando Calrissian, Finn, and Val (Hansolo movie) are the only African minifigures.
Star Wars Orientals include Rose and Chirrut Imwe (Rogue One). The rebels Commander Sato is also considered to be Asian (Japanese) because the character name is Sato Jun. In any case, the number of Africans and Asians is small.
Change character designers in Friends
There were changes related to political correctness in 2018, mainly in the Friends series for female users.
The main character of the Friends series is a girl of five good friends, but the character design has changed since 2018.
The character drawn on the product box is clearly different from last year. Along with that, the mini dolls included in the product and the anime characters distributed on YouTube have also changed.
Clarify racial diversity
The quintuplets of character box images up to 2017 are Andrea, Olivia, Stephanie, Emma, and Mia from the left. Andrea is a little dark, but the five are not clearly different in race, and they all look white.
Until 2017
More Humanity from 2018
The five-piece box image renewed in 2018 is Andrea, Mia, Emma, Stephanie, Olivia from the left. The difference in race is clear compared to the five people up to 2017.
Mia and Stephanie remain white, but Andrea is African, Emma is Asian, and Olivia is a Hispanic with glasses. Olivia is a doctoral character in the sciences, and when it's an anime, her way of speaking has changed to an otaku style.
From 2018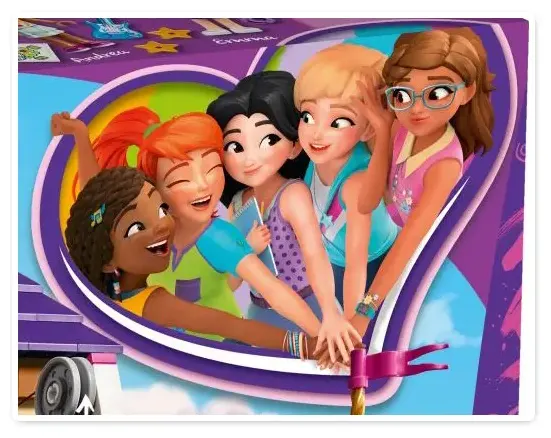 Lego has not clarified the reason for the change in character design, but I think it is the result of considering the recent trend of promoting political correctness.
Certainly, the race of the character designers so far was not clear, and in a sense, it seemed like a fairy or unrealistic.
It may have been intentionally obscuring the race, just like the city minifigure, but the new design is clear, realistic, and humane for each race.
Products expressing diversity
In 2021, a colorful monochromatic minifigure set called "40516 Everyone is Awesome" that expresses various diversity including race was also released. However, the bald-headed minifigure, which is one of the varieties, was not adopted.
Each minifigure features its own color scheme with matching hairpiece, showcasing the diversity we see in the world around us.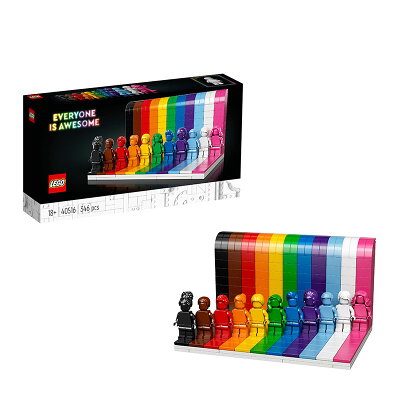 Release Date:June 1st 2021
The new LEGO® Everyone is Awesome set celebrates positivity and kindness in our families, our communities and our world.
Conclusion
I didn't check this time, but there is a set with a wheelchair (the number is small). The wheelchair minifigures in the hospital set may be injured, but I think the wheelchair minifigures in other sets are for people with disabilities.
Since the model of LEGO City is probably Europe, I personally don't feel any discomfort even with only white yellow minifigures. However, Europe also has a large number of immigrants from Africa these days, and the United States has a higher proportion of African descent.
Minifigures are Fairy?
The city is probably set up with yellow minifigures representing all races, or like fairies of no race, so there's no need to include African minifigures.
However, in Friends, the ambiguous racial setting of the main character has been improved to a more realistic design. I would like to pay attention to how we will respond in the city series in the future.
New Product Summary
New
Check the All New LEGO Products Information Here!All information for LEGO's official release, leaks, release schedule,[…]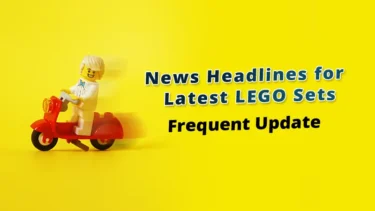 This article includes affiliate links and we earn from qualifying purchases.