If you want to shop at the LEGO official online store at a great price, You got to be a VIP member!
Many Rewards Available
If you become a VIP member, you can use many benefits at the LEGO official store!
VIP members have no special conditions to register and no membership fee. Registration is recommended for all those who are likely to have the opportunity to use the official LEGO store.
Let's check all the benefits of VIP members!
VIP Points
VIP members get VIP points when they shop at the LEGO official store.
You'll receive 6.5 points for EACH $1 SPENT. But the value shown on the product page is an estimate and actual points will be calculated when you check out.
VIP points can be redeemed for rewards at the VIP Rewards Center.
The larger the number of points required for exchange, the more luxurious the rewards will be.
Check all the rewards that can be exchanged for VIP points!
Discount Code
You can exchange VIP points for a discount code that can be used for shopping.
Points required to redeem the discount code
$5 : 650points
$20 : 2,600points
$50 : 6,500points
$100 : 13,000points
The discount code will be displayed on the screen at the time of exchange, but you can rest assured that it will be sent by email at the same time. The discount codes are valid for 60 days.
How to use the discount code
To use the discount code, go to the cart from My Bag, proceed to checkout, and enter it in the payment field on the screen where you enter your address and contact information.
My bag also has a promotion code input field, but even if I enter the VIP discount code here, an error occurs.
Limited Items
In addition to discount codes, you can exchange for a wide variety of original items.
A wide variety of original items not for sale that you will want to collect, recombined instructions, coloring books, digital wallpapers, LEGO game related benefits, and more.
Exchangeable Item Example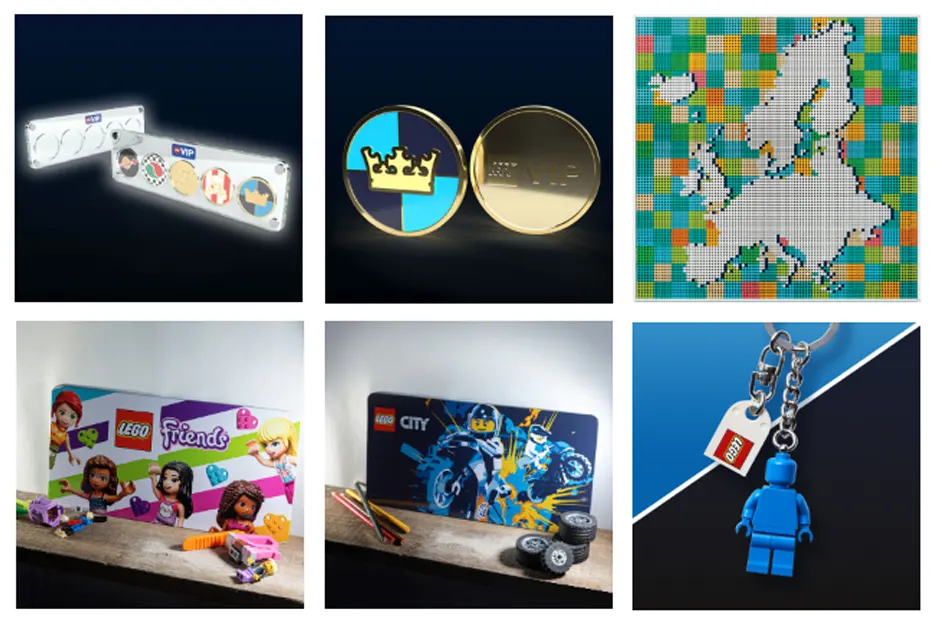 The contents of VIP privilege items will be updated from time to time, so check back regularly.
VIP Points Expiration Date
VIP points will expire if your account has not been used for 18 months.
You'll be contacted by email three months before the expiration date, but those who frequently use the LEGO official store shouldn't have to worry about VIPpoints expiration.
VIP Member Exclusive Offer
The LEGO official store offers monthly special offers exclusively for VIP members, such as doubling VIP points for specific items and GWP.
Since the content of the offer changes from time to time, it is recommended to bookmark the offer page and check it from time to time. VIP Member Offer
VIP Advance Access
The LEGO official store may carry out VIP advance access, which sells some new products in advance only to VIP members.
VIP member registration is required to get new products as soon as possible with advance access.
Join Now!
I wrote about the merits of VIP members above, but there is no loss by registering all the people who may shop at the LEGO official store.
Sign up VIP member now!
Best Place to buy LEGO Products
Limited, New, Best Sets. You can find every LEGO sets here.
This article includes affiliate links and we earn from qualifying purchases.