"Action x LEGO" Review
This time, we reviewed two buildings, a bookstore building and a residential building, for the 2020 edition of the 2020 edition of the building-based adult Lego modular building series, which is released once a year.
I love action movies, so I'd like to write while paying attention to what happens if this bookstore appears in crime movies.
💡What are crime movies?
Crime-based (crime investigation-based) movie is a drama or movie about investigative agencies such as the FBI and NCIS, NYPD, and the Chicago police.
I would like to point out that LEGO has nothing to do with crime movies or real-life crime.
I personally like crime dramas, action movies, and Jason Statham too much, so I'm just writing reviews of Lego bookstores in connection with them. I would like to ask you to make no mistake there.
Bookstore exterior
The brown building on the left is the bookstore building, which is also the product name.
The sidewalk in front of the store is decorated with dark blue triangular tiles in a mosaic. A large roadside tree and a wagon sale style book are also attached.
This roadside tree has white bark and spots, and the shape of the leaves suggests that the model is sycamore. Tall but sturdy structure that connects technique pins and cylinder parts. A cute blue bird fig like a Twitter icon is also included.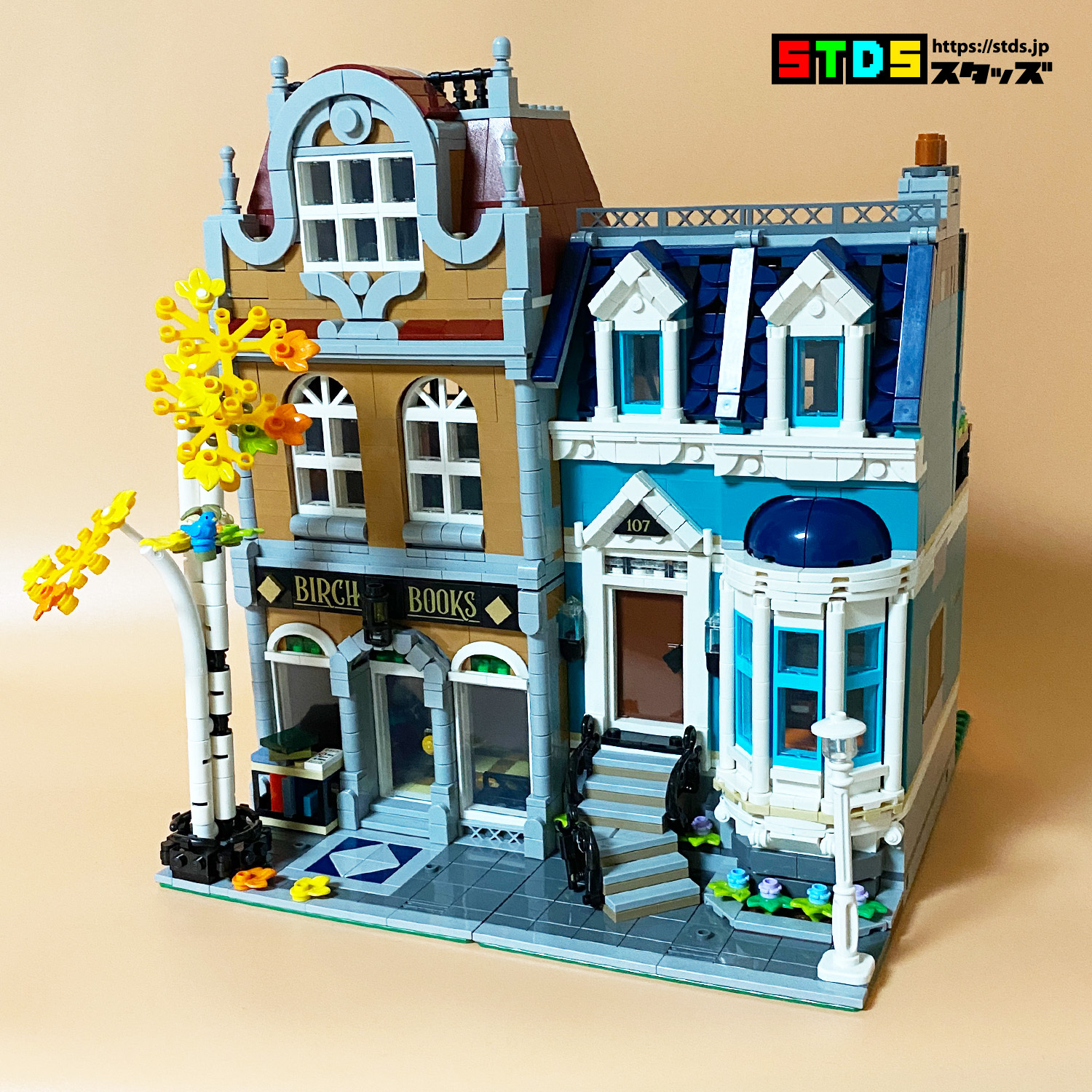 Unique arch
The stone arch above the central entrance is designed by connecting 1×2 rounded plates. A unique design that is very educational for me as a MOC amateur. I saw this in a snowball fight.
Bookstore 1st floor
The interior of the 16×16 building is fully decorated on the first floor. Bookshelves, counters, curved stairs, landings and stairs to the second floor. I definitely want to emulate the professional design sense of arranging cute furniture in a well-balanced manner in this narrow space.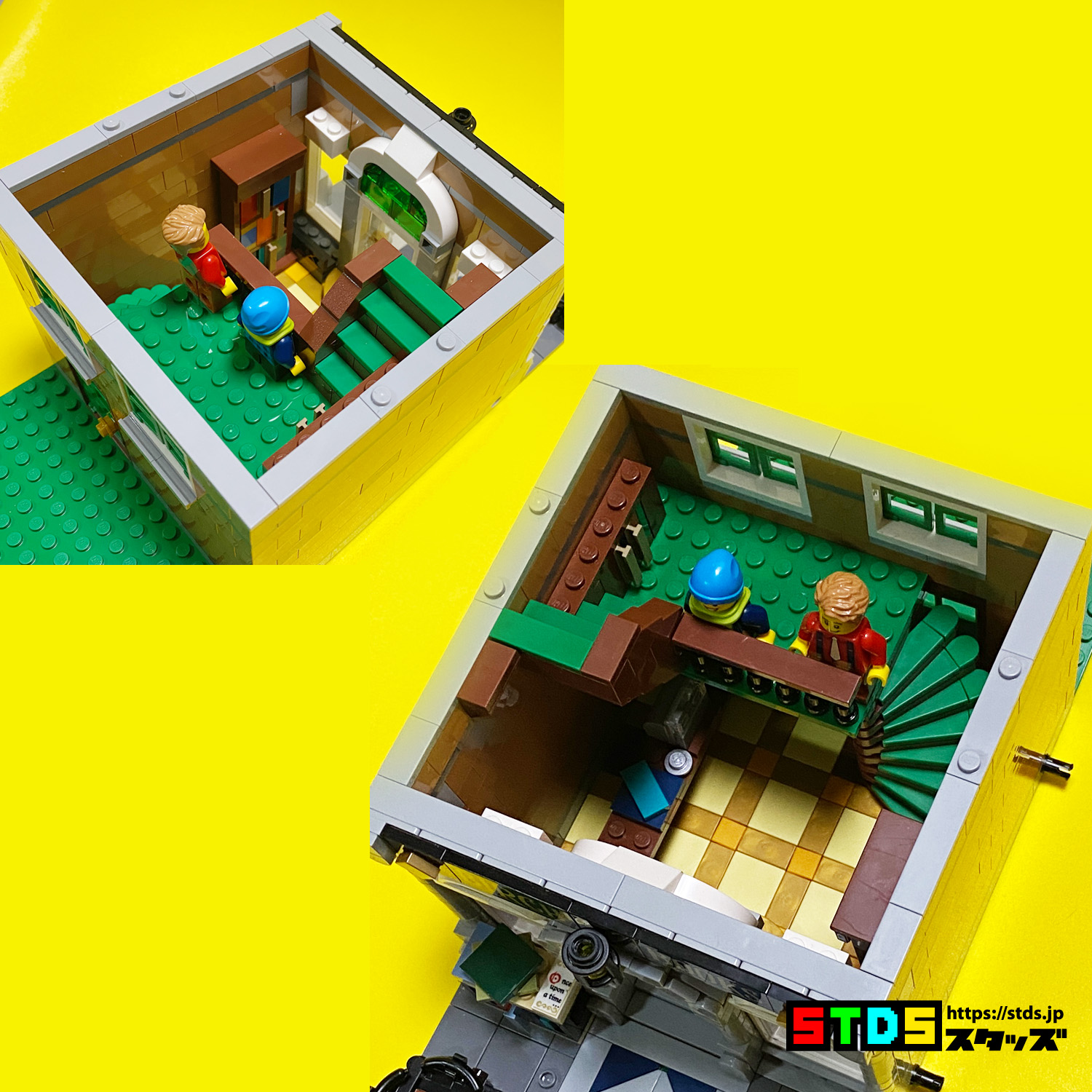 The curved stairs were particularly impressive and impressed, both in appearance and structure.
I usually buy low-priced products, so if I buy a high-priced set once in a while, there are many elements that I have never seen before and it will be a learning experience.
Stores often seen in crime films
Bookstores are not a popular industry for crime films.
What kind of position is the bookstore?
Speaking of a crime movie, bookstore seems good to set it as a small bookstore run by a former superior who fought with a criminal organization and the FBI in Afghanistan during the Shields era. The bookstore I made this time is definitely a small privately run store. And I want to develop a story in which the hero comes to ask for help.
The main character is Jason Statham, whom I admire. And cast Sylvester Stallone as a former superior of the bookstore management.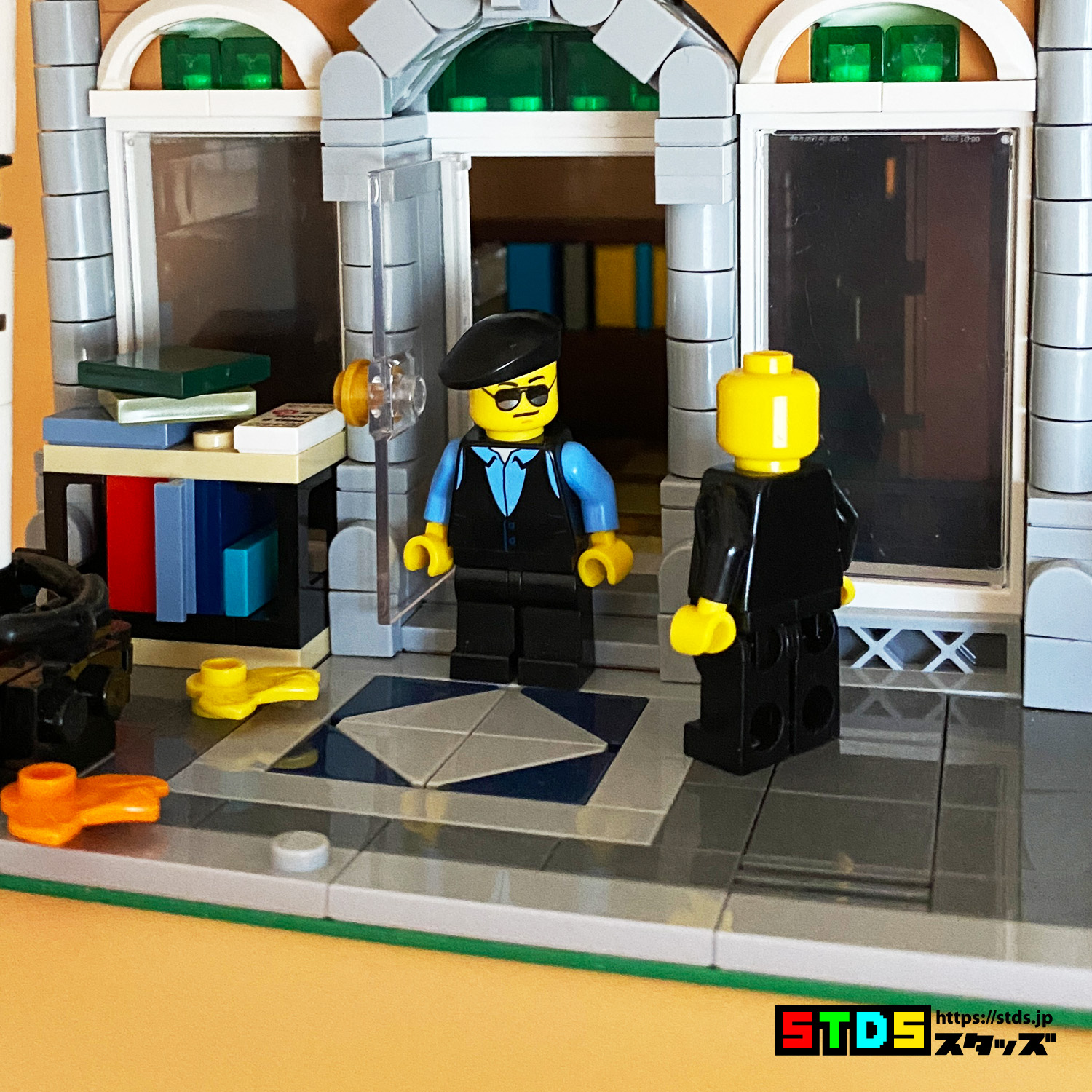 The standard action is a restaurant
Speaking of stores that are the stage of action, restaurants.
Many criminal organizations appearing in crime are mafia, Chinese mafia, Russian mafia, and Islamic terrorists. Since restaurants can be easily opened without being suspicious of specialty stores linked to each country and culture, it is easy for each organization to manage as a cover.
Flashy action is possible at restaurants
A common scene in an action movie restaurant is a pattern in which the main character gets into it with a round waist and fights while knocking down an opponent with a weapon.
The restaurant has a lot of elements to excite the action, such as turning the table over, breaking plates and glasses flashy, and many things that can be used as weapons such as tableware and broken glass.
Statham's Restaurant (Violent) Fight Scene@Safe
Is it sober at a bookstore?
At a bookstore, even if the inside of the store is messed up in battle, the debris does not scatter and there is less noise and it is not flashy compared to a restaurant where tableware breaks. Also, I don't think it's a good image to fight with books as a weapon.
Bookstore 2nd floor
The second floor of the store is a relaxing reading space with sofas, lighting, and old clocks.
There is a curved staircase on the 2nd floor, but it is space-saving and has a really nice design.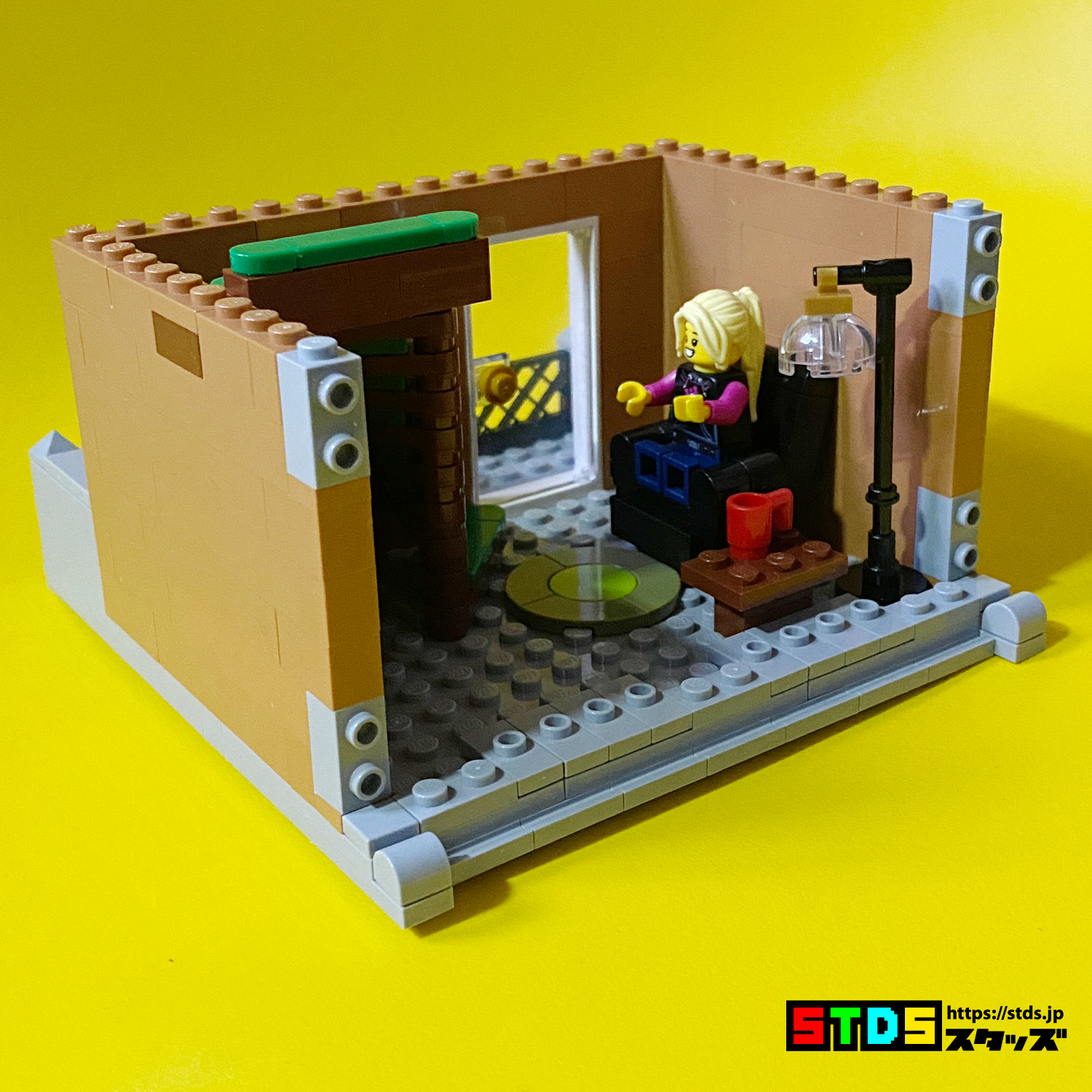 There is also a veranda, so I think the second floor is an area used by regular customers.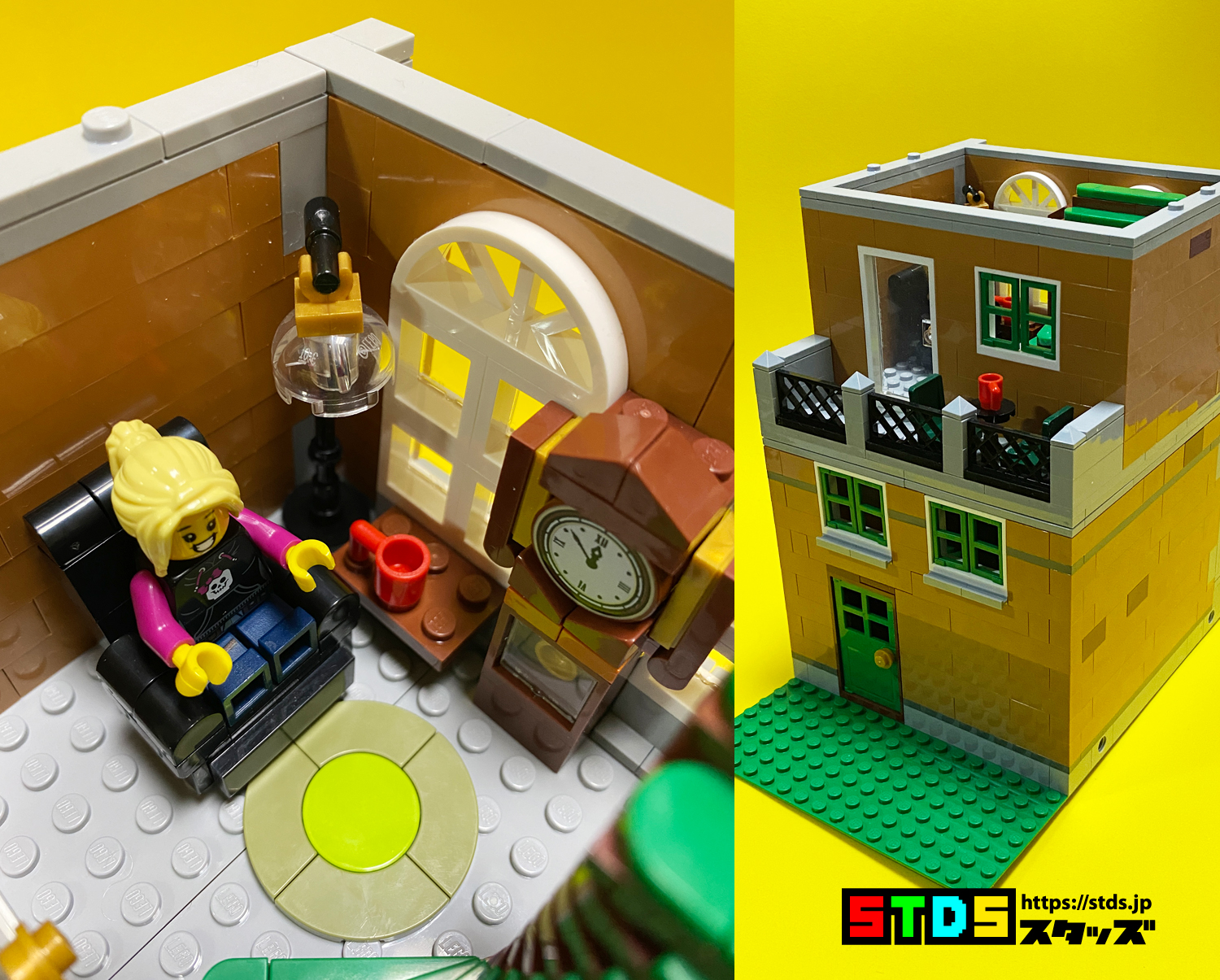 Relaxing space for the main character
Statham, who is hidden by Stallone in the bookstore, also takes a rest on this sofa.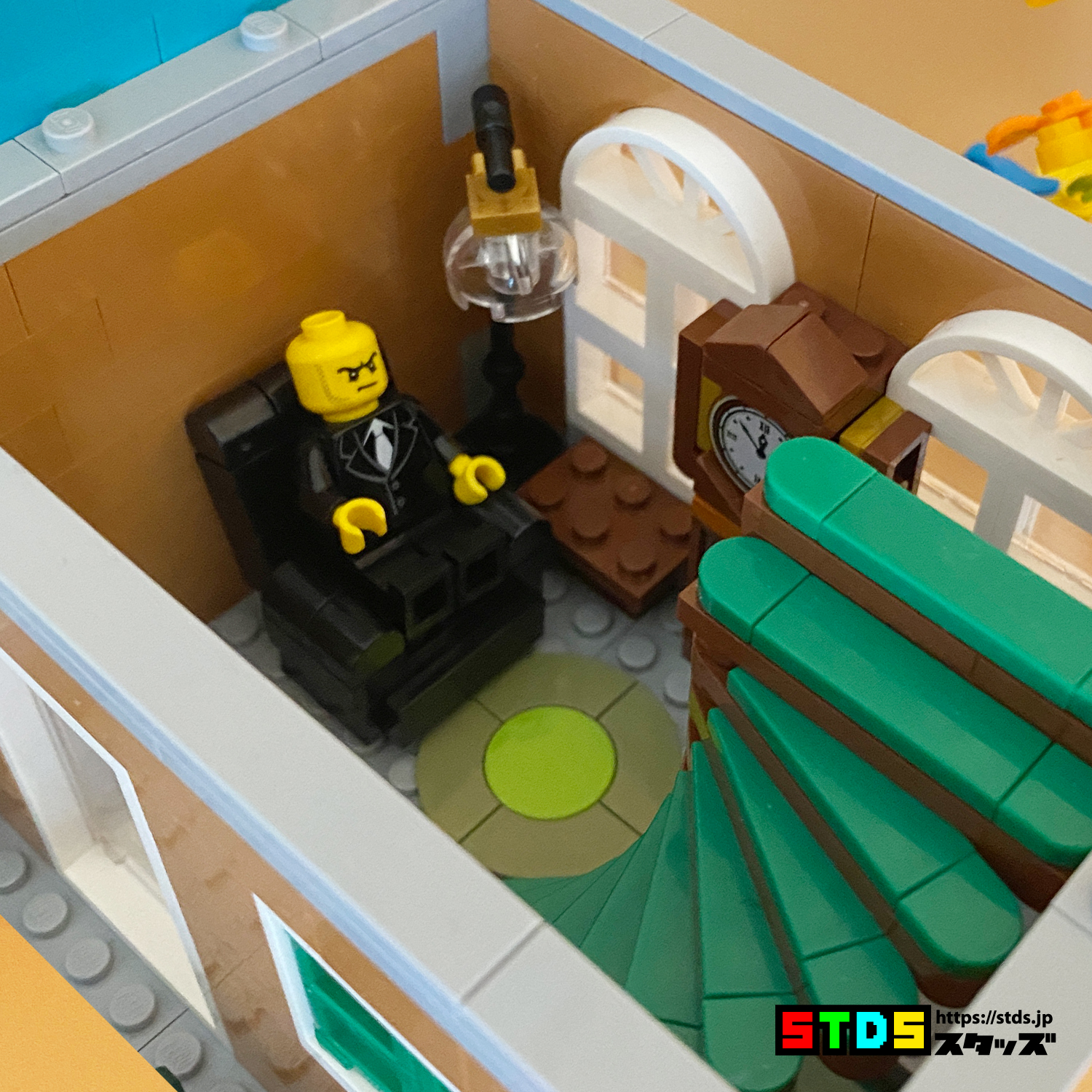 What would you do if a follower came?
However, a few followers get in and it becomes a battle. The owner on the first floor is Stallone, so even though he's old, it won't be easy to break through. However, if more than one person comes, one or two people will definitely reach the second floor.
Statham, who has a round waist, responds with furniture, but decides that it is better to avoid fighting with an opponent who has a gun, and escapes to the third floor on the stairs.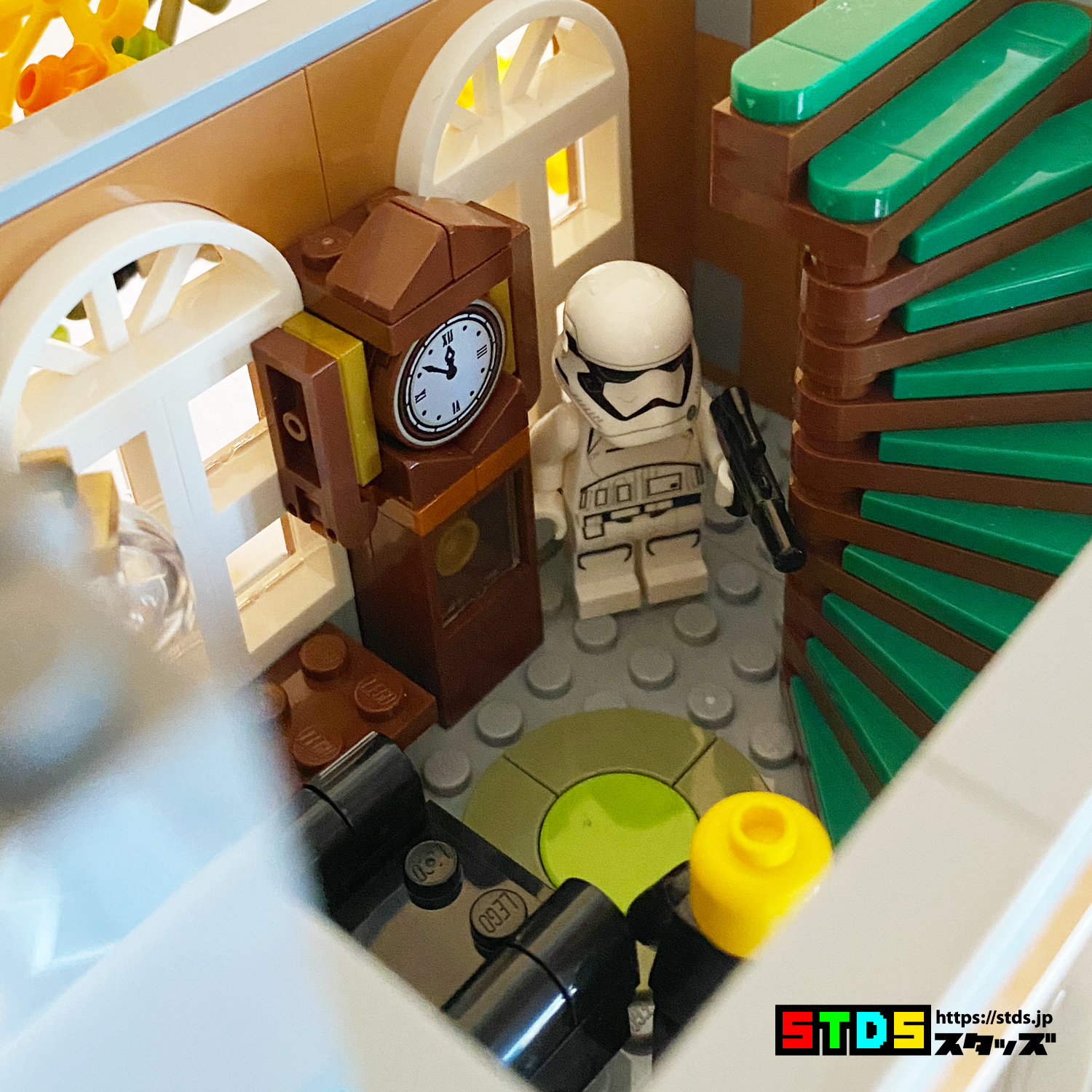 Bookstore 3rd floor
The 3rd floor of the store is an attic with one bed. There is also a pet chameleon breeding case.
Black microphone parts are used to decorate the bed, but according to the digital manual, this microphone was a part with the top painted in gold. However, the correct answer is probably black because it was black in the product photo.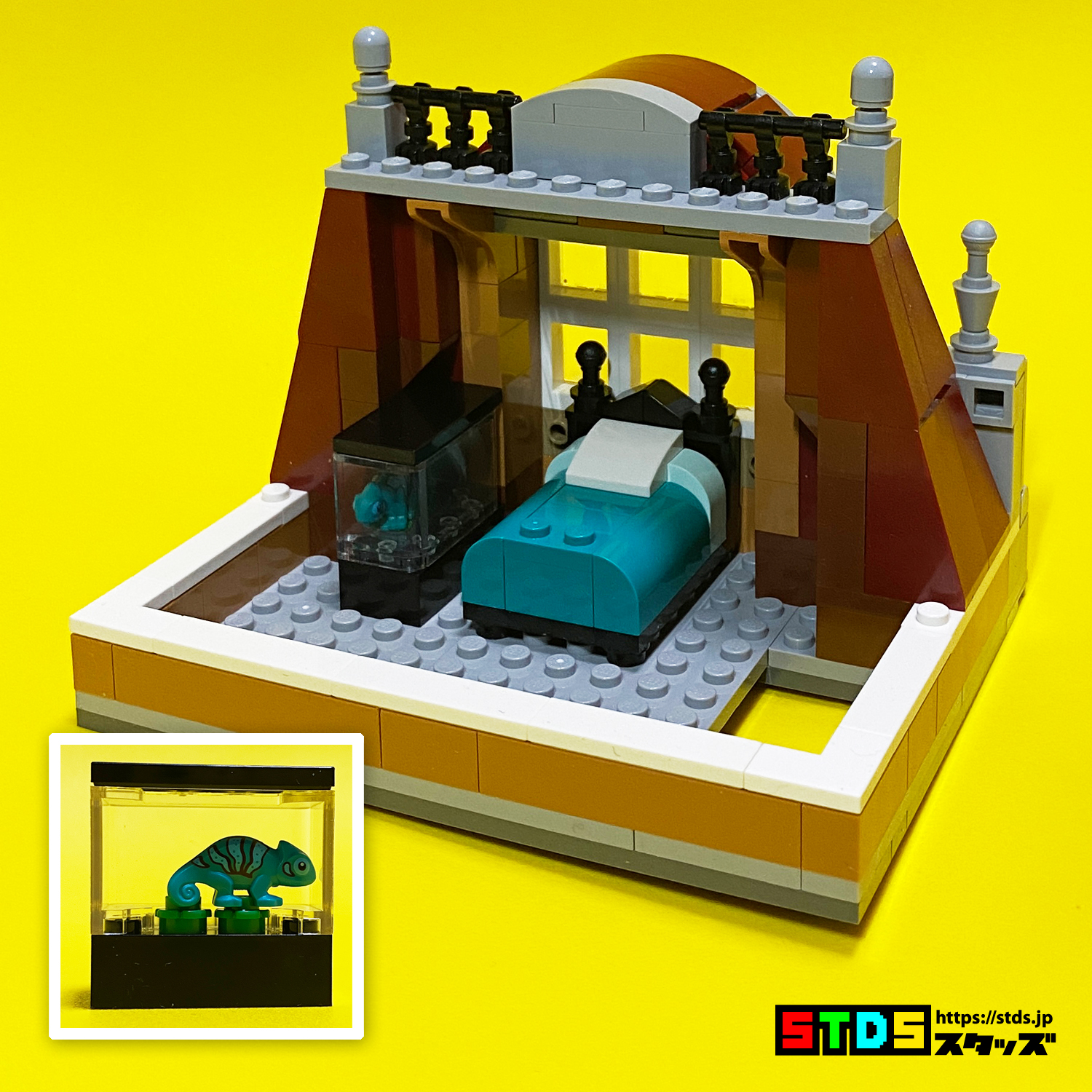 On the 3rd floor, the stone decoration is reproduced with light gray curved tiles and microphone parts on the front. And the roof is a high-class roof that uses plenty of large slopes. The color is also calm. The stone decoration and roof are wonderful with a cute design like a fairy tale!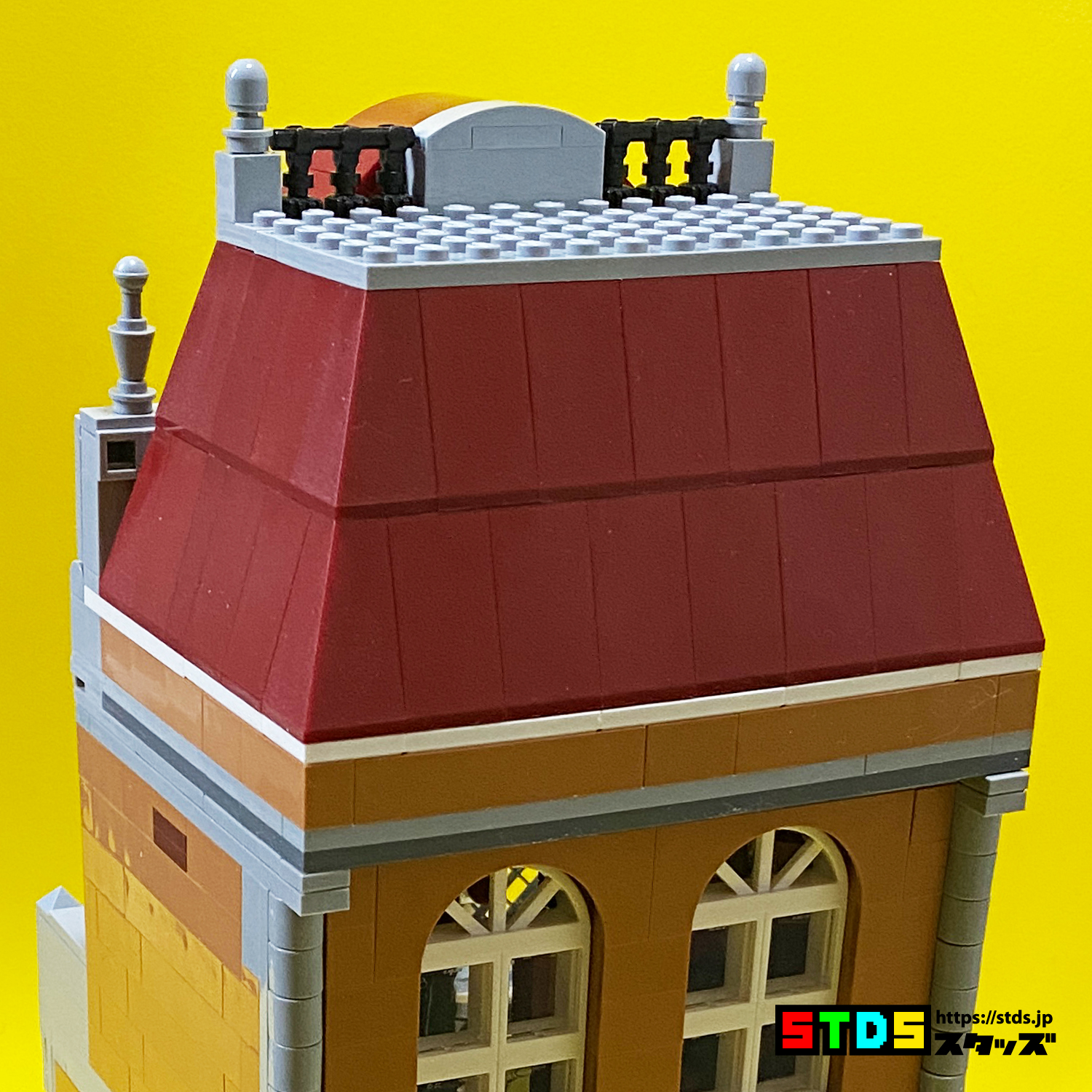 Speaking of the attic?
Speaking of an attic in a crime system, it is often either a hiding place or a confinement place.
In the case of this bookstore, there is no doubt that it is not a place of confinement but a hideout where Statham, who is on the run, sleeps. Here, we prepare for a counterattack against the enemy organization.
Think about how to escape from the 3rd floor
How do you escape if the enemy chases you to this attic?
Fitting window
The windows in this room cannot be opened and closed, and the window frame seems to be sturdy.
Normally it is difficult to escape from the window, but the former Shields who are on the run should have been crafted so that the window of the killing can be easily removed in case of emergency.
However, even if the window can be removed, it is not realistic to jump from the 3rd floor to the ground, even if it is a former Shields. It takes time to go down the wall and it is too plain for an action movie production.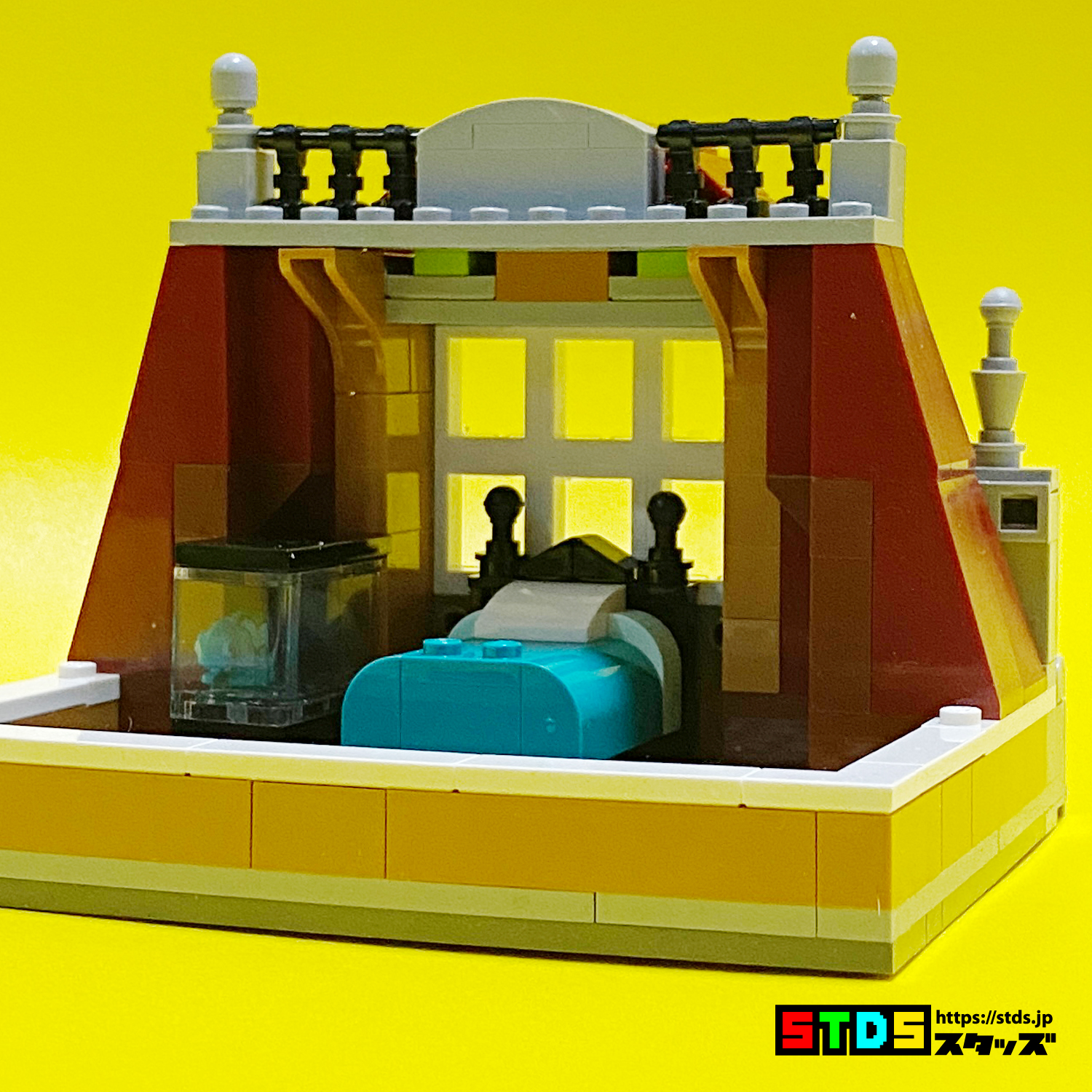 Jump to the roadside trees!
However, in this building, the roadside trees extend right in front of the windows on the 3rd floor, so you can jump from the windows to the trees. It may be difficult for ordinary people, but for Statham who has been trained both physically and mentally, it is before breakfast.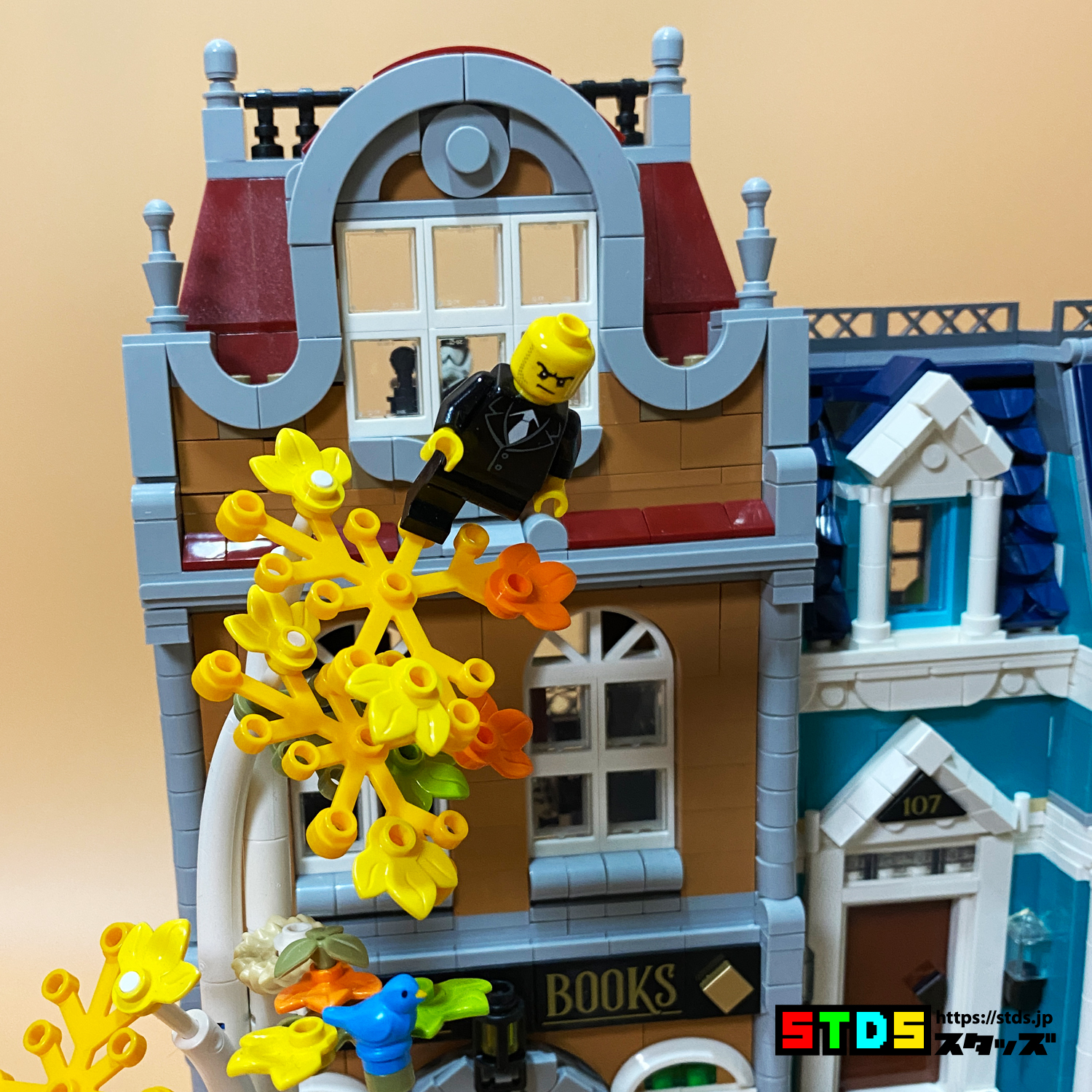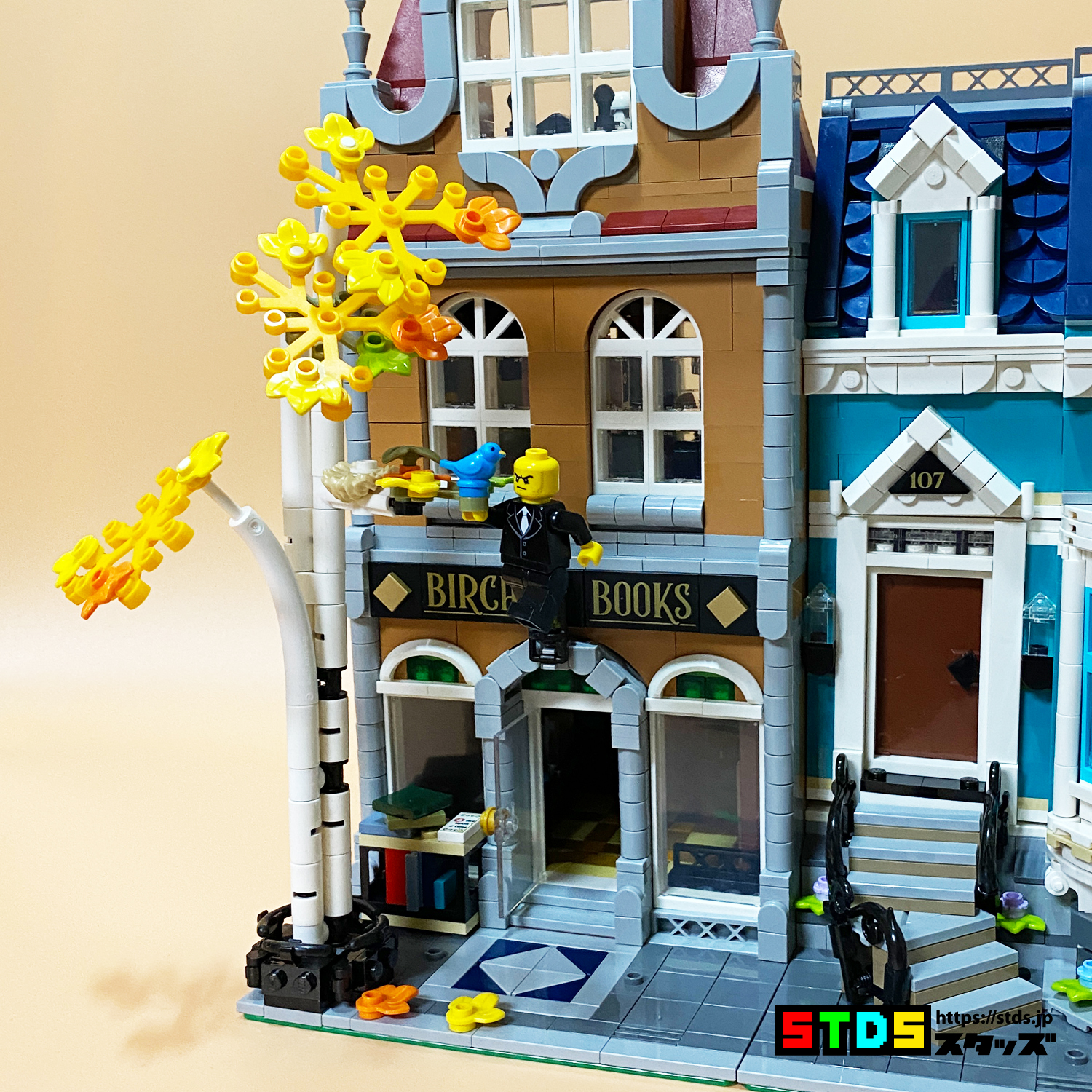 I was able to get out safely!
It is difficult to express a cool 3-point landing with a minifigure.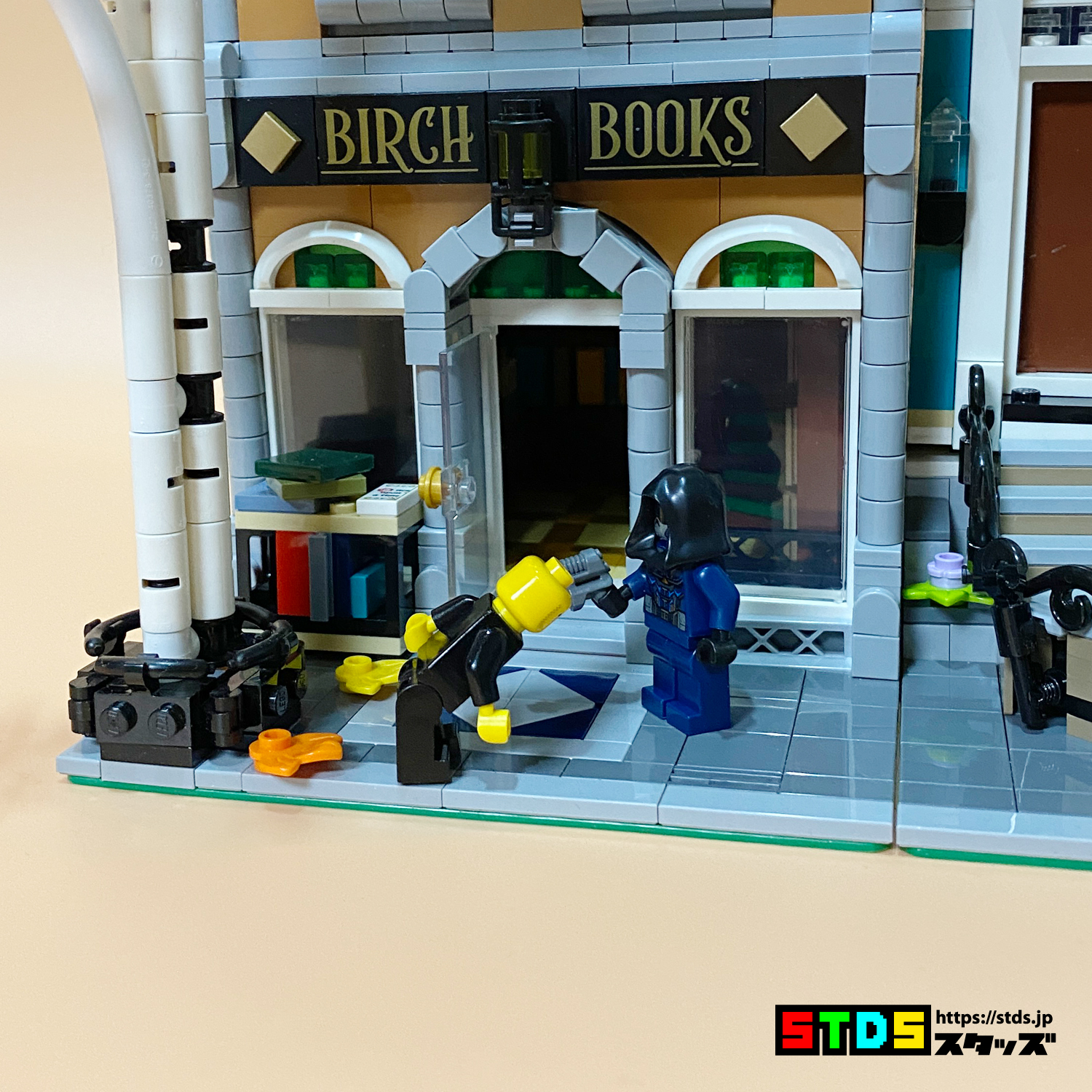 Fight against the enemy
If you go down to the first floor at once along the branches and trunks of the tree, a follower will be waiting, but if you are Statham, you should be able to remove the fence of the roadside tree and fight back.
The upper bar of the fence is black sausage. The epoch-making design, which can be said to be complicated and simple, was a learning experience for me.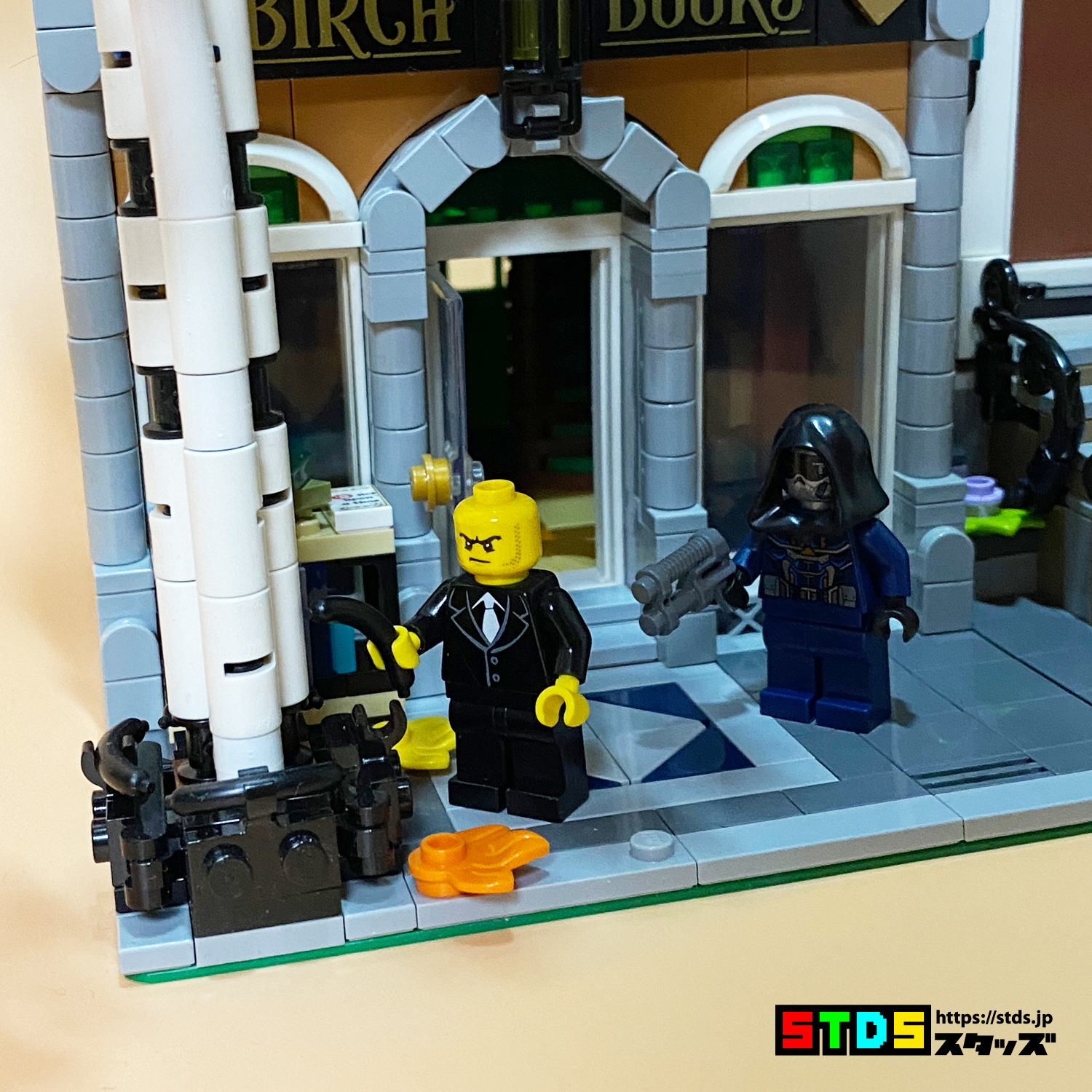 Next, proceed to the residential building.
Building exterior
Next to the bookstore is a residential building, which is more likely to be in San Francisco's Painted Ladies, which was the stage of a full house than in Europe, judging from the exterior. 1 basement floor and 2 floors above ground.
The green walls and scaly roof design are very fashionable and cute. I don't see much in Japan, but maybe there are actually many such buildings in Europe and America.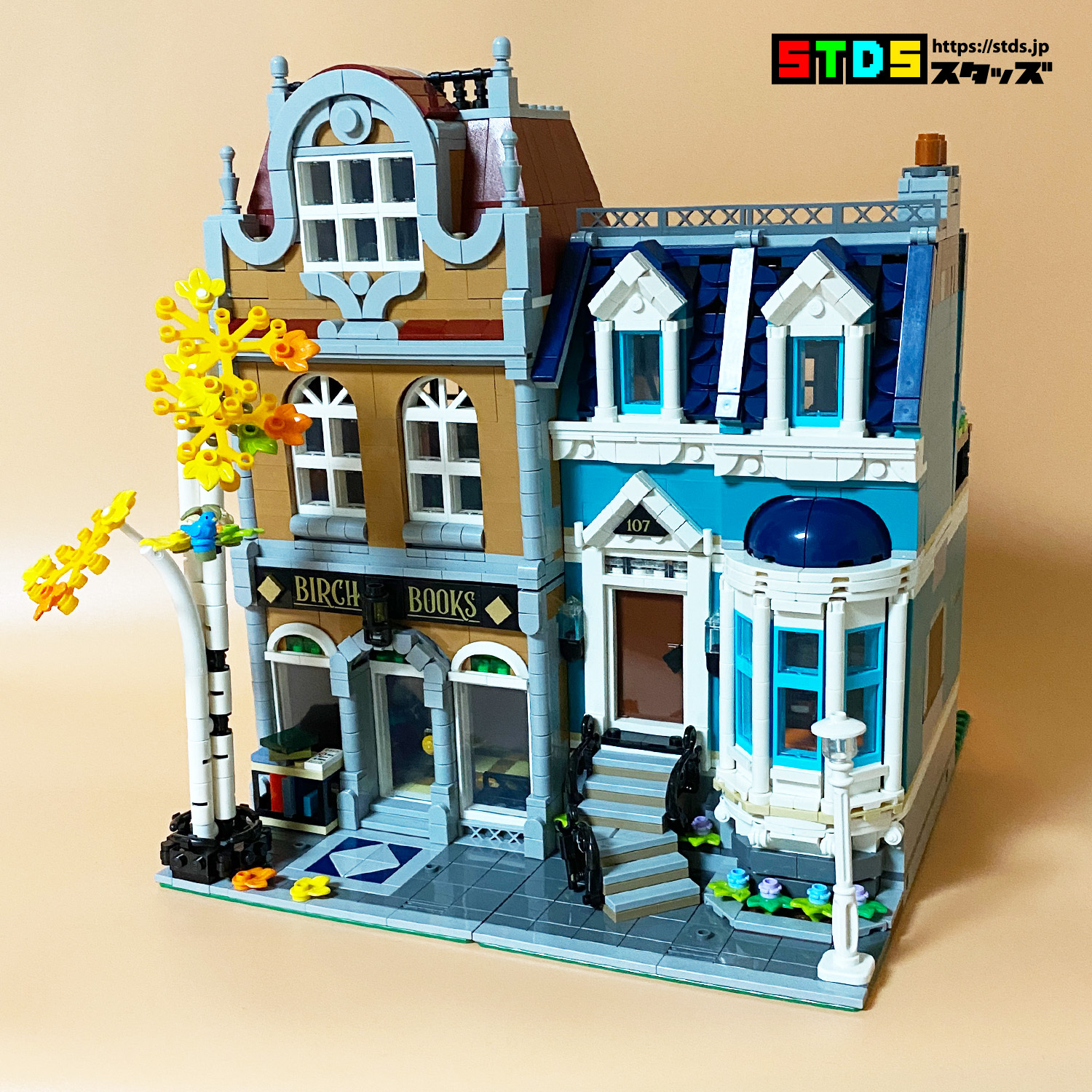 Position in crime movie
In the case of crime, such a fashionable house would be more like a house where an investigator lives with his family than a criminal's hideout.
The family of the investigator who is sure to be targeted
In crime (perhaps even in reality), the criminal always targets the investigator's family to outwit the investigative team. Since the target of the family is a major development in the crime system, private homes are often the stage of the story.
Impressive exterior
The exterior was particularly impressive: the stairs with varying angles along the way, the round roof above the bay window, and the address triangle above the door.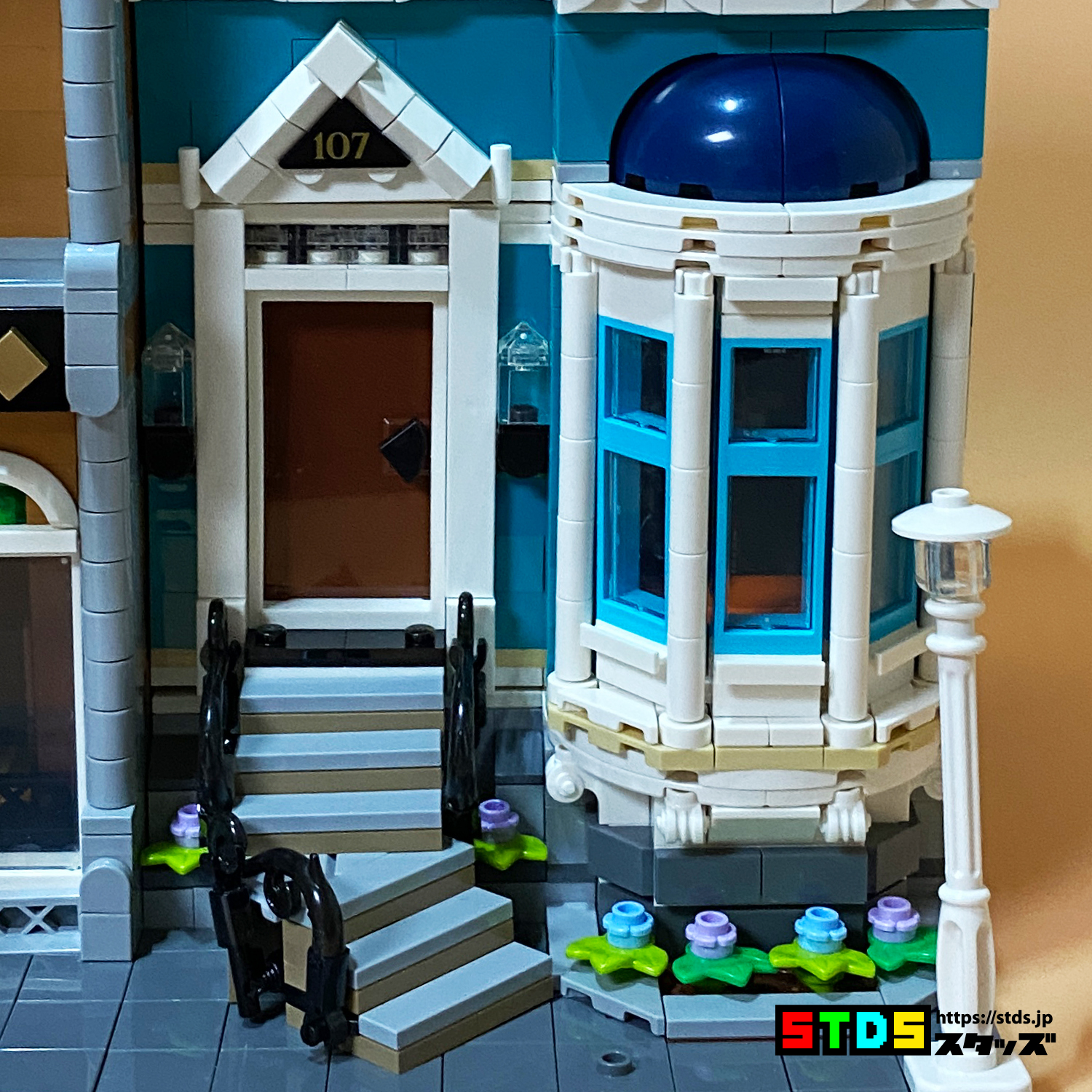 Entrance stairs
The building has a basement so the entrance is slightly above the ground.
The angle of the stairs leading to the door changed on the way, but I was impressed by the time-consuming and nifty design.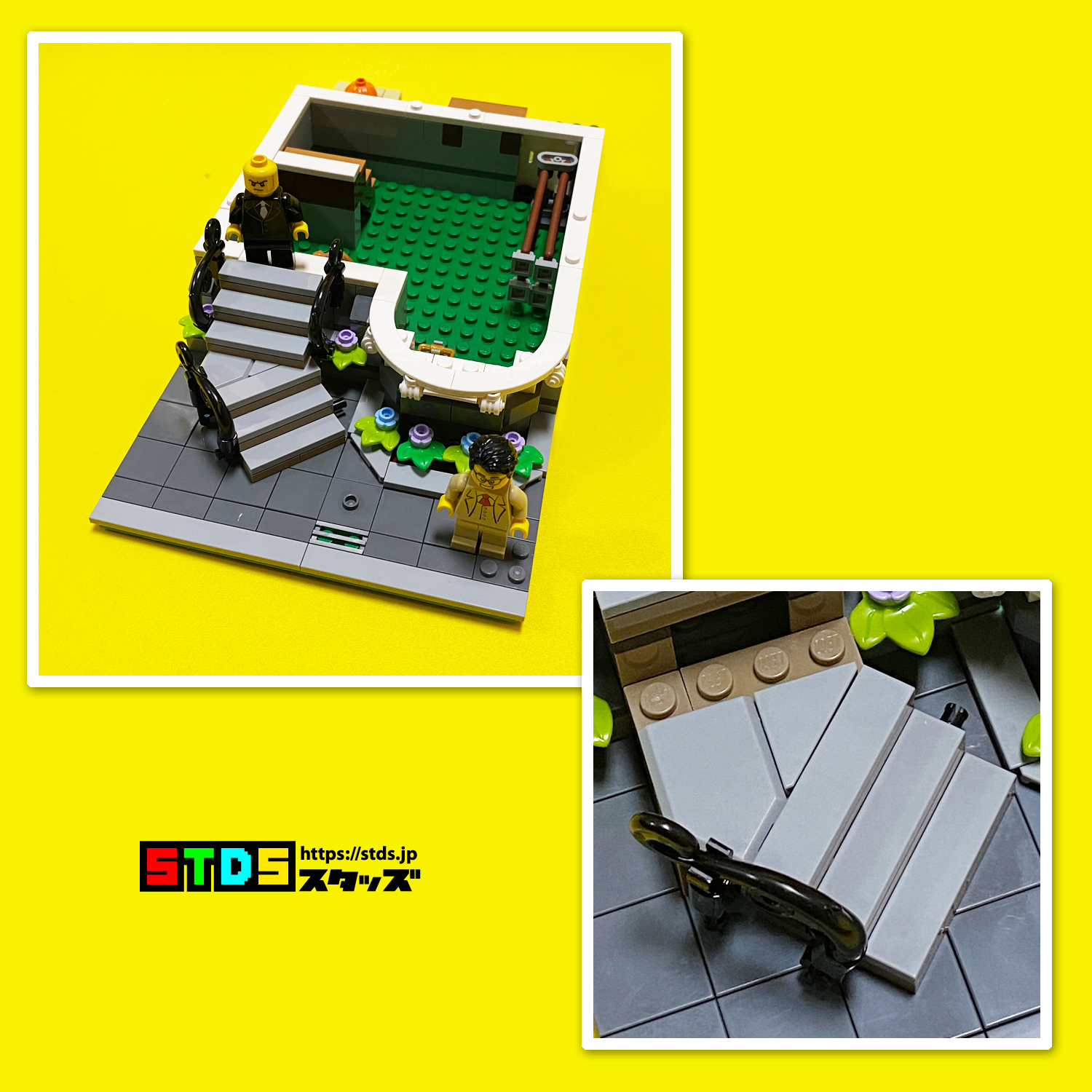 Stairs often seen in crime films
In crime films, local bad kids often hang out on the stairs in front of the apartment, and investigators come to listen.
Another pattern is that when the moving hero's daughter sits down, a group of bullies approaching her with a licking attitude, thinking she's a girl, threatens to pay for the place. However, the hero's daughter is unexpectedly strong and the bully returns and she runs away crying.
This may not be the case as this building is a private residence rather than an apartment, but it is quite possible that it is not an apartment in an area that is not very safe.
Round roof
The round roof above the bay window is made by arranging large rounded parts, but the upper arch part is a unique design with a curved slope attached upside down.

Can be used to escape
I don't know if such a round roof actually exists, but if so, what kind of material is it?
In my imagination, the material is an iron plate and the inside is hollow.
If so, even if you jump out of the upper window like Jackie Chan, once you land here, it will be a cushion. Even untrained humans will be able to escape without serious injury.

Landing on the flowerbed on the first floor will minimize injuries.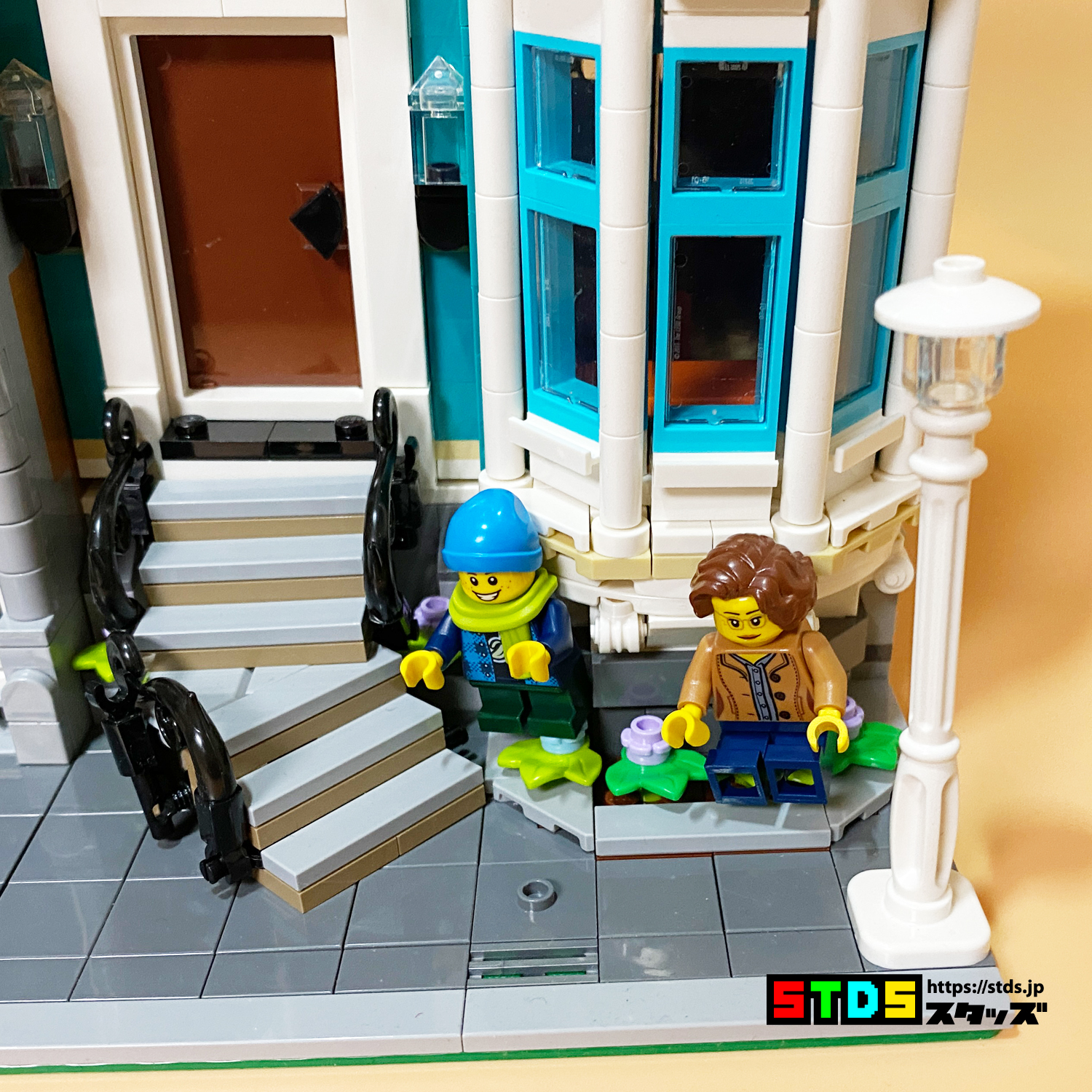 Address display triangle
The triangle of the address display is attached to the swivel (rotating) plate and fixed to the building at the right angle.
It seems to hang around as it is, but it is fixed so that it does not move with the left and right sticks. It is a special plate with a vertically extending rod, but it has a wonderful design that looks fashionable and practical.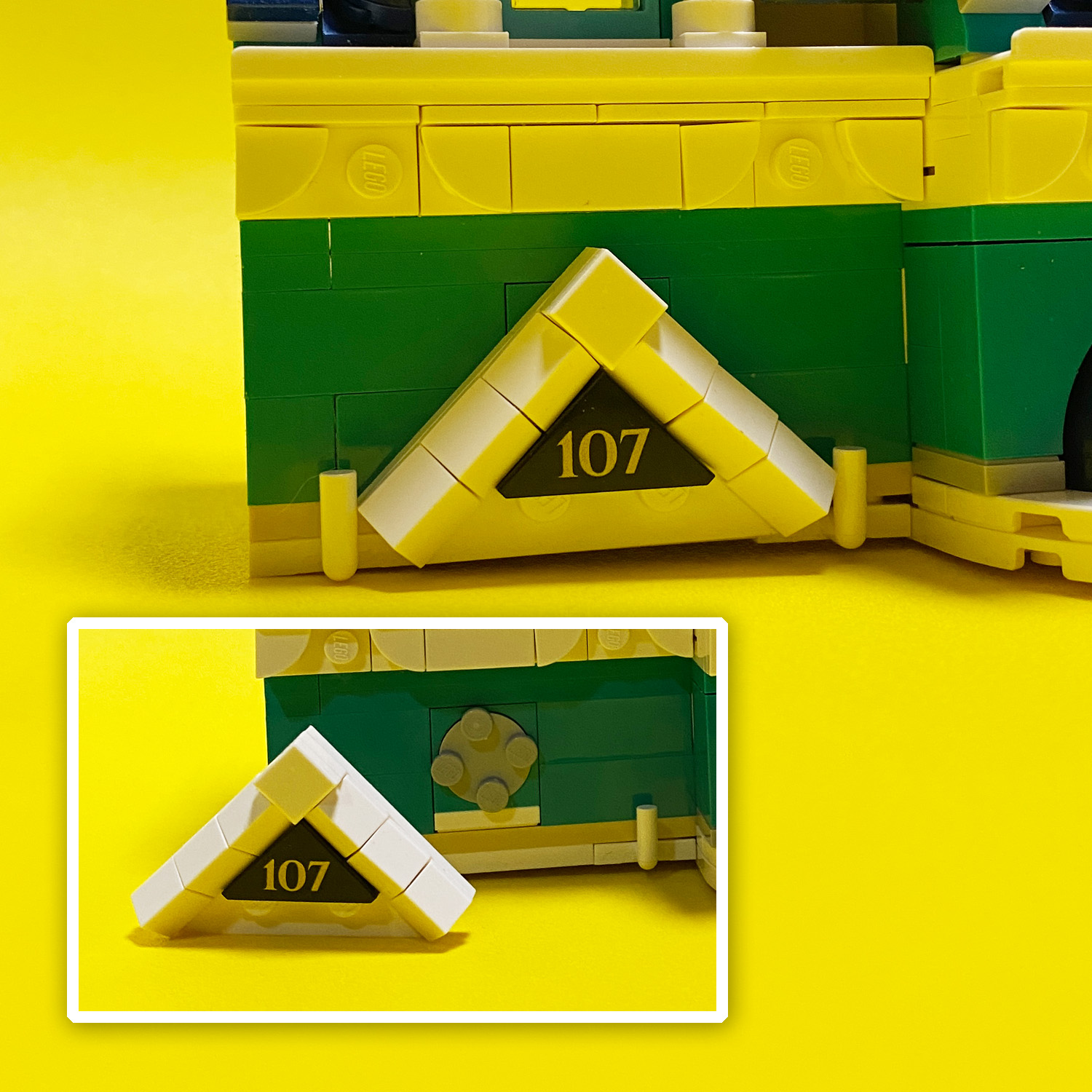 1st floor of the building
The living room has a simple interior compared to a bookstore, but has a modern square fireplace, shelves, and tables.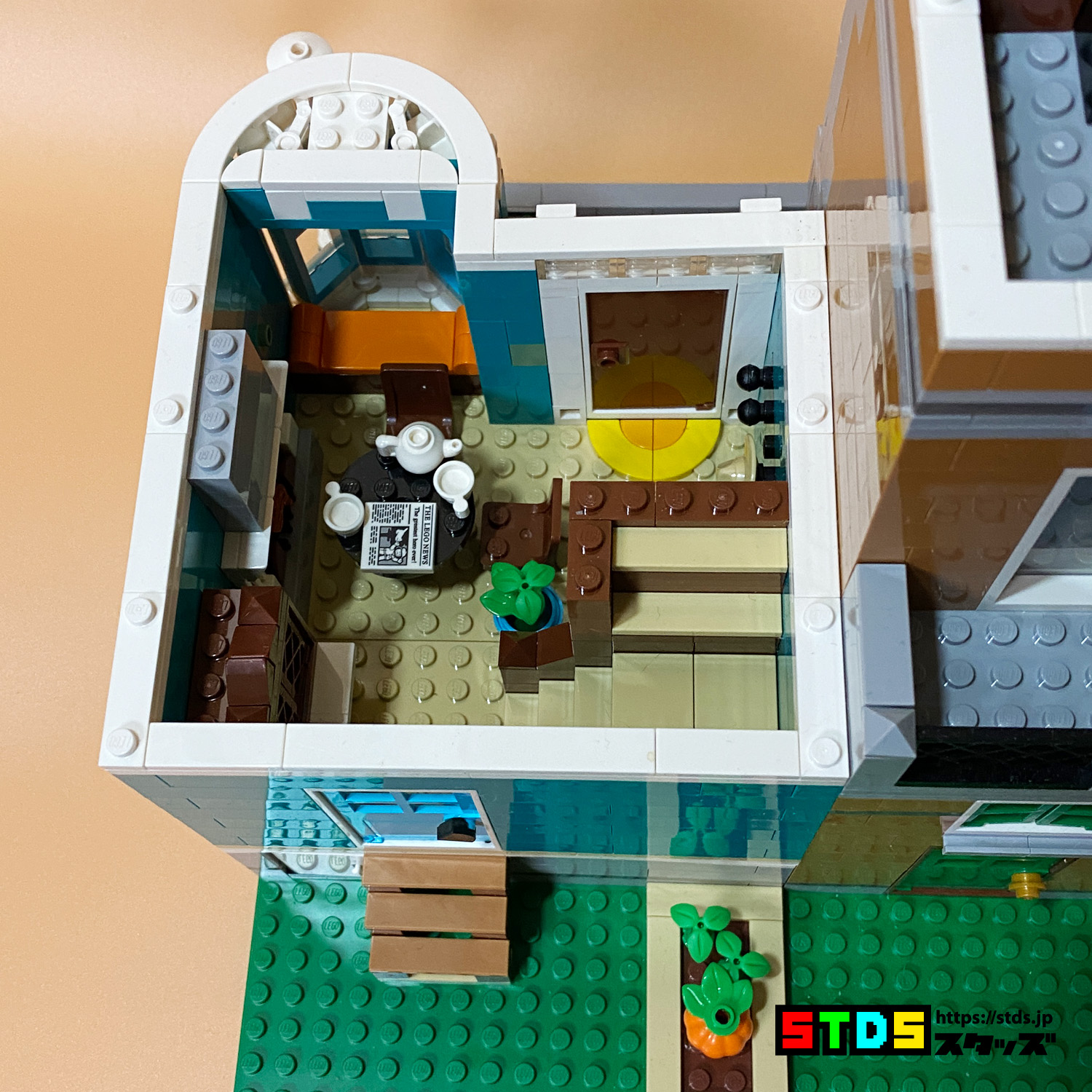 What if an enemy invades?
Get something that could be a weapon.
It seems that there are many cases in which guns are placed only in limited places at home because it is not good for children's education, even among American investigators who are involved in daily activities such as shooting. Some wives and children may have never touched a gun.
There is a possibility that the enemy has already ambushed at the back door, so for the time being, it seems good to pick up a teapot as a weapon and escape to the second floor.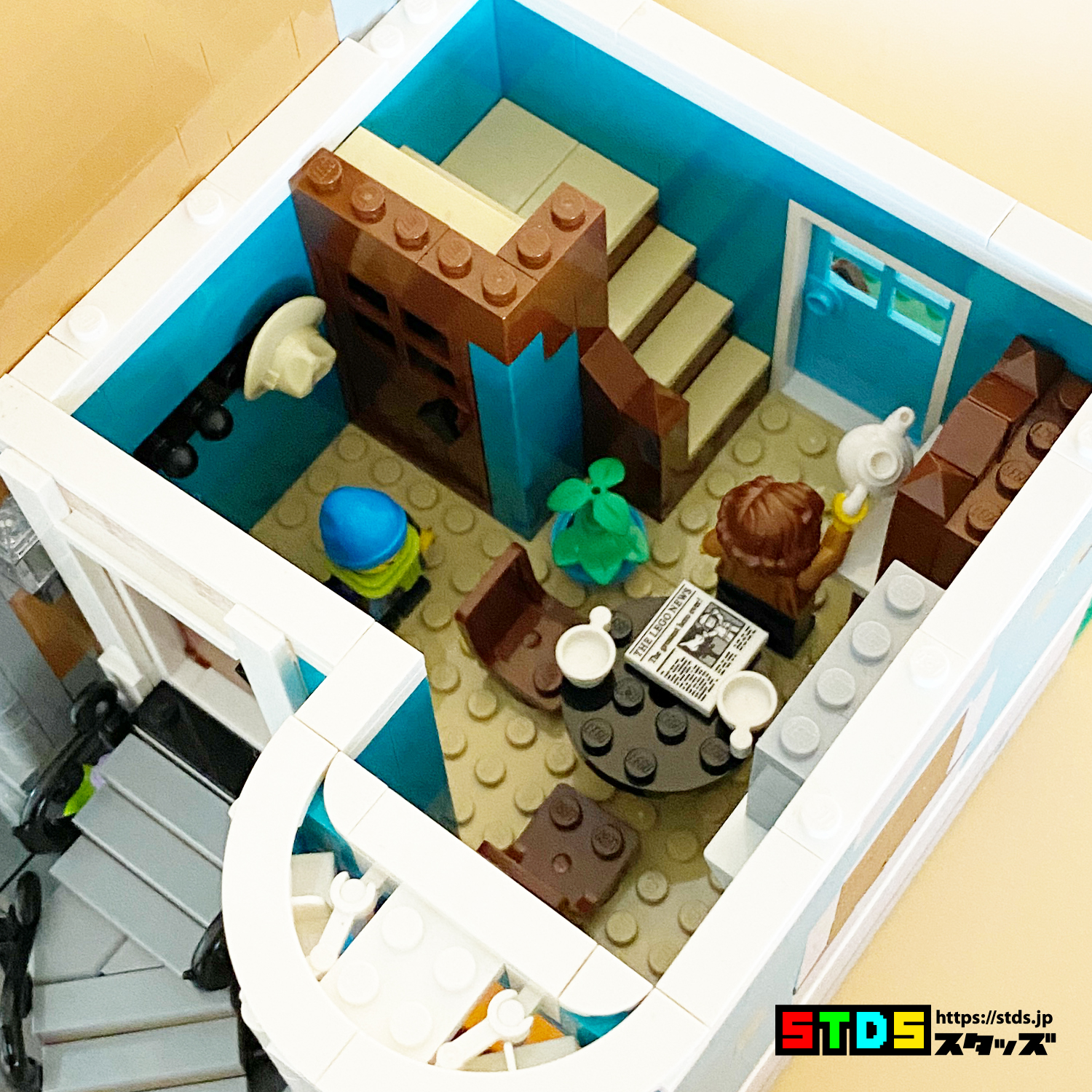 Upstairs bedroom
The second floor is a bedroom with a cute wide yellow bed and chest. The chest has a high-class design with curved drawer ends. There is a desk lamp and plants on the chest.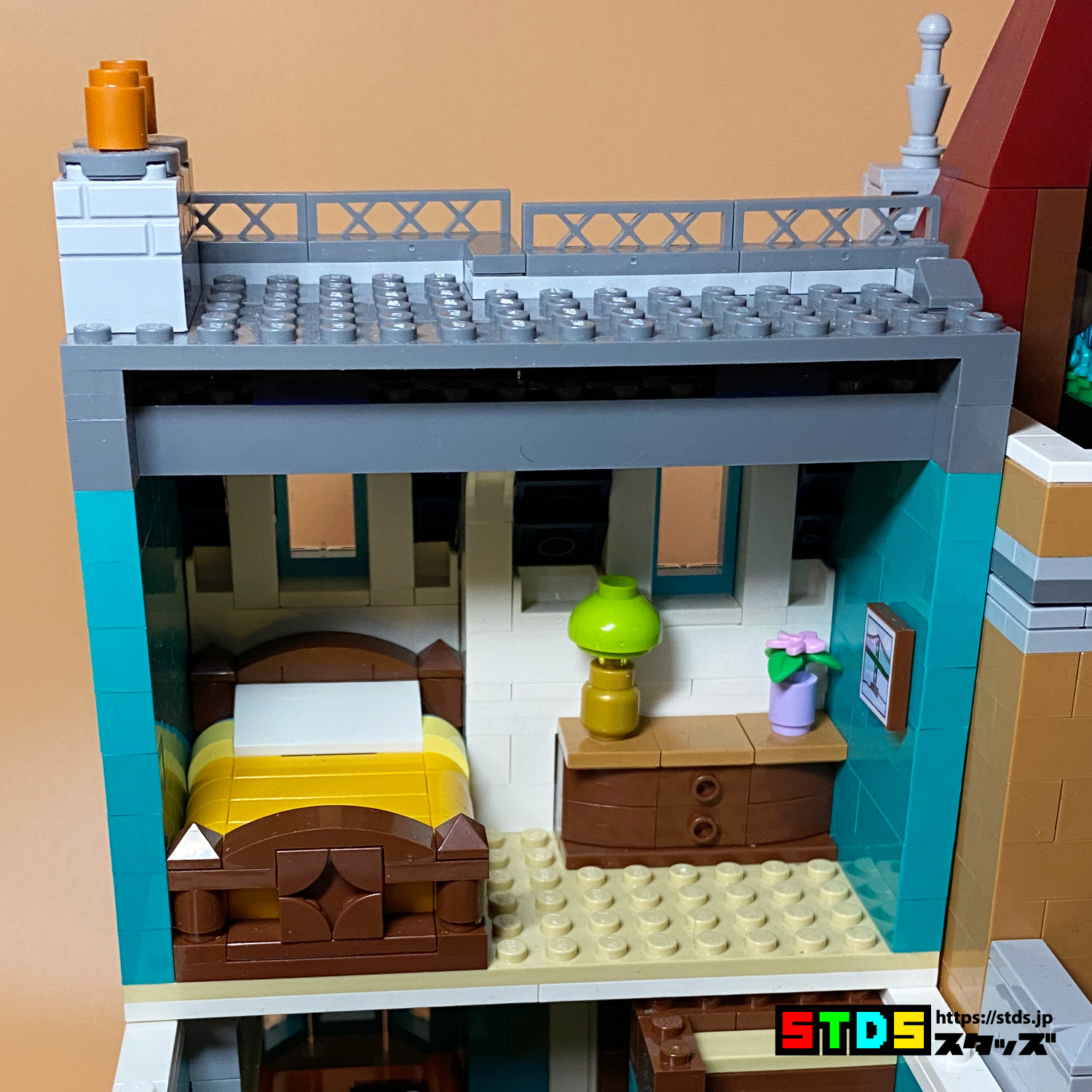 I want to call for help somehow
I'd like to call for help to survive the crisis, but it's quite possible that a device in an enemy camouflage van has disabled a cell phone.
If you can't use your cell phone, you should yell out from the window. This window cannot be opened and closed with Lego, but in reality it should be a type that can be opened. If you can't open it, break it and call for help.
When a criminal group targets an investigator's family, it is often aimed at abduction rather than killing, so even if a member of the criminal group waiting outside shoots a gun, it will be a menacing shot.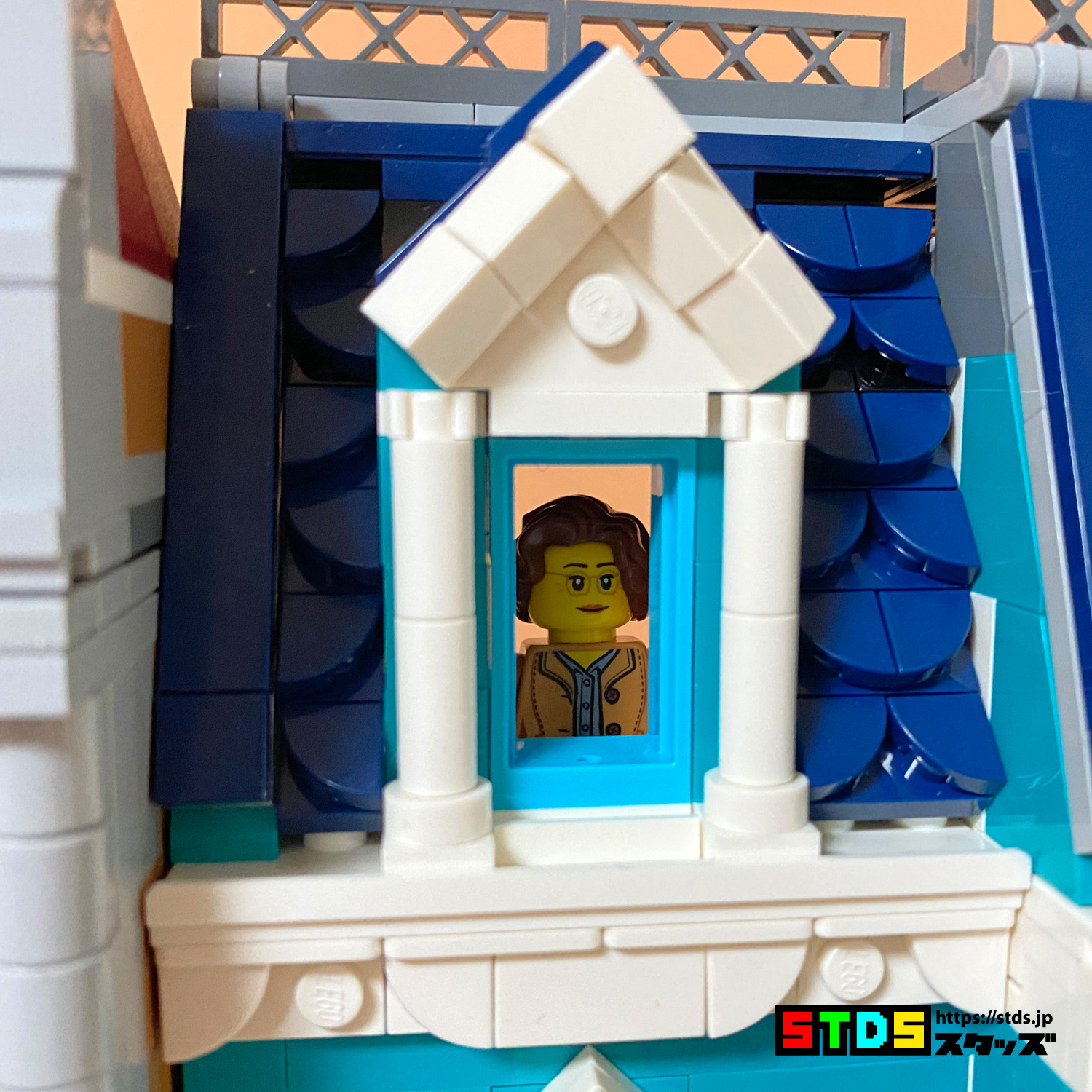 The bigger the turmoil, the more chances of being saved
Since this building has a bookstore next to it, it is considered to be located in or near the commercial area.
If so, there will be many buildings in the vicinity, and there should be many residents who are awake even at night. If you keep yelling out, it's likely that someone will notice you.
Statham and Stallone should notice
After a while, Statham and Stallone, who noticed the commotion, will come to help from the building next door.
It is possible that the house next door will interact with Stallone, but these two people should not be able to leave the person in need even if they do not know each other.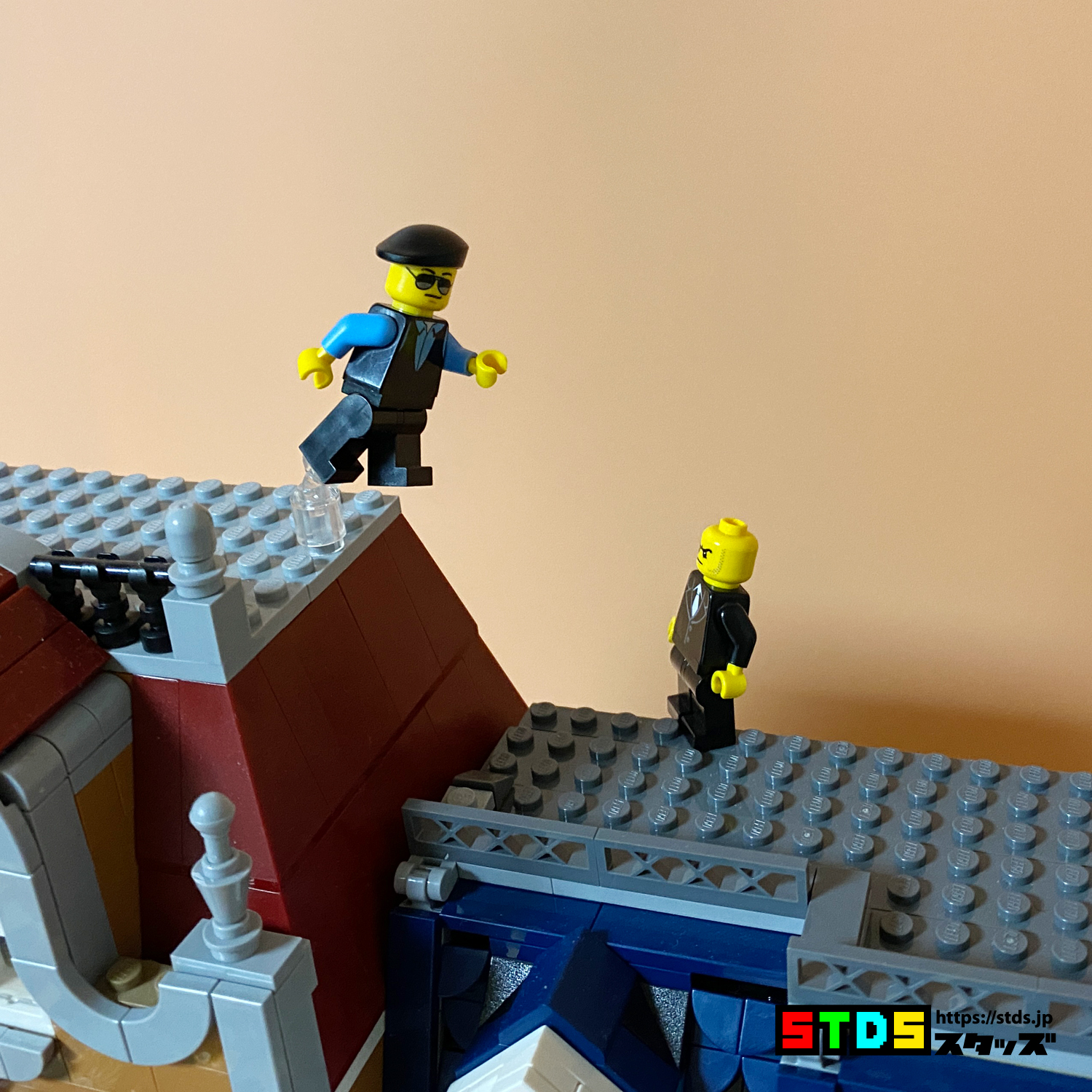 The safety of the residents was protected by the activities of Statham and Stallone!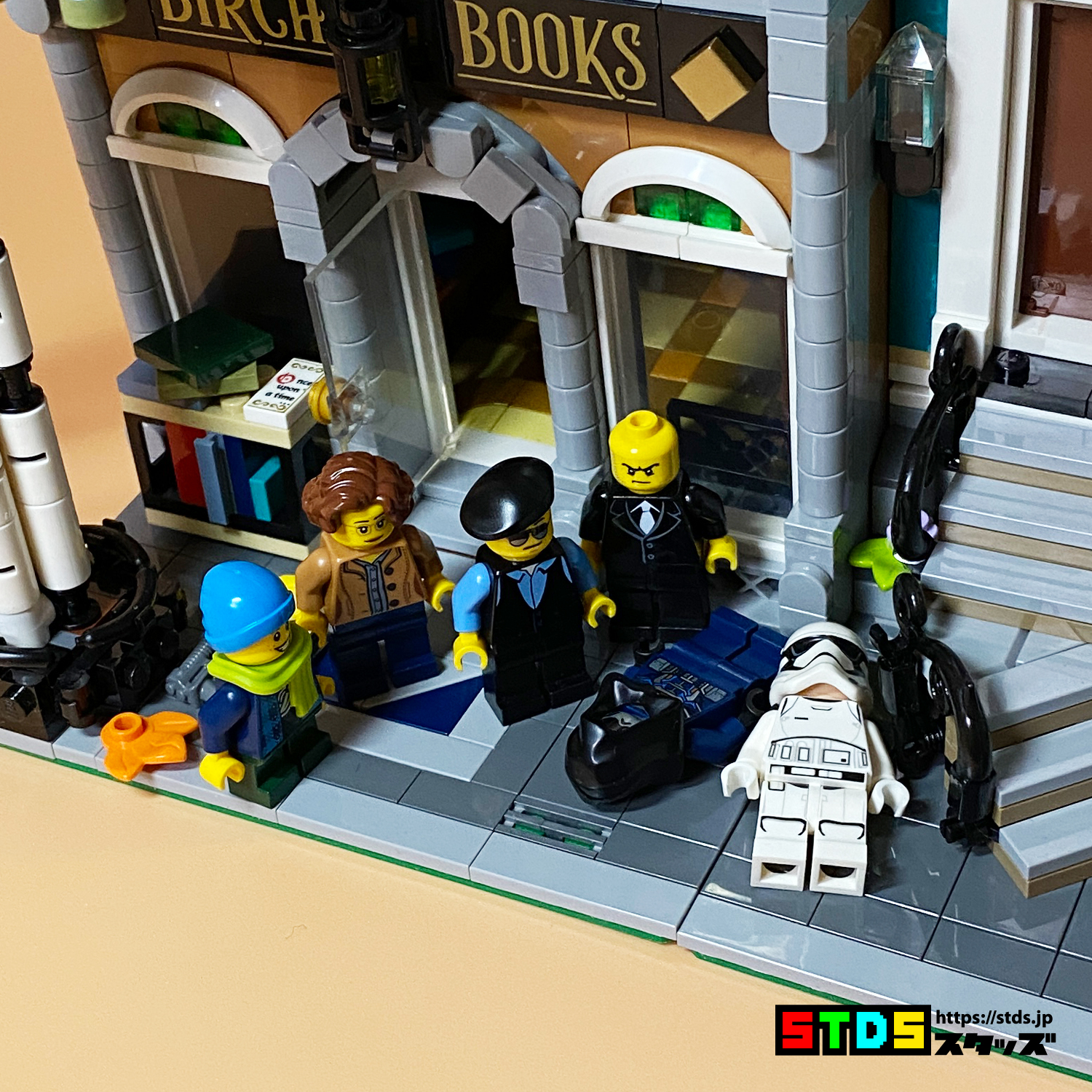 Impression summary
I also want to make my own building, but I haven't made much progress due to restrictions (mainly technology) such as funds, technology, and time. The bookstore I made this time has many unique designs, and it was a very good study for the day when it came.
If Statham or Stallone collaborates with Lego, I would like you to choose this bookstore, which is surprising as an action scene, as the stage.
* Taskmaster, Trooper, Statham, and Stallone minifigs are not included in this set.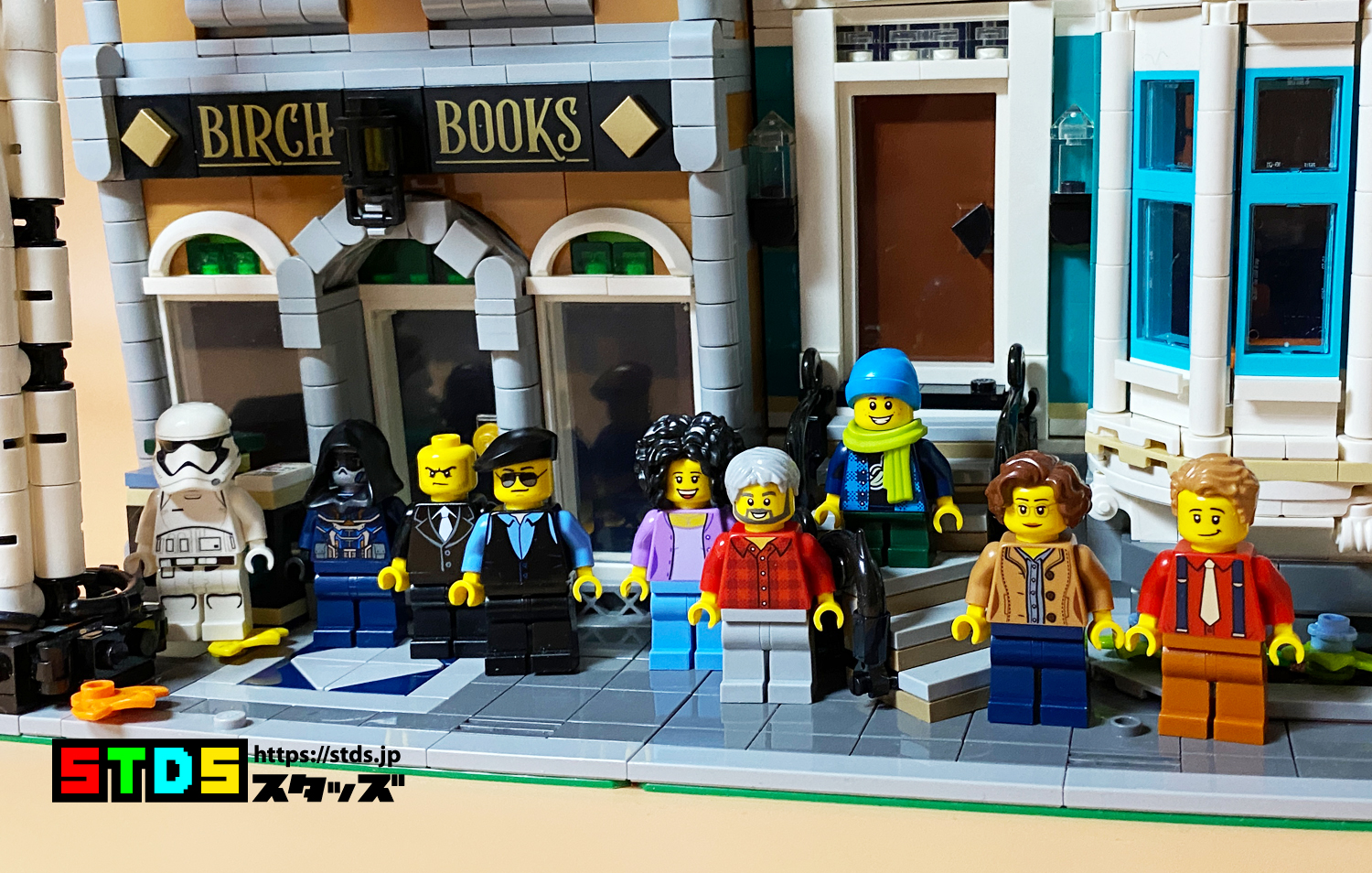 Check Our Reviews
Read Our LEGO Entertaining Review!In addition to product reviews, there are many unique reviews that are especiall[…]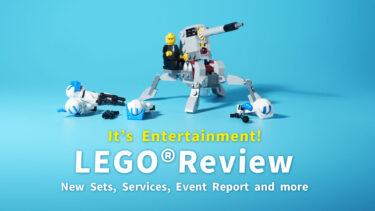 This article includes affiliate links and I earn from qualifying purchases.