LEGO Asian Festival 2022 New product information released.
Information on new products of the "LEGO Asian Festival" series, which is released every year with the theme of Chinese New Year / Chinese New Year.
* Products will be posted at each shop after they are available.
80108 Lunar New Year Traditions
乐高(LEGO)新春六习俗 | 1,066pcs | Age8+ | ¥9,980 | $79.99(約¥9,000) | 2022年1月1日(土)発売
Six colorful models represent the traditional events of the Chinese New Year. You can go shopping for a Chinese New Year feast, make decorations with the whole family, go to a relative's house and get a New Year's gift in a red bag, and enjoy the Chinese New Year. Twelve minifigures are included, including the god of wealth and a family of six, allowing you to recreate a fun and lively New Year celebration.
A set of 6 8×8 units.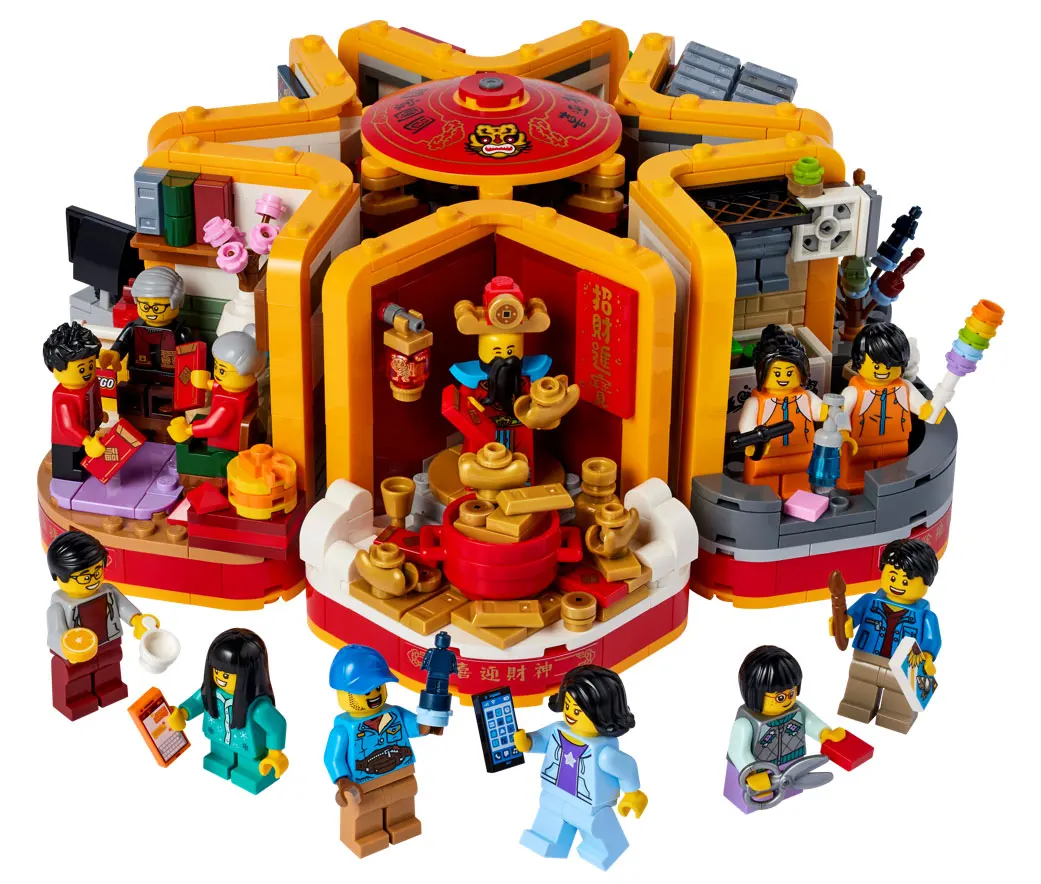 Can be stacked in a pyramid style. "God of Prosperity" that brings wealth to the summit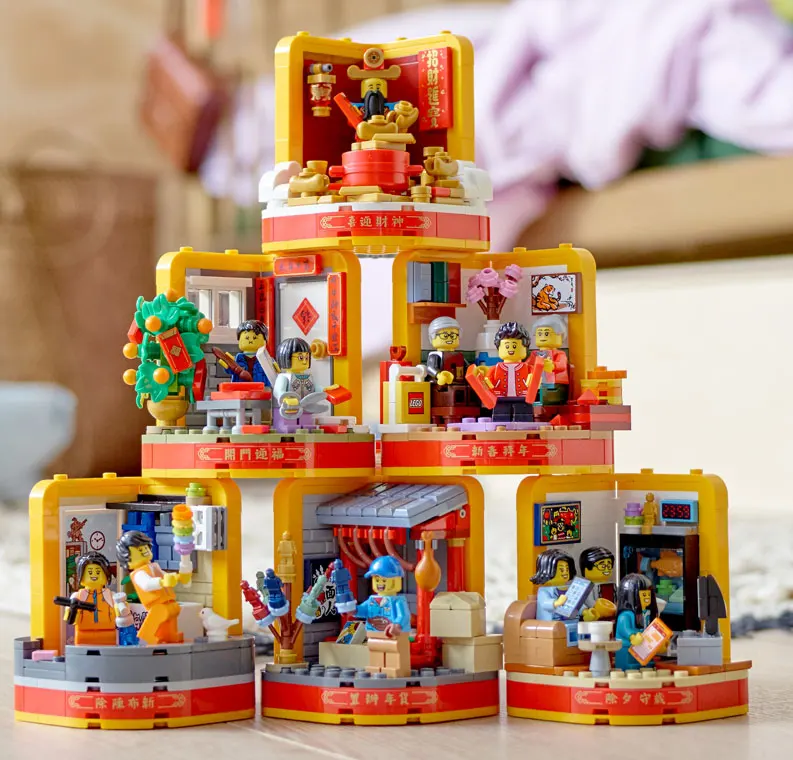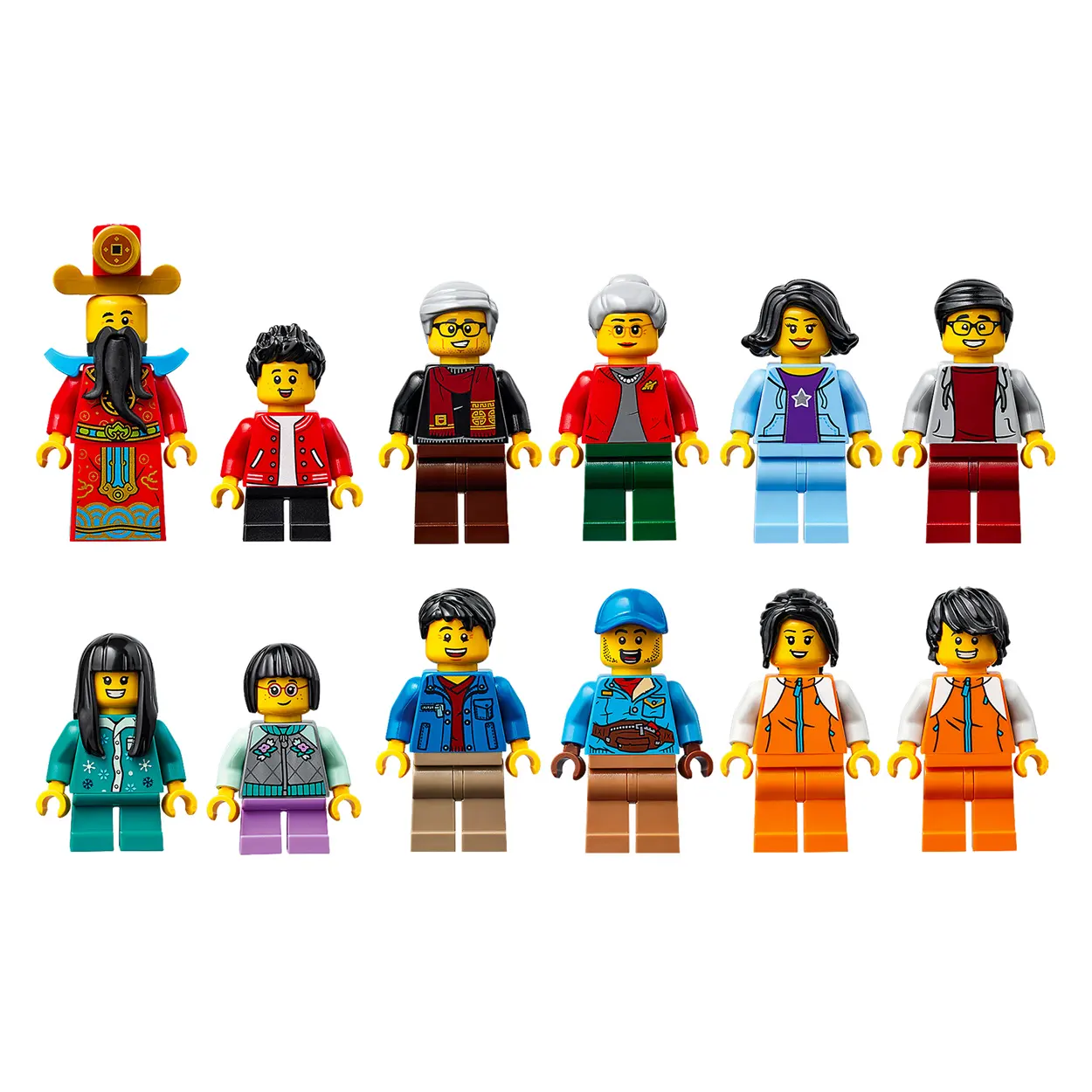 Modular play-and-display set showcasing Lunar New Year family traditions – Kids learn about Chinese New Year customs as they build and have festive fun with this colorful LEGO® set (80108)
12 LEGO® minifigures bring each scene to life – the God of Wealth, a stallholder, a couple, man, girl, and a family of 6: dad, mom, grandpa, grandma, a girl and boy
6 scenes that connect in multiple ways – Each of the 6 modules portrays a festive activity, including spring-cleaning, food shopping, making good-luck decorations and exchanging gifts with family
Gift idea for ages 8 and up – Give this premium-quality, 1,066-piece LEGO® building set as a Chinese New Year holiday gift to trendsetting kids
Build and display – This centerpiece model for a Lunar New Year celebration measures over 3.5 in. (9 cm) high, 10.5 in. (27 cm) wide and 9 in. (23 cm) deep in basic formation
Up to 6 people can build at the same time – The set includes separate illustrated, step-by-step instructions for each of the 6 modules, so a family can enjoy the creative experience together
Educational fun –LEGO® Traditional Festival sets feature buildable toy models for display and role-play fun that will excite anyone interested in Chinese culture
80109 Lunar New Year Ice Festival
乐高(LEGO)冰上新春 | 1,519pcs | Age8+ | $119.99(約¥14,000) | Rel Jan.1 2022
Enjoy the New Year mood! Frozen lakes, rental shops, roasted sweet potatoes, photo booths, ice sculptures, vending machines, penguin-shaped sleds, ski slopes, snow-capped trees and much more. In addition to 13 minifigures and penguin figures, including those wearing tiger costumes, there are plenty of fun accessories such as skates, ice hockey packs, smartphones, penguin ice sculptures, and sculpture tools.
It seems that 3×3 curved tiles introduced in 2021 are used for the inner part of the stairs. If so, gray is probably a new color.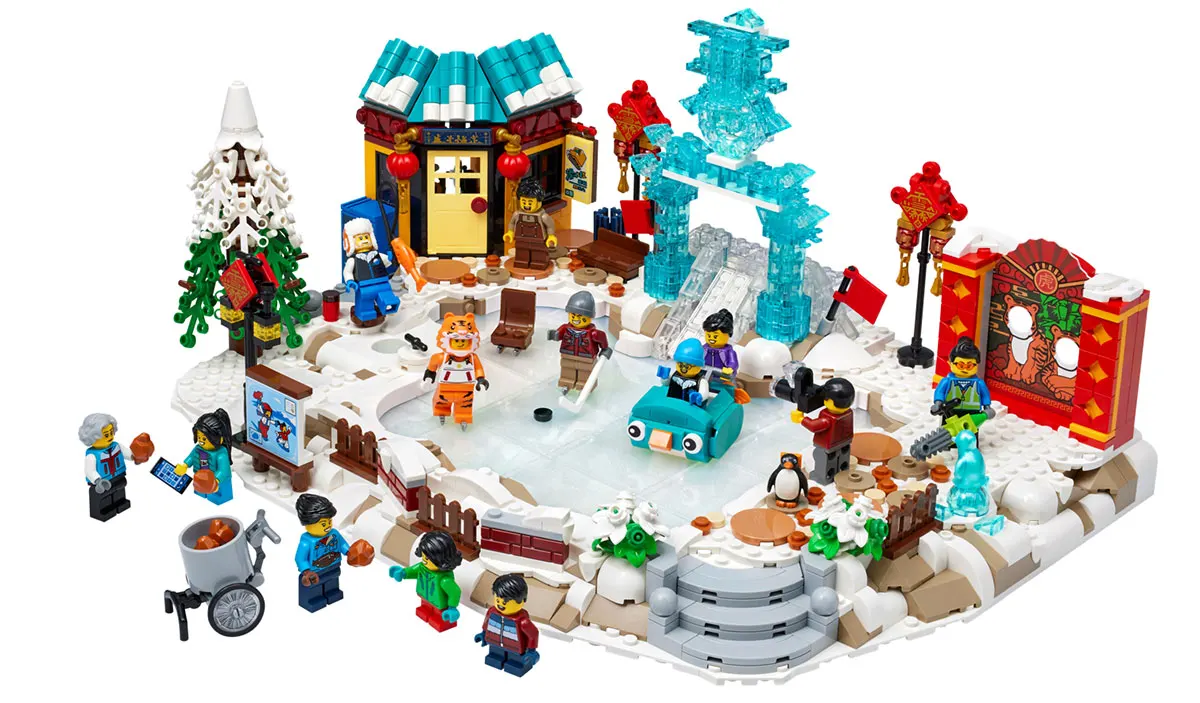 Tiger minifigure and penguins of the year of the tiger are also included.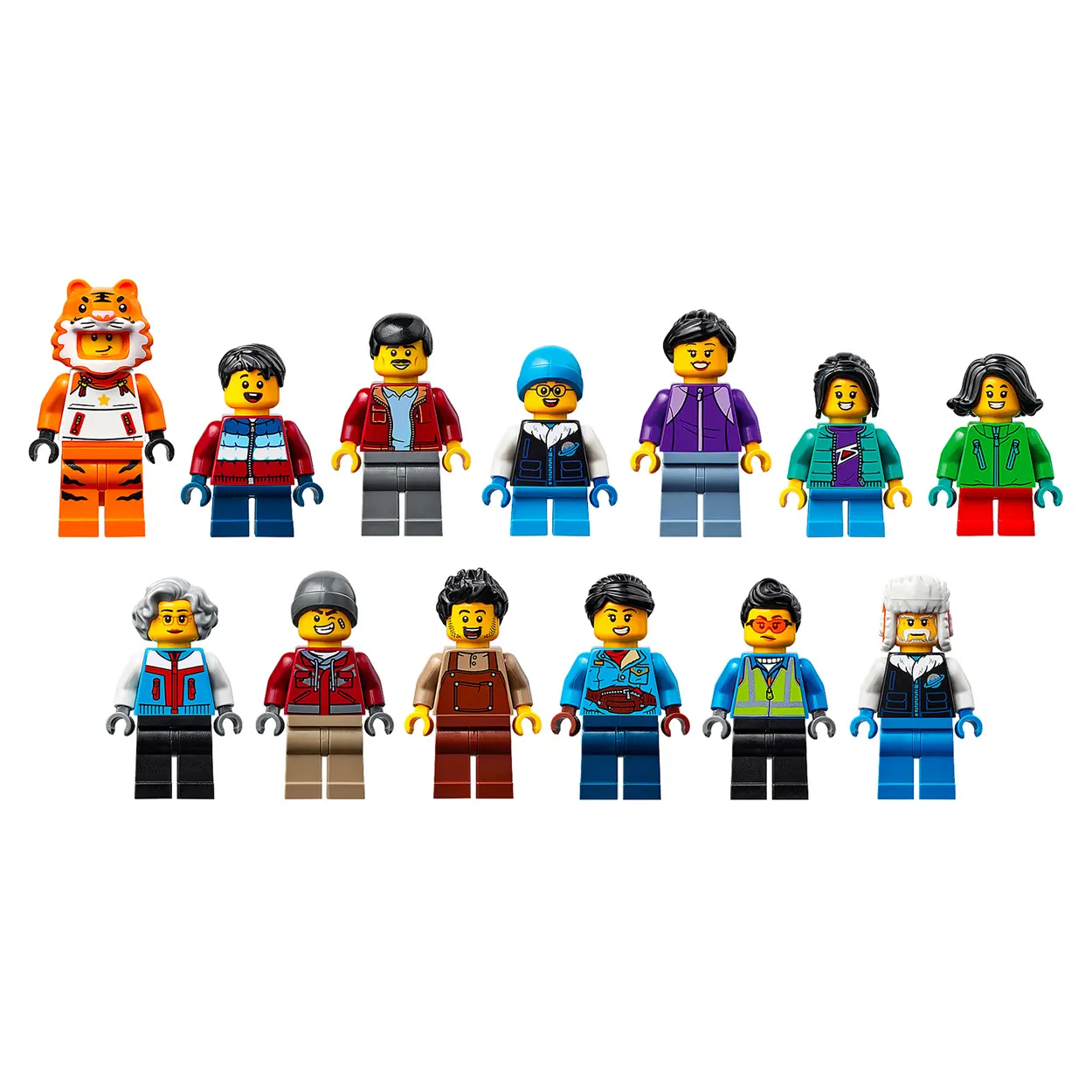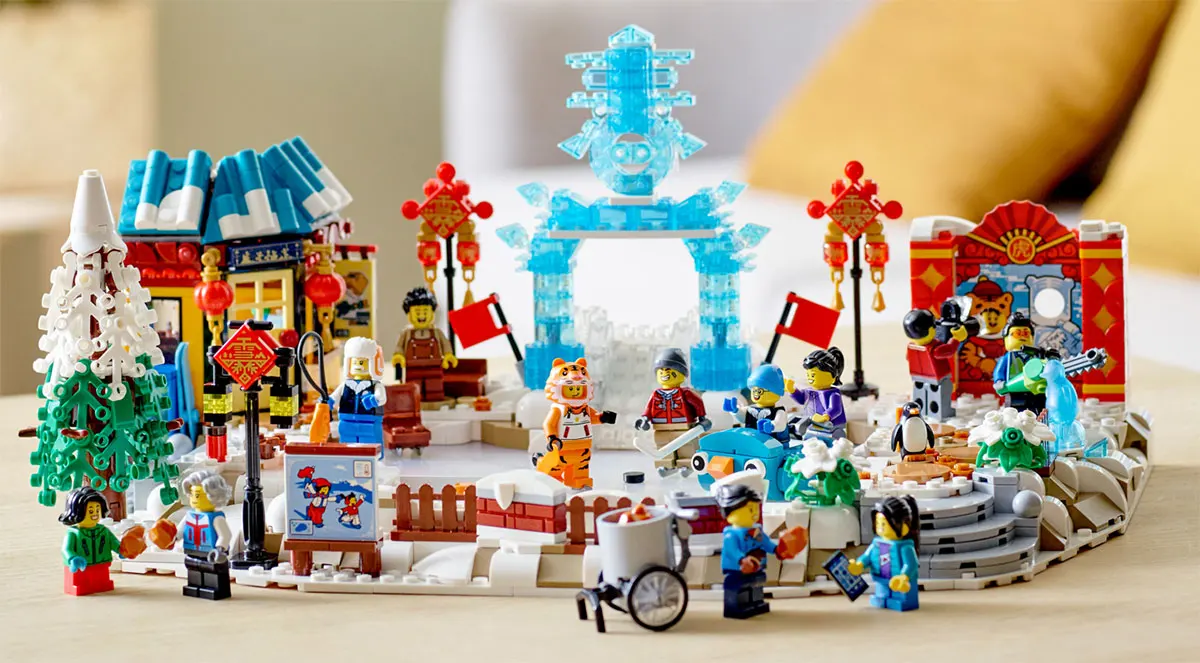 Lunar New Year play-and-display set – Kids can recreate the traditional family fun of a Chinese New Year Ice Festival with this LEGO® set (80109), featuring a-detailed, buildable winter scene
13 LEGO® minifigures with lots of accessories – Includes a person in a tiger outfit to mark the Year of the Tiger, sweet-potato vendor, ice sculptor, mom, dad and children, plus a penguin figure
Buildable winter wonderland – A frozen lake, penguin-shaped sled, ski slope, chun ice sculpture, equipment rental shop, photo booth, vending machine, sweet potato vendor's cart and more
Role-play Chinese New Year activities – Rent equipment from the shop, skate, play hockey and ride the penguin sled on the lake, carve ice sculptures, go ice fishing and take photos with penguins
Gift toy for ages 8 and up – Give this premium-quality, 1,519-piece LEGO® building set as a Lunar New Year holiday gift to creative kids who like to set trends
Festive Lunar New Year centerpiece – The lake model measures over 6.5 in. (17 cm) high, 15.5 in. (39 cm) wide and 10 in. (26 cm) deep
Release date and price
The release date is December 25, 2021 (Saturday) for the Asian region and January 1, 2022 (Saturday) for others.
There may be a purchaser gift
There is a possibility that the purchaser gift of the year of the tiger will be distributed.
New LEGO Summary
Check the All New LEGO Products Information Here!All information for LEGO's official release, leaks, release schedule,[…]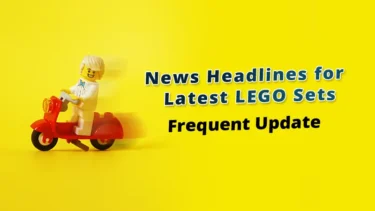 This article includes affiliate links and we earn from qualifying purchases.