KNIGHT RIDER: KITT AND THE FLAG MOBILE COMMAND UNIT
With 10,000 support, it is confirmed that it will advance to the 2nd LEGO idea commercialization review review in 2021.KNIGHT RIDER: KITT AND THE FLAG MOBILE COMMAND UNIT:LEGO IDEAS
A set of a kit (Knight 2000) and a truck (Luke One: F.L.A.G.SEMI) from the popular car drama "Knight Rider" of yesteryear. The number of pieces is 2648, but it looks more.
The kit is 8 studs wide. The characteristic red light that moves left and right in front of the car body is shining and moving in the image on the idea page. It's not in the explanation, but it may work. The pattern of the truck may be a sticker.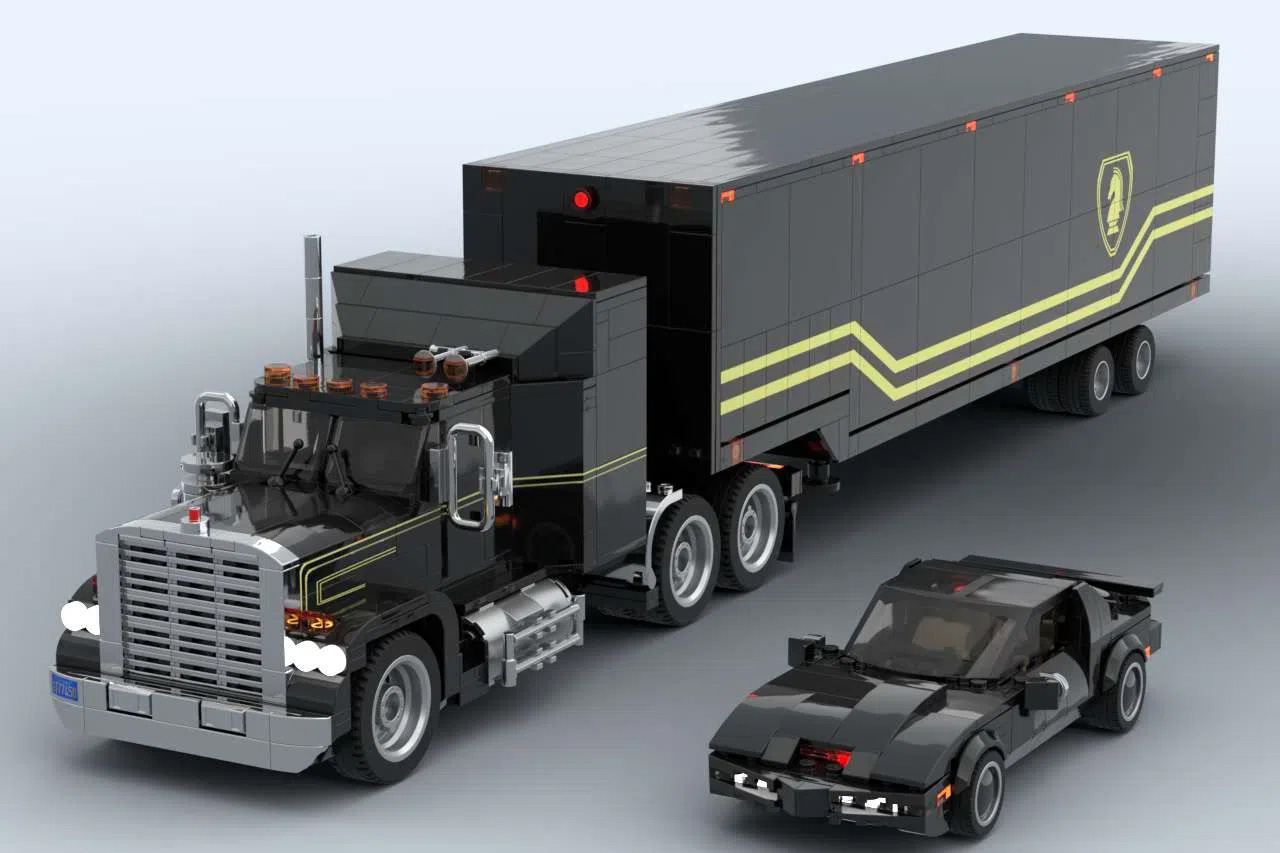 The entire kit can be stored in the same way as during the work.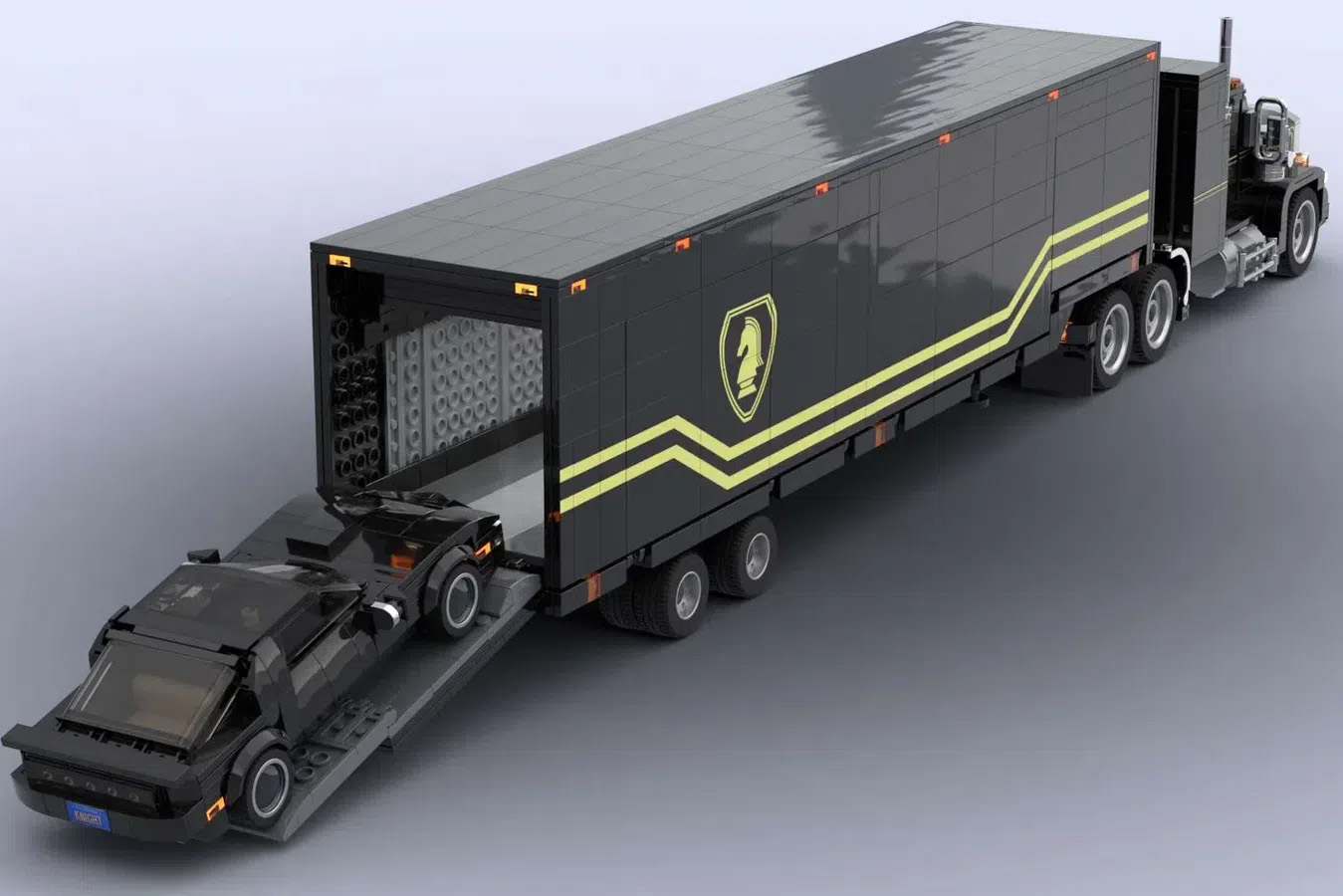 The truck functions as a maintenance and command room. The main character, Michael (David Hasselhoff), was also a kid's admiration.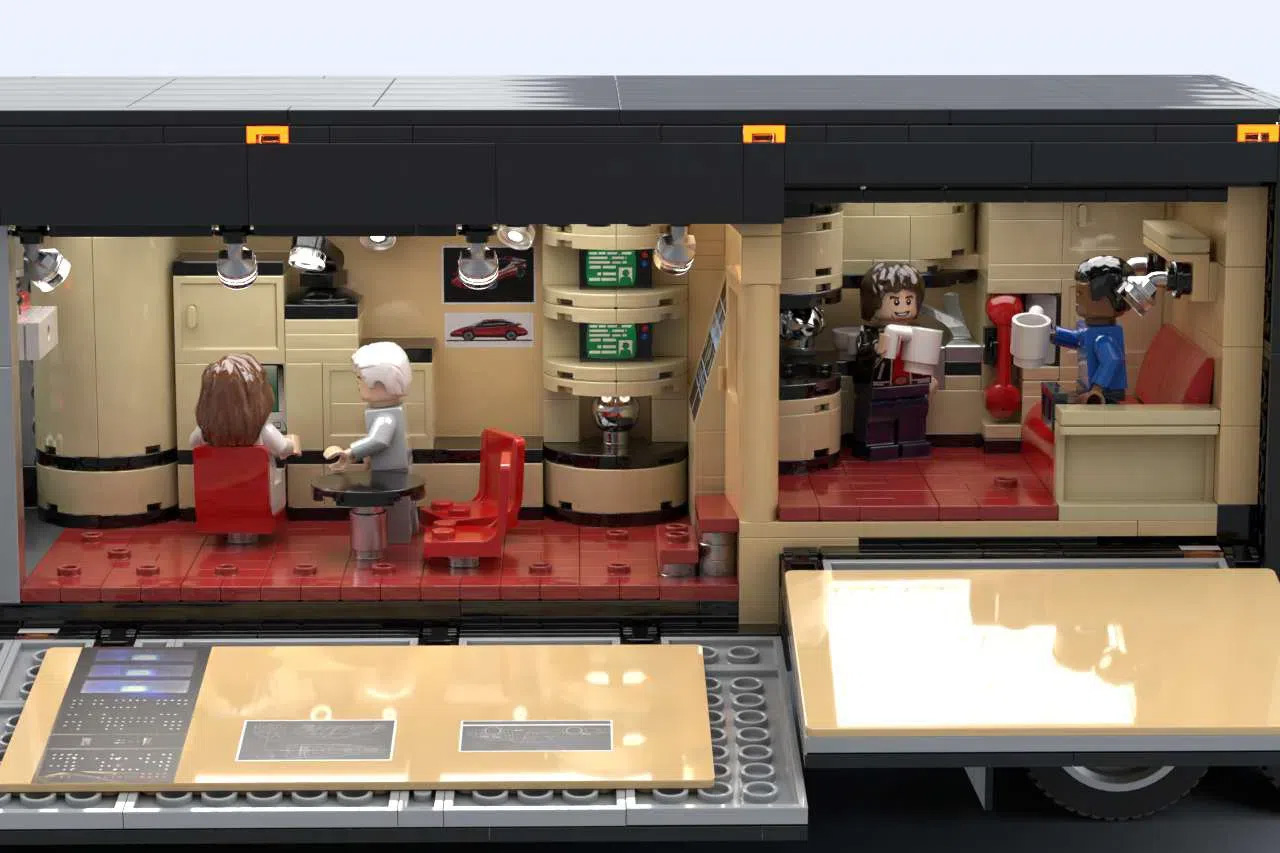 What kind of work is Knight Rider?
A car action drama in which a black transam equipped with AI that enables automatic driving and conversation in a drama broadcast from the first half to the second half of the 1980s plays an active part with the main character Michael Knight.
I used to love Knight Rider when I was a kid, but the kit was a dream car and it was just cool and was a longing for kids at that time. There is also a villain rival car called Karl of the same type as the kit.
The scene where the kit fell into a pinch and stopped functioning while saying "Help Michael …" was quite impressive, and all the kids at that time were impersonating.
As an aside, the airwolf action helicopter "Airwolf" and "The A-Team" that were broadcast at the same time were also popular.
Productized as miniset in the past
Since it is a character that appears in the Lego game "Lego Dimensions" released in 2017, a mini kit was also released in Lego.

Can Pass the Review?
The author HenkvdL05 is a car-centered vehicle such as Team A's van in addition to Knight Rider. Many designs are open to the public.
Commercialization is delicate because it is different from the tendency of recent accepted works, but I personally like it as a popular work, so I would like you to commercialize it.
Another designer, but once the kit-only design got 10,000 votes and went on to review. The work was unfortunately rejected, but I think that Knight Rider is mainly black, which is disadvantageous to the commercialization examination.
LEGO IDEAS 2021 2nd Review Summary
You can check the other 10k works on our summary.

Summary for 2021 2nd review
Two new products, "A-frame cabin" and "BTS Dynamite", were selected as the next LEGO idea new products! To be hones[…]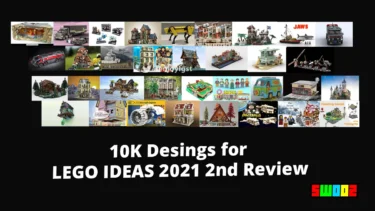 💡What is LEGO IDEAS?
Your work can be a LEGO product!
If your work achieve 10,000 support, LEGO review it for production. If your work pass the review, it will be released as an official LEGO product.
For Detail
💡LEGO Ideas is a project to productize fan designs!We are looking for original designs that we want to p[…]