💡LEGO Ideas is a project to productize fan designs!
We are looking for original designs that we want to productize from LEGO fans all over the world on the LEGO Ideas official website.
When the number of support votes from other users exceeds 10,000, we advance to the LEGO Ideas productization review. If it passes the examination in the review, it will be productized and will be released from the LEGO Ideas series.
And the reward according to the sales is paid to the designer!
History of LEGO Ideas: Originally a project from Japan
The Lego Ideas was originally a project from Japan called Lego Kuso, and the website was launched in November 2008 as a joint project between Lego and Fancy Life (currently Cuusoo System), which supports consumer-oriented product development. rice field.
From such a background, the first and the next two works of the Kuso project were "21100 Submarine Shinkai 6500" and "21101 Asteroid Explorer Hayabusa" related to Japan.
From LEGO Kuso to LEGO Ideas
LEGO Kuso has evolved into a LEGO Ideas!
After that, LEGO Kuso became an official project of LEGO, and on April 30, 2014, the project name was changed from Kuso to LEGO Ideas.
Popular Desings
Licensed materials are especially popular.
From the experience of paying attention to the LEGO Ideas competition for many years, the impression is that the entry works are overwhelmingly copyrighted.
In addition to video works such as movies, dramas, animations, and games, copyrighted materials range from real cars and buildings to NASA. Space-related designs such as NASA, SpaceX, and Blue Origin are popular.
As of October 2020, the ratio of copyrighted materials to originals is about 7 to 3 for the design proposals that were actually released. It is expected that the majority of copyrighted materials will be productized in the future.
(Added on August 22, 2021)From around 2020, the impression is that it has become easier to select products that have a mechanism that works better than copyrighted materials. Example: typewriter, lighthouse, piano.
The road to productization
As mentioned above, first of all, the original design will be published on the LEGO Ideas site. Designs can be published at any time of the year.
After that, if it gets more than 10,000 votes of user support, it will advance to the LEGO Ideas productization review that is held three times a year.
The schedule for the productization review is divided into January, May, and September every year.
1st review | Entry period : January – April | Result announcement : September
2nd review | Entry period : May – August | Result announcement : January
3rd review | Entry period:September – December | Result announcement : May
It takes at least 6 months after the announcement before it is released. It may take more.
Conditions for application design
The conditions for design that can be applied for are also changed more severely from the beginning in line with the expansion of the scale of the project. The following is a list of only the main conditions.
Does NOT include violence, racism, politics, religion, or sexual content
NO Weapons / weapons, military aircraft, military vehicles
Original new design
The copyright series sold by Lego is NG (eg Star Wars, Harry Potter)
The copyright of the competitor is NG (Example: Hasbro's My Little Pony)
Previously it was clearly stated that it was for children, but it seems that this wording has been deleted because Lego has recently been actively developing products for adults.
There are other conditions, so if you want to know more, check it yourself. LEGO Ideas Official Guidelines
Summary
LEGO Ideas is a dream-like project where your work can be released as a Lego product and even rewarded!
The number of designs that earn 10,000 support in one review of LEGO ideas has been on the rise since around 2019, and it was common for 20 or more in 2020, which used to be at most 10 or less. I personally think that the minimum number of votes for advancing to reviews will be raised in the future.
LEGO Ideas is a fun series with many designs that have a different atmosphere from ordinary LEGO ready-made products! If you are confident, let's apply!LEGO IDEAS official website
LEGO IDEAS 10K Designs
LEGO Ideas is a project to commercialize fan design!When the design proposal is published on the LEGO Ideas official[…]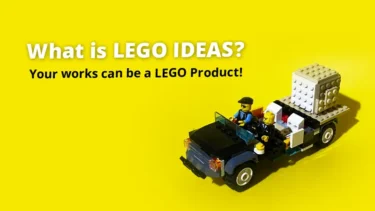 This article includes affiliate links and we earn from qualifying purchases.