The brick toy called "LaQ" seems to be popular as an educational toy. I was curious about how it differs from LEGO, so I actually bought it.
Comparing shark sets of the same size
When I was looking for a product that was just right for comparison with LEGO, I bought it because there was a set of the same size with the theme of sharks that everyone loves.
Purchased shark set of both brands
LaQ shark | 175 pieces | Age5+ | Purchased in October 2020 | Purchase price $13.50
LEGO shark | 230 pieces | Age7+ | Purchased in August 2020 | Purchase price $16.50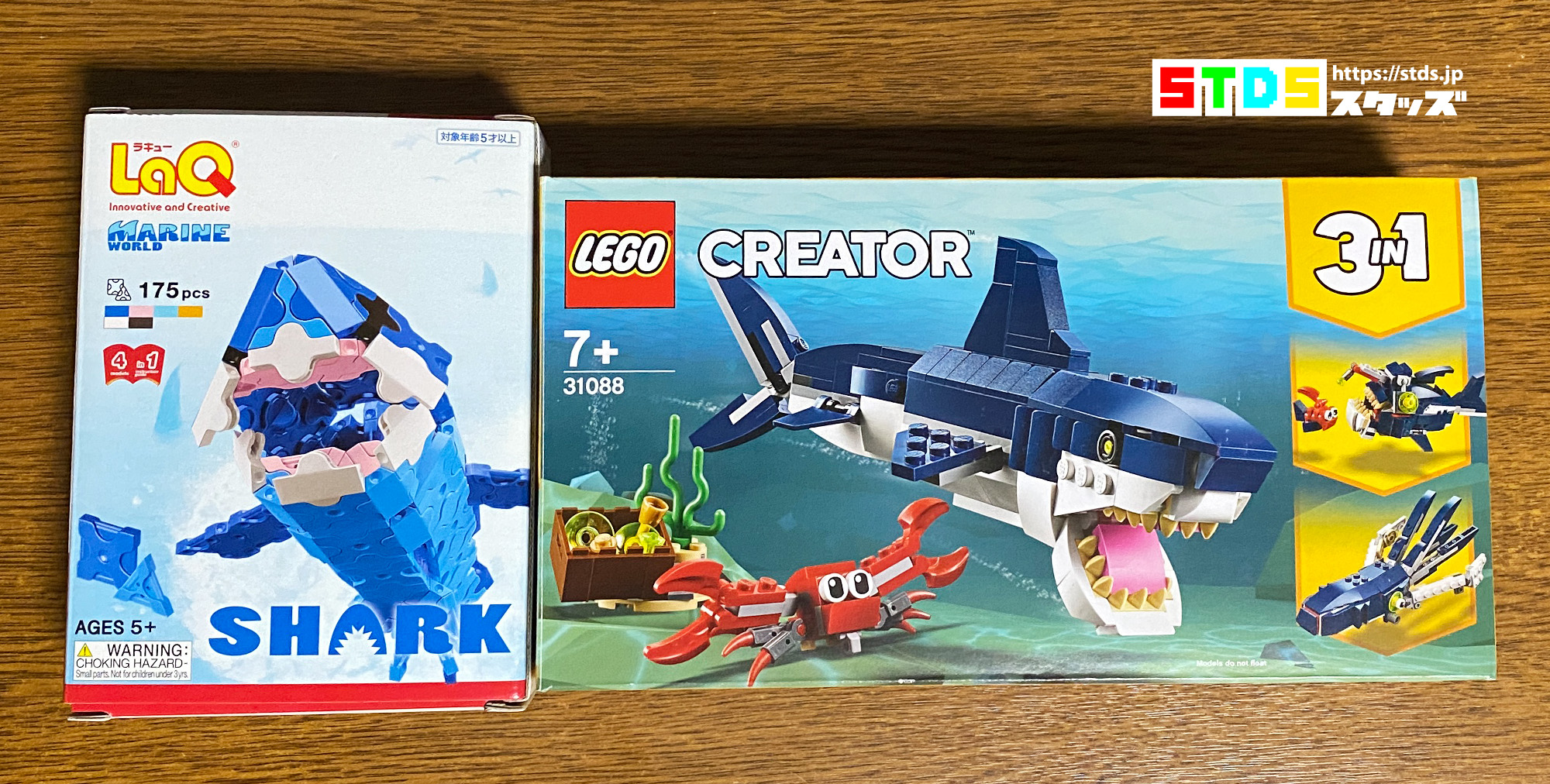 What kind of block is LaQ?
LaQ is a block manufactured and sold by a Japanese toy maker called Yoshiritsu Co., Ltd. since 1994. The maker's homepage says puzzle blocks.
LaQ is a plate with thin parts.
The main parts of LaQ are roughly divided into three types: thin triangles, squares, and joints. There are other special parts such as wheels and shafts, but they are not included in this shark, so they are omitted.
It's just called a puzzle block, and all the triangular and square parts are thin plates and shaped like jigsaw puzzle pieces. There are several types of joints with different thicknesses and angles.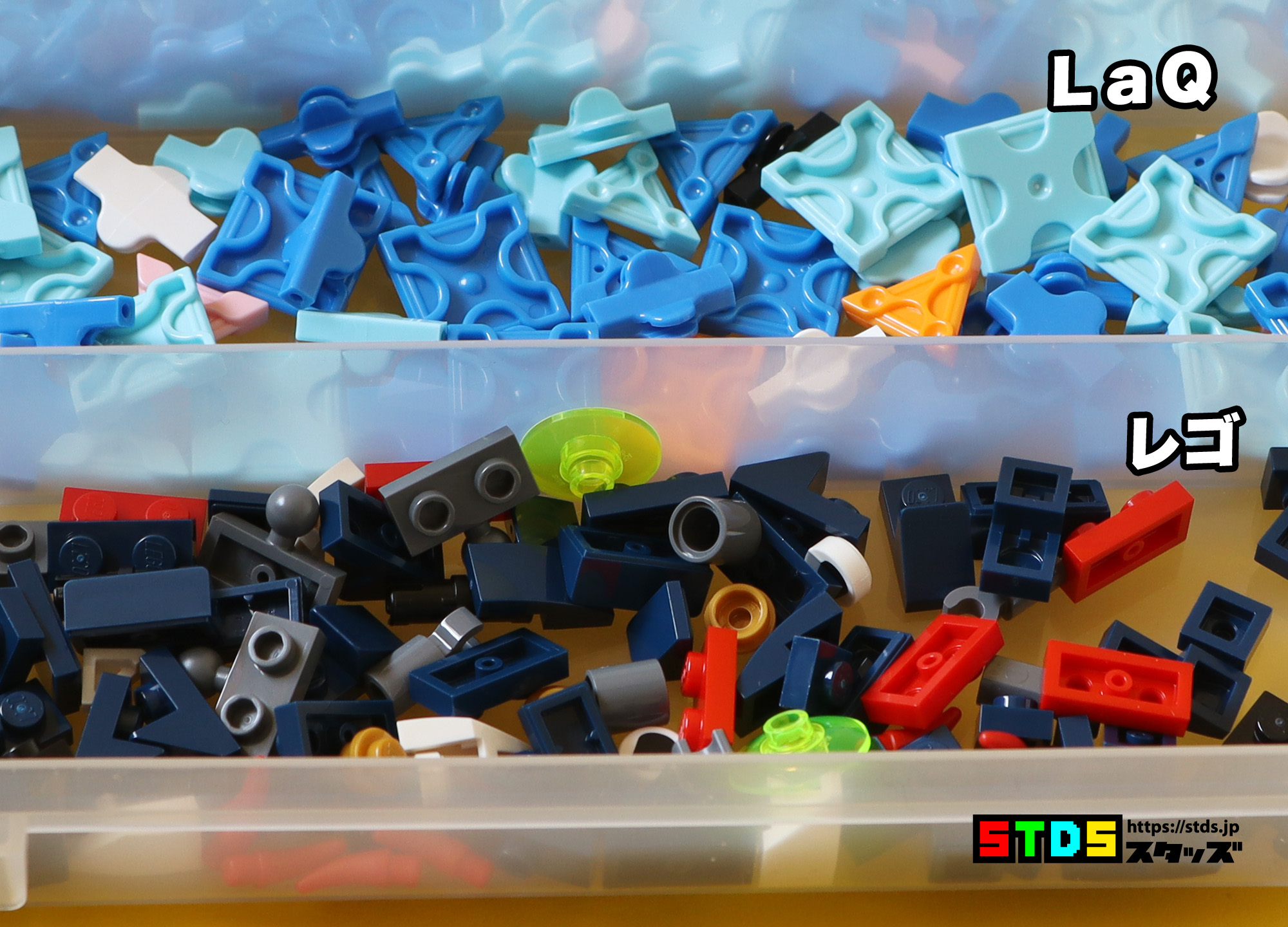 Compared to square blocks like LEGO, LaQ has a big feature that you can easily make spheres and curved surfaces. According to the director of the Tokyo office, Q in LaQ means a spherical sphere.Reference URL
The material is plastic
When I looked only at the photos before purchasing, it looked like a hard sponge-like material. If so, I was a little wondering if it could be connected firmly, but of course it was actually plastic.
How to assemble LaQ
LaQ creates a work by connecting thin parts and connecting the surfaces made by connecting them in three dimensions.
The three-dimensional object I made is hollow, so roughly speaking, it looks like a box with no contents inside. And when you connect the pieces together, you will hear a clicking sound, which seems to make kids happy.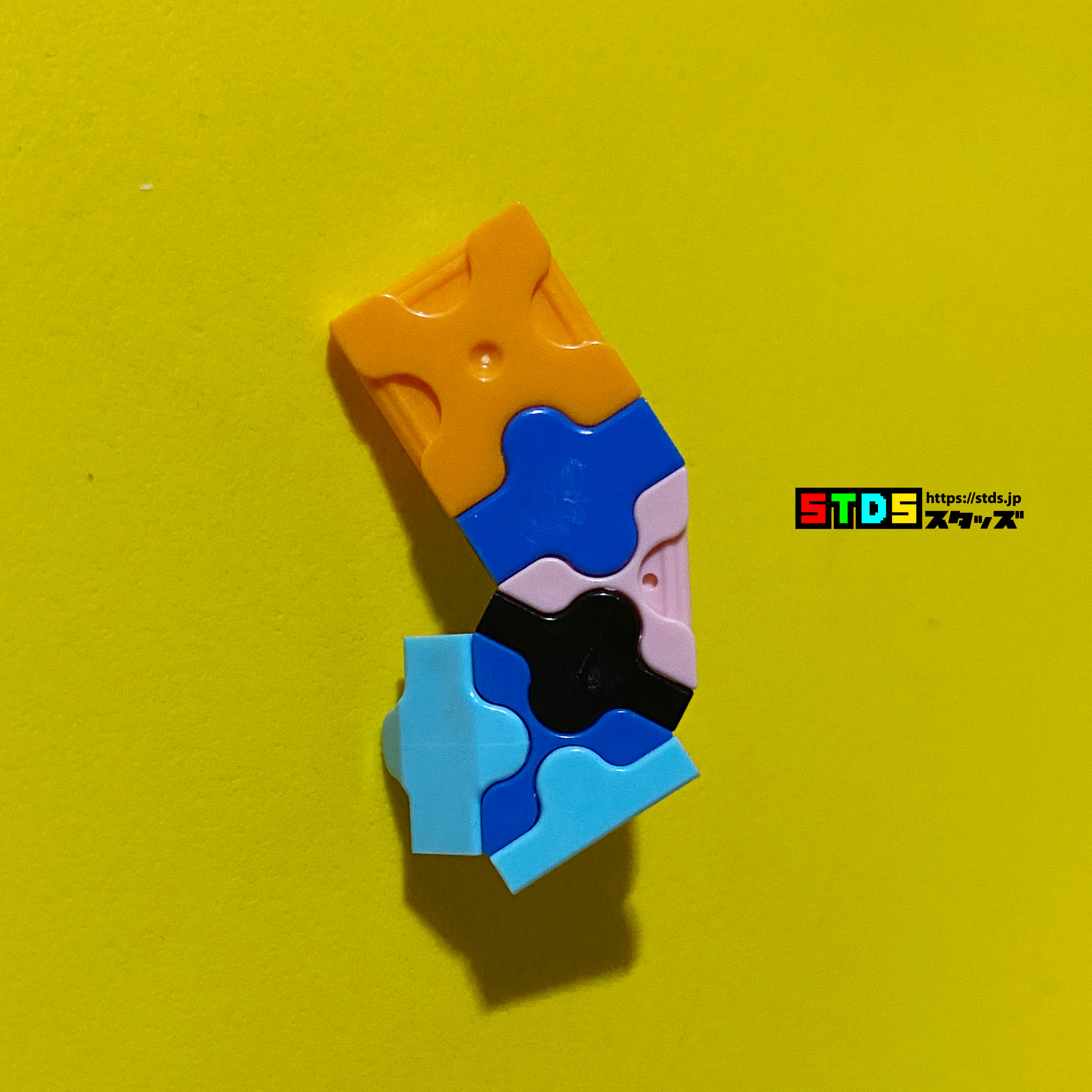 There are multiple types of joints with different thicknesses and angles, but they are very similar, so the illustrations and numbers are used together in the assembly instructions.
I think it's easier to read the instructions in LEGO, which explains each step with illustrations, but since there are few types of parts in LaQ, there is no particular problem with the numbering method.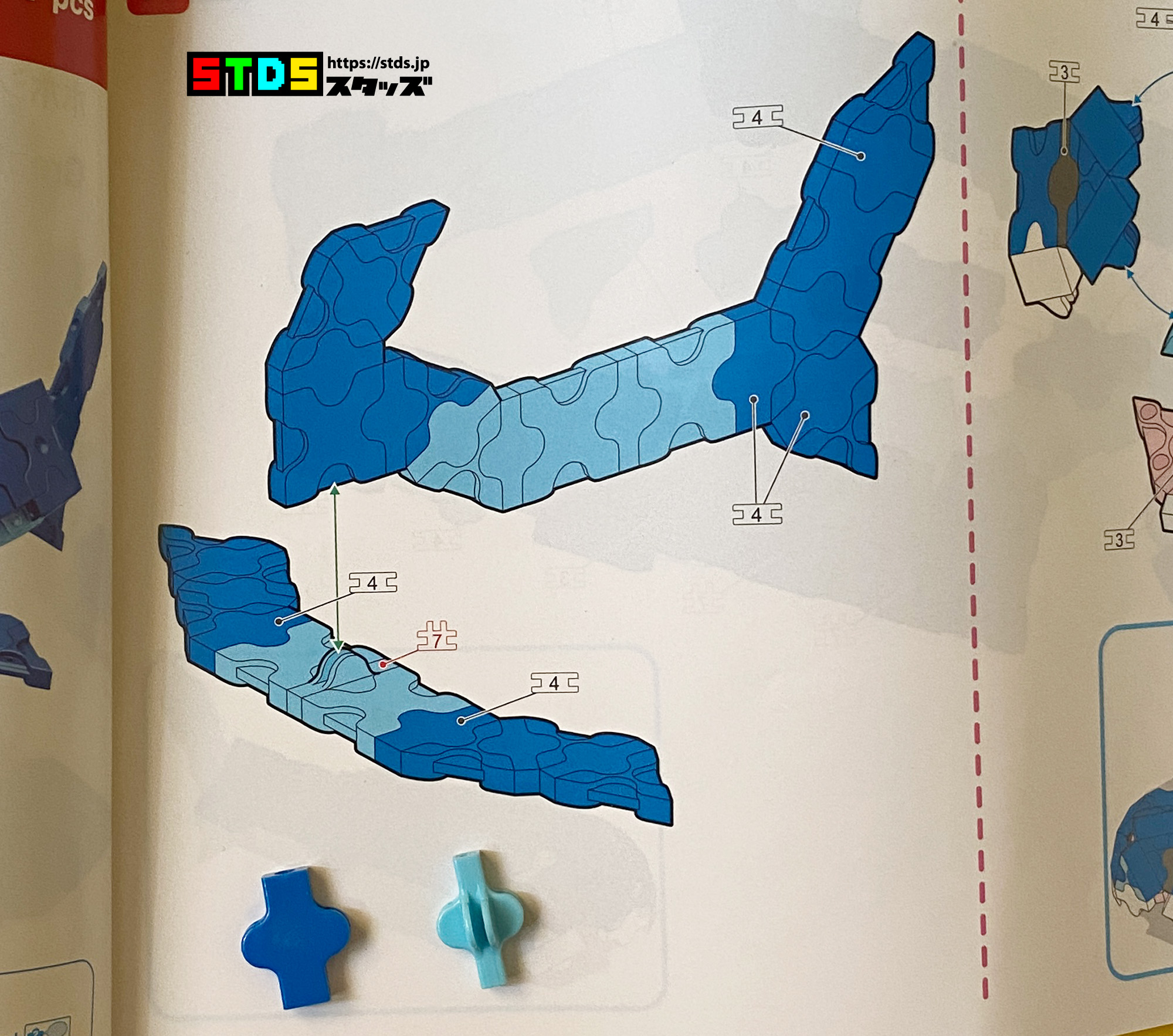 LaQ shark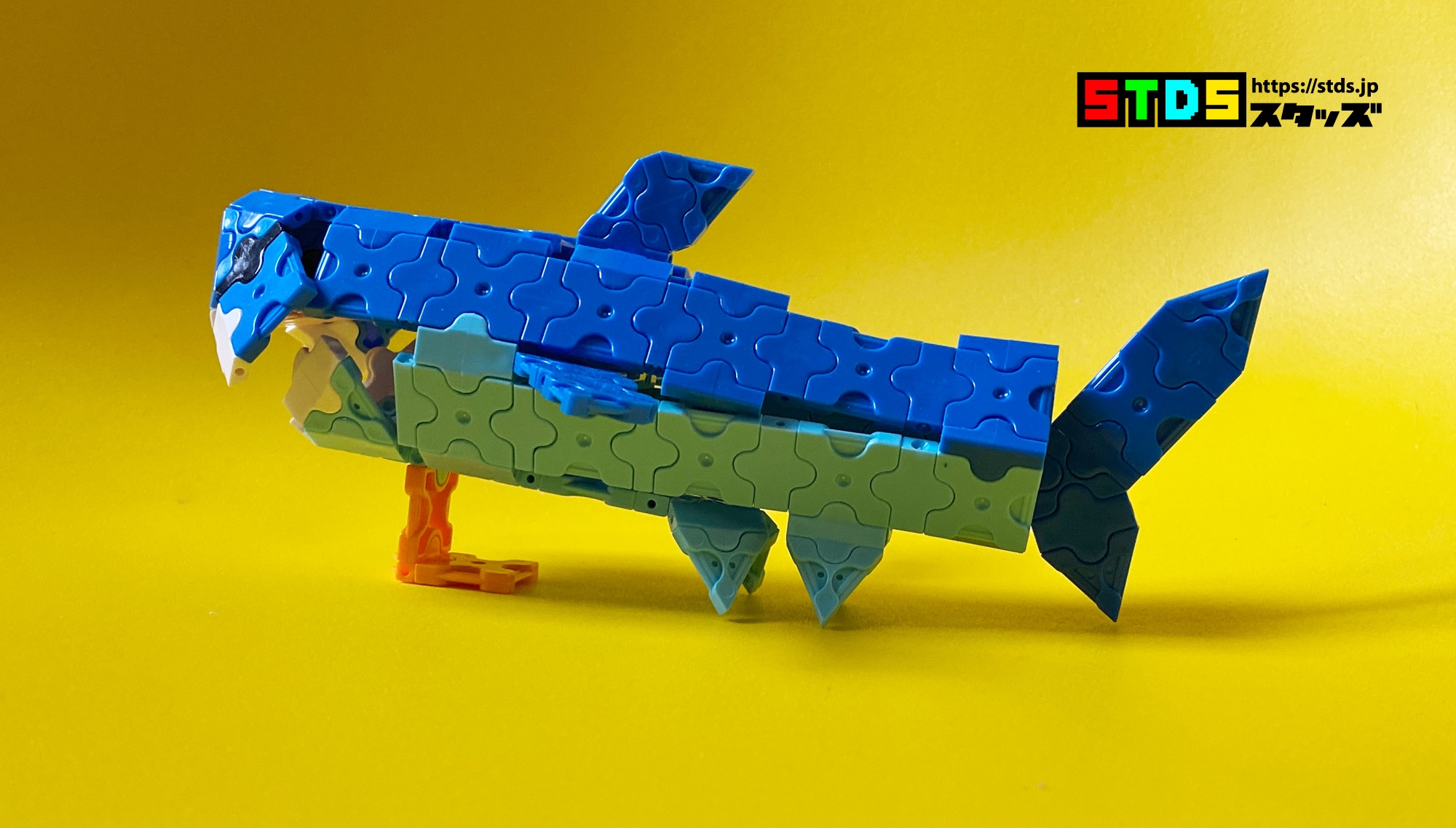 This shark is designed not only to connect the parts straight, but also to bend the surface. The squeezed part near the tail at the rear of the fuselage is joined with the surface bent greatly.
This part is designed with a considerable load, and if you touch it carelessly, it will pop and the joint will easily come off. It seems a little difficult for children to play with this shark.
There may be a problem with my method of making, but there were several phenomena that when one was connected, the other was disconnected.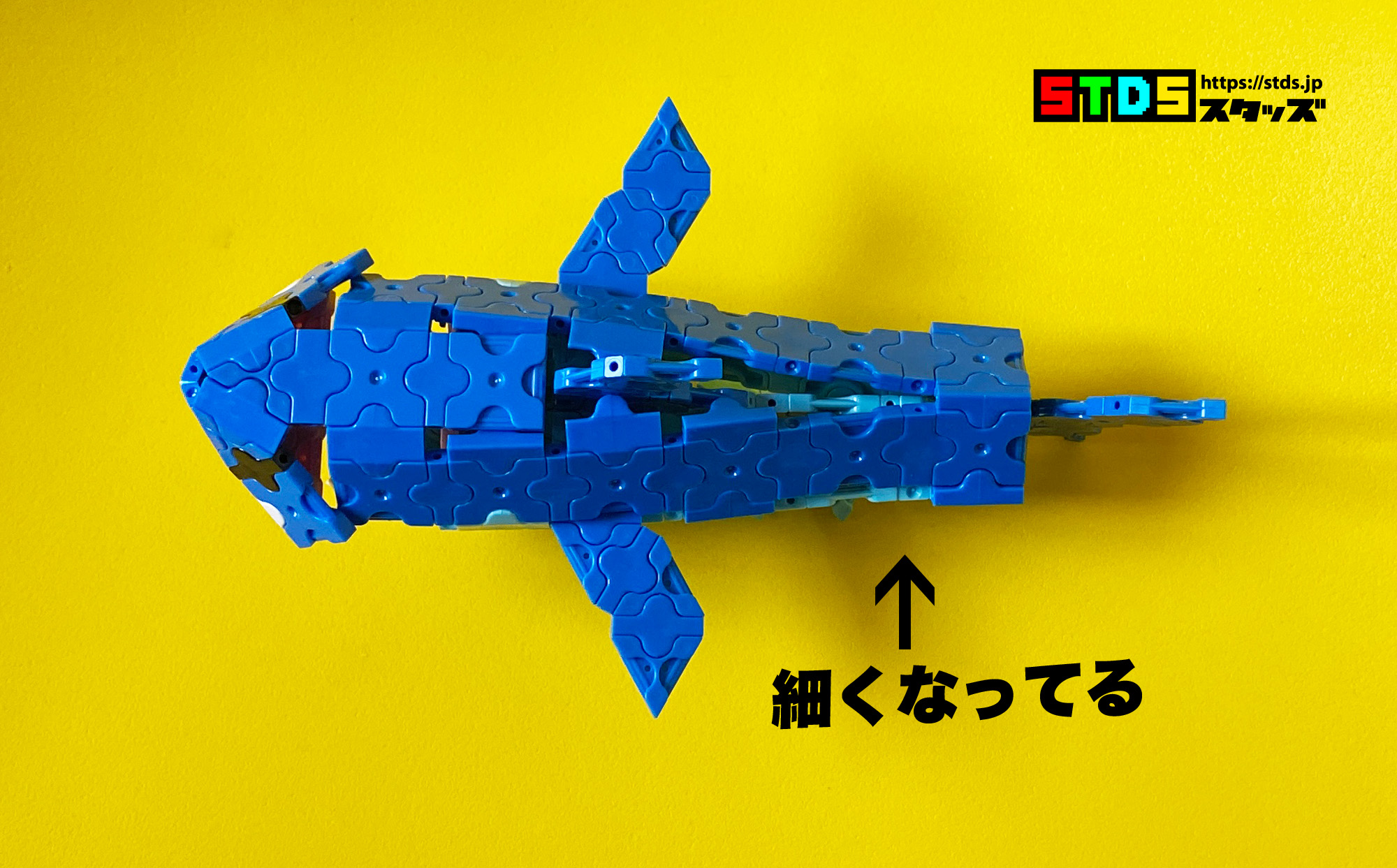 LEGO shark
LEGO sharks are sturdy because the blocks are clogged inside. The body moves with joints, and even if it is handled roughly when a child plays, it does not collapse so easily. Small items such as crabs are also included, making it easy to play.
LEGO may be more advantageous for moving parts
LEGO has abundant parts for moving parts such as ball joints and hinges, so if you want to make moving works, LEGO is advantageous.
LaQ's moving parts are several types of shafts and wheels called special parts. Unlike LEGO ball joints that can be moved at any angle, only rotating movements are possible.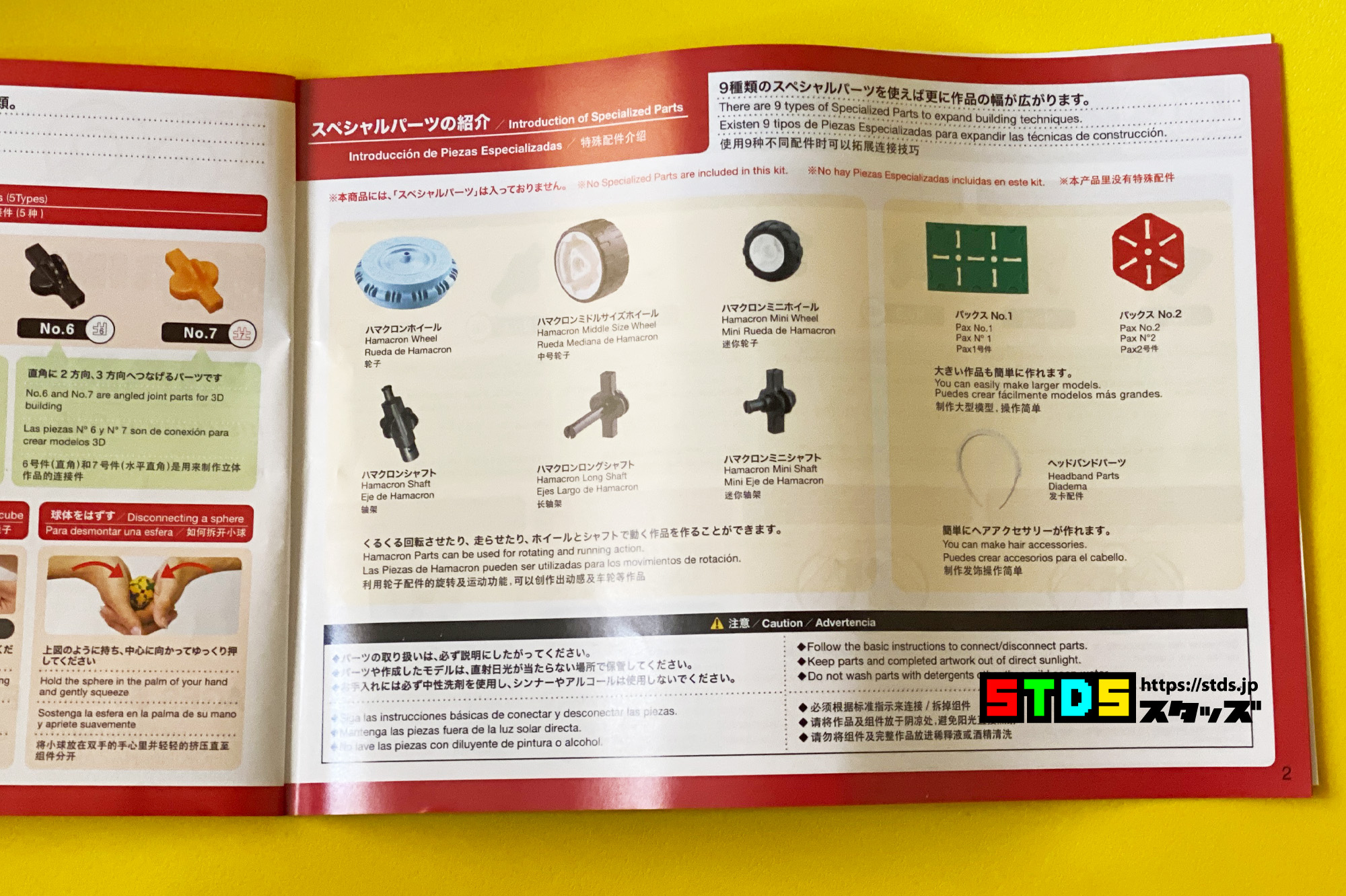 Looking at YouTube, some people make robots with LaQ, but it is common that the moving parts only rotate the neck and hips.
LEGO and LaQ comparison summary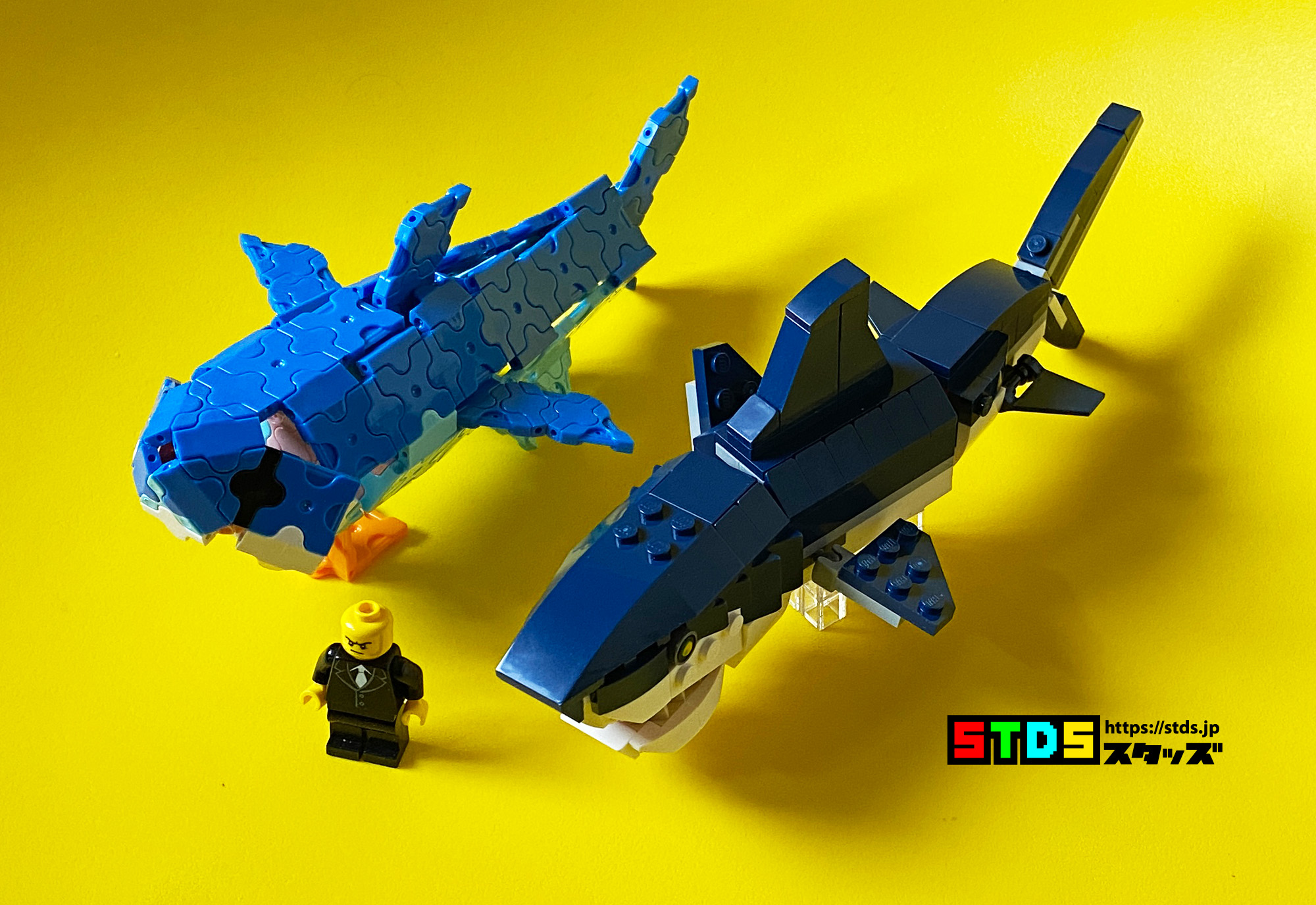 When I made only sharks, I thought that LaQ had a fragile structure and it would be difficult for children to play, but when I watched the video on YouTube, kids assembled various things, grabbed them by hand and moved them like toys. playing.
It seems that you can make a sturdy model as well as LEGO that you can enjoy making it yourself by combining parts. I feel that LaQ is mainly developing products by himself.
What I think is the advantage of LaQ
Since there are few types of parts, it seems that the design sense will be trained.
You can make a big work with fewer parts than LEGO.
Balls and curves are easier to make than LEGO.
Similar to making a puzzle.
LaQ seems to have few adult fans
LEGO also has a lot of collector's items for adults like the "Adult LEGO" series, but since LaQ looks more like a toy than LEGO, I thought it would be difficult for adult fans to follow.
What I think is the advantage of LEGO
Since there are many types of parts, the range of expression is wide.
Since there are abundant joint parts, it is easy to make works that include moving parts such as robots.
Sturdy even if you make a big one.
A wide variety of minifigs and accessories make it easy for non-builders to play.
LaQ looks interesting for kids too!
But it may be a little difficult for a hard-headed adult like myself to get into LaQ from now on. I want to continue playing with LEGO.
Check Our Review
Related Post
Read Our LEGO Entertaining Review!In addition to product reviews, there are many unique reviews that are especiall[…]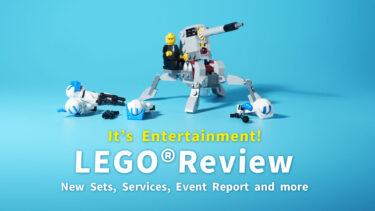 This article includes affiliate links and I earn from qualifying purchases.