At the beginning of the abolition of the creator expert, it was said that the name would change to the collection, but it did not penetrate.
Announcement on May 13, 2020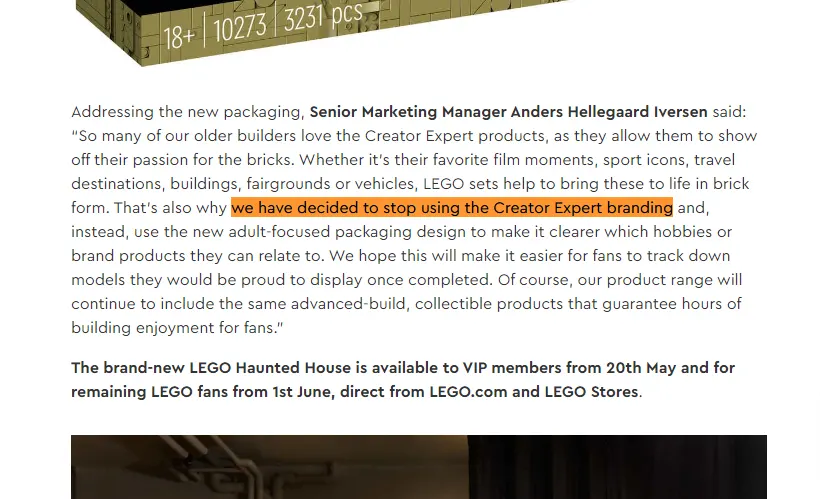 "Adult LEGO (R)" is a general term that includes products for adults other than the old creator experts such as ideas and techniques, so the position is different in the first place.
The creator expert is still used on the LEGO (R) official website, and there is no other name that fans can convince, so it seems that it will be used as it is for a while.
Internet and physical stores
Online sales showed double-digit growth for both the company and retailers, and expanded further from the previous year.
165 new LEGO (R) stores have been opened. 90 of them are in China. At the end of 2021, the number of actual LEGO (R) stores was 832 worldwide. New store openings will continue aggressively in 2022.
Other points of interest
Others The following will also be announced.
Expansion of production capacity: A plant with a scale of 1 billion US dollars (about 116 billion yen) is planned to be built in Vietnam. LEGO (R)'s first carbon-neutral factory.
Digital enhancement: We have established a system to enhance the play environment that combines digital and physical, such as the instruction manual application and LEGO (R) Life.
Environmental protection: From the middle of 2022, the plastic bags in the boxes will be gradually switched to sustainable packages (paper bags?).
Kids support: Continue to support kids to learn through play. The LEGO Foundation, which owns 25% of the LEGO Group, plans to donate 2.8 billion Danish krone (about 47.5 billion yen) to each kids support program.
This article includes affiliate links and we earn from qualifying purchases.